MOVIE REVIEW: Going in Style

Tuesday, 18 April 2017
by 👨‍💻 Graham Pierrepoint


GOING IN STYLE

Dir: Zach Braff

Starring Morgan Freeman, Michael Caine, Alan Arkin, Ann-Margret, Peter Serafinowicz, Joey King, Matt Dillon, Christopher Lloyd, John Ortiz





2 STARS (out of 5)
This is a movie with plenty of star power and incredible talent, both in front of and behind the camera. Zach Braff, of course, has taken on several directing projects in recent years, and he takes the reins here on a remake that's been scripted by Theodore Melfi – who, believe it or not, was responsible for helping to bring the seminal and Oscar-nominated Hidden Figures to cinemas in 2016. I say believe it or not – as it's quite hard to figure out how the two movies could have emanated from the same pen. Going In Style remakes a 1970s George Burns bank robbery movie – though quite why, it's never established. Thankfully, it's host to a very solid main cast who, of course, will be expected to sell the movie to audience. Even more thankfully, it's the acting chops on this main trio – Freeman, Caine and Arkin – who really give the picture its sole selling points.
Our main trio are a gang of friends who all find themselves retired and at the mercy of financial difficulties – and thanks to the actions of banks and big corporations alike, Caine, Freeman and Arkin find themselves on the brink of making a daring decision – why not carry out a major bank heist while they still can? Enlisting the help of a professional thief and 'training' themselves to carry out the ultimate in underhand paydays, can the trio take revenge upon the faceless systems that spurned them – or will they go for broke?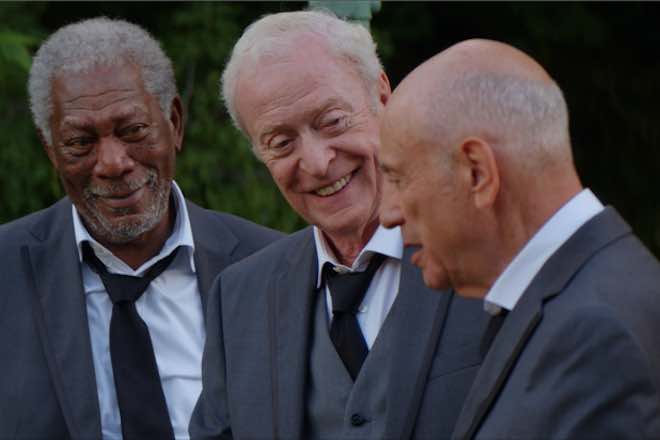 Haven't we seen this film before? Of course, there's the long-forgotten original – but even on premise alone, it's a safe bet that savvy viewers will be able to write the various events and nuances this movie goes through in their heads. People will flock to this to see the big three – not the incredibly stuffy story – which, sadly, fails to monopolise on the chance to surprise. While the script does take the time to try and create some semblance of backstory for the would-be robbers – there has certainly been time and effort put into character motivation here – it does little to surprise us, nor give us much in the way of emotional depth. We certainly have seen this movie before – meaning that while some may hold out hope it won't spiral into a super-safe 'old people do wacky stuff' story, this hope burns out fairly quickly indeed.
Caine and Freeman in particular have picked a host of interesting movies to head up in recent years, and while some have worked (both were involved in Christopher Nolan's Dark Knight trilogy, for example), others really do flop around and rattle into the bargain bin. Going In Style attempts to revive what was a perfectly watchable movie into something that never really goes any further than its central premise. It's very, very safe – there's so many moments for high comedy or even intrigue here that are buried behind cookie-cutter moments and script choices that it's fairly underwhelming.
Going in Style - Official Trailer (Warner Bros. Pictures)
Fans of the cast or the premise itself will likely have a good time – it's certainly neither appalling nor a devastation to the genre – but it just never really seems to go anywhere. The central trio effortlessly go through the motions to the extent that it never really seems like they are being tested – and neither is the audience. Some of the jokes work well, others fall flat, and barely any are very original – the tried-and-tested big corporation antagonism is rolled out yet again, a trope that was fast becoming irritating two years ago and was struck dead by 2016's Norm of the North. The names on the cast sheet here are incredible – Peter Serafinowicz is a brilliant character actor and what can you say about the legendary Christopher Lloyd – was this simply an easy, painless role for many involved? It's possible – as the whole experience is altogether defiantly generic.
Once again, if the premise makes you smile, if you like the actors or if you simply need a safe, earnest movie to waste an hour or so, I don't see this being much of a disappointment for you. However, if you're looking for anything new, hoping for a twist or two on the premise, or something a little more avant-garde, you are going to risk being disappointed. It's perhaps not fair that Going In Style has received the critical drubbing it has – it's merely very middling, and even then, it does little to raise itself into 'memorable' territory. If you can't predict the way the story, jokes and character interactions will transpire from the premise and plot summary alone, then you may well be one lucky viewer who can take more than time spent away.
You Might Like
Related news from verified sources
MOVIE REVIEW: Vice
by Graham Pierrepoint - VICE IMDb Dir: Adam McKay Starring Christian Bale, Amy Adams, Steve Carell, Sam Rockwell, Tyler Perry, Alison Pill, Jesse Plemons 4.5...
One News Page Staff
Tweets about this
•More original news reports from One News Page