MOVIE REVIEW: The Promise

Tuesday, 2 May 2017
by 👨‍💻 Graham Pierrepoint


THE PROMISE

Dir: Terry George

Starring Oscar Isaac, Christian Bale, Charlotte Le Bon, Daniel Gimenez Cacho, Shohreh Aghdashloo, Andrew Tarbet, Angela Sarafyan, Jean Reno, Marwan Kenzari, Tom Hollander





2.5 STARS (out of 5)
War films seem to have sprung up a little lately – while the UK's own Their Finest dealt with the theme of propaganda during a time of great unease on British soil, Terry George's latest film attempts to put forward a historical event which still continues to go denied by many. Set during the fall of the Ottoman Empire in the early 20th century, George makes a clear attempt to educate a wider audience about the rounding-up and genocide of Armenian people in what is now regarded as modern-day Turkey. The film – The Promise – was even subject to some controversy on its initial premiere, as it appeared to be subject to a deluge of one-star reviews on IMDb. Was the influx politically motivated? Regardless of where you stand, it can hardly be said that such a paltry rating is applicable here.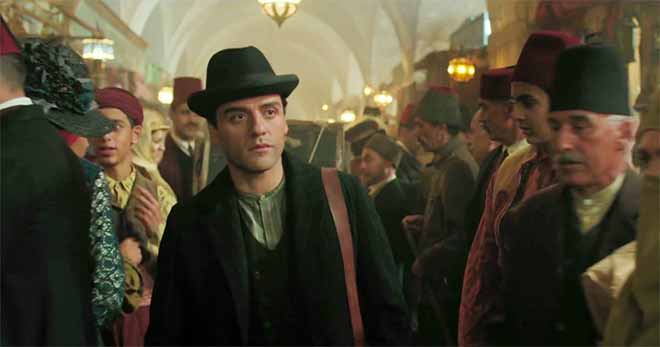 Focusing on three people caught up in the growing unrest in 1914 and 1915, Oscar Isaac portrays an Armenian man keen to study medicine and to help improve the standard of medical care in Southern Turkey. On his travels, he meets Ana (Charlotte Le Bon), with whom he immediately clicks – however, she has a boorish American beau (Christian Bale) – igniting a to-and-fro love triangle that is to unfold upon a backdrop of war and atrocity. Will love survive the conflict – and can the men put their differences aside to help the Armenian people of Turkey?
George is perhaps most famous for bringing the award-winning Hotel Rwanda to cinemas, and it is clear that he is aiming to cultivate similar gravitas with an idea and a script that is partly written to help educate a wider populace about exactly what went on in Turkey during 1914 and 1915. Rather than focus entirely on the atrocities themselves, however, The Promise throws a rather cinematic love triangle into the mix, likely to help add some humanity to proceedings and to help ease the moviegoing public into the themes covered. For the most part, this certainly works – Oscar Isaac once again proves he is marvellously versatile and dependable in a lead role, Charlotte Le Bon proves to be a star on the rise, and Christian Bale – love him or hate him – is always worth watching.
The Promise - Official Trailer (Open Road Films)
What The Promise does well is, certainly, deliver its central point – of showcasing exactly what went on during the Armenian genocide to the extent where, somewhat effectively, we genuinely care about what happens next. While it does perhaps miss out on that hallowed grandiose war 'epic' status that it is perhaps trying to chase down, it never relents on being interesting – it is perhaps telling therefore that this side of the picture, at the very least, should have been given more of a focus. While George has clearly attempted to ease the story in with a central premise and story between three characters we could come to follow and admire – it's the romantic aspect that never quite hits the heights it hopes to.
While The Promise is finely shot and has a very clear idea in mind, the central love triangle – despite the cast all working well – is far too derivative of similar movies we have seen hundreds of times over. The romance and the building tension would, on paper, be all the more predictable – and it is genuinely saccharine and rather unbearable at its worst. Certainly, it is a unique experience to behold a movie so focused on one hand in bringing a tale of genuine atrocity to audiences while using the other to layer on a romantic overlay that never really goes anywhere we'd like it to. Thousands of other movies before The Promise have earned their status from balancing genuinely intriguing character stories alongside captivating backdrops – whether they be war, devastation, or something else entirely – it has become something of the formula that Titanic laid down as groundwork twenty years ago. Sadly, while the paper-light nature of the central plot doesn't let the side down entirely, it certainly doesn't help the movie hit the heights it ought to.
On paper, The Promise could have been incredible – but without more of a slant towards the epic and without a core premise that stands up to the grandiosity of the backdrop and history in play, we are left with a movie which, while interesting and important, fails to stand up as a piece of truly transformative and intriguing film. For those interested in this devastating piece of history, it cannot be recommended enough – but beyond the social and historical merits, The Promise stands to be sadly forgotten due to far more effective contemporaries. With a solid cast, direction and more besides, it's a film that deserves watching – but it could have been so much more.