MOVIE REVIEW: Mindhorn

Monday, 8 May 2017
by 👨‍💻 Graham Pierrepoint


MINDHORN

Dir: Sean Foley

Starring Julian Barratt, Andrea Riseborough, Essie Davis, Steve Coogan, Kenneth Branagh, Russell Tovey, Harriet Walter, Simon Callow, Jessica Barden, Simon Farnaby, Nicholas Farrell





4 STARS (out of 5)
They say that British humour is its own beast – hard to emulate, and even hard for native speakers across the pond to fully understand. This is, perhaps, down to the fact that it doesn't necessarily come in all the same flavour. While modern British comedy can be traced back to the likes of Monty Python's Flying Circus, the entire genre in the UK is so broad and varied that it is impossible to try and blanket it in one go. Take Mindhorn – an extremely British comedy-action thriller which will likely appear rather odd to overseas viewers – but at the same time offers many of the hallmarks in timing and absurdity that British viewers have come to love. It certainly doesn't hurt that it benefits from some of the most talented names in the business, either.
Julian Barratt plays washed-up actor Richard Thorncroft, who, despite having been the toast of detective TV in the 1980s when he played Inspector Mindhorn – the detective with the bionic truth-finding eyepatch - has found himself rather desperate for something to do. Fortunately, a big opportunity for the actor to hit the headlines has come around when he least expects it – but he's going to need to get back into character as the legendary eyepatched Mindhorn and negotiate with a serial killer – who will only converse with the fictional character. Will Thorncroft be able to leave behind a world of sock promotion to hit the heady heights of stardom once again? And will he get out alive?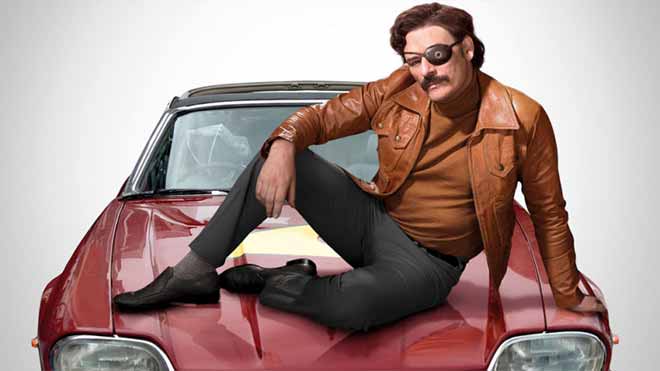 Anyone who knows the main star, Julian Barratt, will likely be more than ready to assume how things are going to go down – as one half of cult surrealist duo The Mighty Boosh, Barratt came to prominence as a comic actor who could carry off stuffiness, absurdity and sheer self-belief in one neat package. Here, he's an ideal fit as the main character. Barratt co-wrote the screenplay with Horrible Histories and Yonderland's Simon Farnaby, who he has worked with on numerous occasions before – and Farnaby himself shows up – throwing out a bizarre accent, as he is wont to do.
The story does seem rather familiar – rather Alan Partridge : Alpha Papa – which is all the more bizarre given that AP himself, Steve Coogan, appears as Thorncroft's more successful contemporary. The movie centres itself on having a lot of fun with retro aesthetics, British TV detective shows of old and just how daft we can rewrite the past. Much of alternative British comedy TV has attempted this over the years, and while it's nothing new as a technique, it still brings a ton of laughs – not only thanks to the broad visual aesthetic and sharp focus on satire, but also thanks to its great ensemble cast. This is a cast composite of some of the best in British TV talent, boasting some nice little cameos, too – Simon Callow and Kenneth Branagh, of course, better known for their board-treading and Shakespearean endeavours, play themselves to brilliant effect.
The central premise is very intriguing and there is genuine effort to tell a story with surprising gravitas. We're given lots of insight into Thorncroft's rather messy life amid the bizarre jokes and retro nuances – and at the same time, it feels as if we are privy to a genuinely interesting character piece. Many comedies fail to deliver great character moments or intriguing stories while remaining funny – and this is something that British productions do rather have the edge with. Mindhorn is a movie that isn't afraid to delve into some dark recesses while offering laughs and kitsch style – making it all the more rewarding.
Mindhorn - Official Trailer (Studiocanal)
Mindhorn is, sadly, not going to be a movie which will appeal to everyone – however, it does have a fantastic plethora of different attempts at humour and more than benefits from a well-cast outfit and impressive satire on detective TV that will ease many viewers into the story. Beyond the laughs, there is genuine intrigue – we do want to see Thorncroft do well – we want to see if he can help handle a nutball Russell Tovey – and it's told in such a way, with such an eye for retro, that it's hard not to find it pleasingly familiar.
Mindhorn will likely appeal to you if the sheer audacity of the trailer and premise appealed to you, and fans of Farnaby and/or Barratt should certainly apply. It doesn't have the broad-reaching or game-changing nature that other comedies such as Shaun of The Dead once had – but, at the same time, it deserves to stand out as a genuinely well-made, funny and worthwhile movie. Given a choice between a reincarnating dog or a badass TV detective with a bionic eyepatch this week, I know which avenue you should be taking. Hint – it's not the dog.