BAYWATCH
Dir: Seth Gordon
Starring Dwayne Johnson, Zac Efron, Priyanka Chopra, Alexandra Daddario, Kelly Rohrbach, Jon Bass





1.5 STARS (out of 5)
There has been a trend in movies resurrecting old TV properties in recent years that really seems to have come to a head – while sometimes this can certainly work well, it has been a long time since anything particularly amazing has been derived from an old property. This year's CHiPS was a very good example indeed – and we do largely have 21 Jump Street to thank for opening up a bizarre trend in TV shows being reworked as comic movies – and while this concept may, strangely, have worked for Jump Street, it has been extremely difficult to capture the same charm elsewhere. Baywatch – case in point – was dug up from the 90s TV crypt for a reworking of sorts, largely, so it is advised, on the basis that much of the franchise, or the brand, was forgotten beyond its leading stars David Hasselhoff and Pamela Anderson. Therefore, this was perhaps more than a good reason to bring back sandy shores and skin-tight lifeguard uniforms – however, the execution here largely leaves the brand floundering in the tide.
This time around, Dwayne Johnson is the big, brash lifeguard in charge – and he's forced to take on lightweight former Olympic swimmer Zac Efron as part of his team – and the unlikely partnership sees the duo finding themselves embroiled in a local battle with a drug dealer and her cronies. This really is as simple as the plot gets – and while we may not necessarily expect anything too deep from the world of Baywatch, it is rather disappointing that a more outlandish idea wasn't put to paper. That being said, this adaptation of Baywatch is a straight-up comedy – whereas the original TV series, while trying to be entirely serious, had a cheesy charm about it and a humour that came across by accident more often than once. This adaptation, however, really does throw the joke book at the screen and expects the majority of the gags to stick.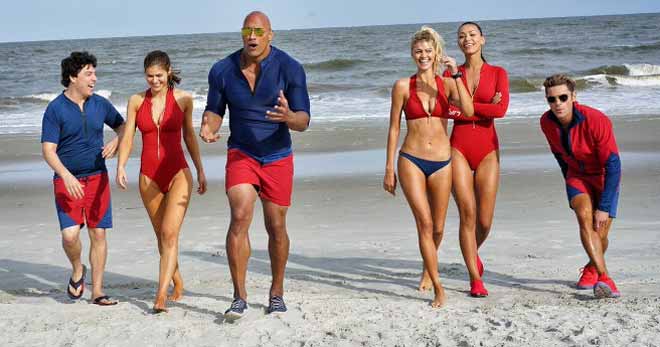 Baywatch is sadly fairly disappointing – it boasts a promising lead duo in Johnson and Efron, and I am perhaps not alone in saying that I expected to see the pair to work in a similar fashion to how Johnson and Kevin Hart played off against each other for Central Intelligence. Unlike Central Intelligence, however, Baywatch is loaded with a series of obvious gags, poor delivery and genuinely tacky moments that really do lessen the chances of it actually connecting with an audience on a humorous level. There is, certainly, a market for this type of movie – and while I am being no prude here, this is the sort of movie that the American Pie of many years ago now has a lot to answer for – it really does try to push its adult rated envelope but doesn't seem to have much in the way of intelligent execution.
Jokes about profuse vomiting, erections getting stuck and plenty of gratuitous exploitation abound – this is a movie that certainly knows it's daft, but at the same time it likes that essential self-deprecation. While it knows it's never going to be considered high humour, it just seems to plough on through endless fawning jokes and a tonality that veers left right and centre with no direct purpose – it's an absolute farce, and not in the good sense. Baywatch is definitely a muddle for the ages – and despite the fact that a few gags connect – and that it is genuinely difficult to see Johnson in such a poor role – it really leaves next to no impact upon a viewer beyond indifference.
Baywatch - Official Trailer (Paramount Pictures)
Tacky humour, or that which is trying to cross certain lines with gusto, can sometimes work – if it has charm and a fair amount of intelligent execution behind it. Baywatch feels like a cluster of odd jokes thrown together into a mish-mash of unbelievably overused tropes and really odd execution. It's a crying shame as the trailers genuinely do pick out the best bits – but they seem to apply the comic timing and perhaps even subtlety that this film largely swerves around.
That being said, Baywatch isn't – bizarrely – completely unwatchable. Johnson and Efron are genuinely great at what they do, and I do believe this is a project that neither of them really needed. Johnson was on board as a producer and, according to media reports, is largely defending the movie on the grounds that it resonated well with fans. This may be – but on paper, while Baywatch may well raise a few laughs and waste more than a few minutes, it lacks the charm, timing and daring to really stand out in a sea of comedies. 2017, unfortunately, has not been nearly as good a year for comedy as 2016 was by now – and while many of us are holding out for this year's equivalent of The Nice Guys, we may simply have to wait and see if Johnson can do any better with Jumanji. Brace yourselves…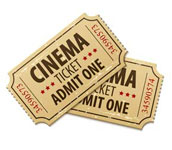 » See more of Graham's Movie Reviews