MOVIE REVIEW: The Mummy

Monday, 12 June 2017
by 👨‍💻 Graham Pierrepoint


THE MUMMY

Dir: Alex Kurtzmann

Starring Tom Cruise, Russell Crowe, Annabelle Wallis, Sofia Boutella, Jake Johnson, Courtney B Vance, Marwan Kenzari





2 STARS (out of 5)
This was always going to be a big one. The Mummy is one of the biggest and best-known monster movie staples, with the idea of a zombie wrapped in bandages escaping from sarcophagi having been around for as long as pretty much any of us can remember. It's a concept that, also, appears to have been trodden into the ground somewhat – and while a few cheesy re-imaginings starring Brendan Fraser some years ago did much to revitalise a sense of fun in the legend, it's been some time since we've seen anyone take a serious chance on the Mummies of old.
In this adaptation, noted artefact plunderer Nick Morton (Cruise) finds himself the unwilling (and unwitting) recipient of attention from an ancient princess accidentally brought back to the land of the living. Ahmanet (Boutella) is The Mummy in question – and, in her quest to find an ancient relic, she intends to resurrect purest evil by murdering Morton in particular – bringing the demon Set into the modern age. Can Morton – assisted by Russell Crowe as a re-imagined Dr Jekyll – put the malevolent Mummy back to rest for good?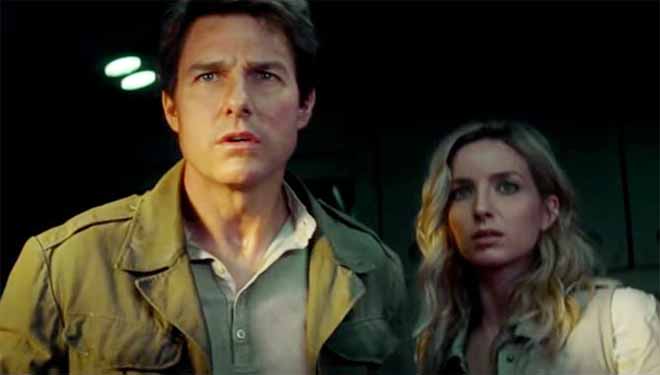 Anyone expecting anything along the lines of the Mummy movies from a few years ago may be disappointed. This is the first in a supposed long line of pictures set to fill out Universal's 'Dark Universe', and, as such, it is on a mission to balance action, intrigue, horror and – of course – several superstar entities – under one umbrella. The Mummy has the unenviable job of kicking that all off – and, to its credit, while it does try and keep things relatively snappy while injecting new life into a legendary tale, it does so with gusto. It benefits from a capable cast – you can hardly deny that Tom Cruise is still a genuinely great leading star – but, at the same time, it does seem rather too fixated on cramming in as much of the forthcoming mythology and hints and forthcoming instalments to provide much of a captivating film in and of itself.
The action is perfectly entertaining and kudos must be given to stunt work and more besides – but the sticking points here largely revolve around just how derivative and how flimsy the final product is. While the overall composition does work somewhat well as an adventure story in its own right, the execution really does smack of 'this is the introduction to a wider series'. Therefore, it must be said that the film rarely gets a chance to breathe and to revel in its own story – instead, relying upon tons of exposition to put forward much of the plot, and how it will ultimately work alongside any of the future monsters and movies that could be coming our way via the same universe in the near future.
This is no minor point – while there is action – and some of it very good indeed – the movie does retreat into brainless-slog territory when it comes to laying the groundwork for what Universal really is drumming up to be their future magnum opus. Crowe provides a fair stack of the exposition here, but it is rife to be seen in every corner of the script. The big shame here lies in the fact that the movie takes less time to find joy and fun in its set-up and twists and turns and more time to splash plodding exposition over the top. This has proven to be a sticking point for many viewers, not to mention that there isn't a fat lot done to really inspire us to get into the characters – nor the extended universe and cast supposedly set to entertain us in the years to come.
The Mummy - Official Trailer (Universal Pictures)
All things considered, The Mummy doesn't necessarily deserve all of the flack it is currently receiving. It is not a great movie to open a series with – far from it – it's clunky and fairly paper-thin despite some nice touches in the script and some interesting visual choices. It does, however, stand as a fairly entertaining hour-and-a-half for anyone looking for a fairly mindless action movie to pass the time with. It's not particularly challenging, but Cruise and Crowe do command that certain presence that is hard to capture from just anyone. Good casting aside, it would have been interesting to see more tension and character building take place rather than the obvious universe set-ups that litter the script and the final product – however, The Mummy does appear to struggle to really lose itself in itself – rather mechanically going through the motions to produce a tale that's rather less than fulfilling.
The Mummy is not a movie to go into thinking it will change everything – if anything, it's extraordinarily derivative – but as a bit of a laugh for an evening out, there really are worse choices.