MOVIE REVIEW: Despicable Me 3

Monday, 3 July 2017
by 👨‍💻 Graham Pierrepoint


DESPICABLE ME 3

Dir: Kyle Balda and Pierre Coffin

Starring Steve Carell, Kristen Wiig, Trey Parker, Miranda Cosgrove, Dana Gaier, Nev Scharrel, Steve Coogan, Julie Andrews, Jenny Slate, Pierre Coffin





3.5 STARS (out of 5)
There's little doubt in the fact that the Minions have become something of a phenomenon in recent years, having broken away from the original franchise that brought them to light – and it's therefore more than a little bizarre that the original characters and set-up from the Despicable Me franchise have been left to want somewhat. Those little yellow bundles of hyperactivity have made their way everywhere and onto everything over the past few years, making them something of a marketer and toy manufacturer's dream come true. That being said, it is always worth returning to where everything started to see what made these characters so endearing in the first place.
Despicable Me has been something of a slow-burning success for Illumination Studios, who have of course gone on to achieve big box office draws in the form of Sing and The Secret Life of Pets last year – and with both Minions and Despicable Me 2 riding high as two of the highest-grossing animated movies in cinematic history, they clearly have more than enough to shout about. The third instalment in the Despicable Me line, then, has been awaited with baited breath for some time – how do you monopolise on the success of two hugely popular and funny movies that have effectively bankrolled a company for the past five or six years? However you do it, many critics appear to be in the agreement that Despicable Me 3 may just miss the mark when it comes to bringing anything new or interesting to the table. In my opinion, however, it seems to do just enough to get by.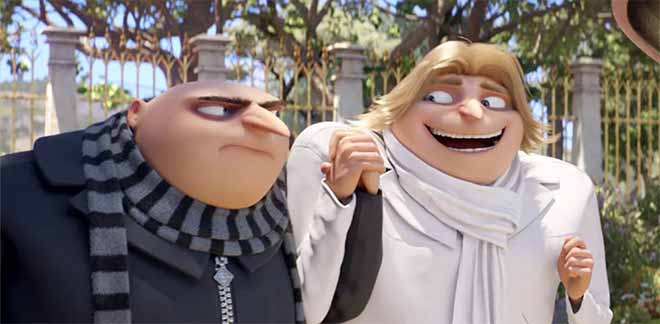 This time around, the previously-despicable Gru (Carell) finds himself and wife Lucy (Wiig) actively preventing villains from doing dastardly deeds – however, they soon find themselves out of work and out of luck after they let a particularly odd baddie (Parker) slip away – and it's not long before Gru's estranged brother – his twin, Dru (Carell) – gets in touch to try and convince him to return to a life of crime. As such, it's a story that provides a little bit of a bookend to the journey Gru has made since the first movie. However, while this is a nice touch, the story does leave plenty to be desired when it comes to execution.
All things considered, DM 3 is a safe movie – it's a very safe bank-roller and, as such, there wasn't that much that needed to be done here to ensure that Gru, Lucy and their family's third outing be a resounding success with kids worldwide. Love them or hate them, the Minions are still pulling in the big numbers in terms of merchandise and they are long past being a faddy icon – they're a full-blown phenomenon, though perhaps one which will help to define what has been a largely bizarre decade for a number of reasons.
In its best moments, DM 3 remains the likeable, frenetic and pitch-perfect slapstick family comedy we've come to love in movies prior. On a story and character development level, it's fairly bunk – there's not much to talk about in terms of plotting or whether or not it adds to the lore of the world, particularly as it struggles with the same roughshod storytelling that made The Secret Life of Pets so difficult to endear to (that, however, will be receiving a further instalment, as will Sing – Illumination are not messing around). This is a movie that is less about building upon the brilliance of Despicable Me 2 – which told a captivating story while throwing in genuinely new twists and turns for our favourite characters to get used to – and more about capturing that happy medium.
Despicable Me 3 - Official Trailer (Illumination)
The concept of Gru having a long-lost twin is fairly lazy at best – but the movie still does what it does best by channelling this raw, frantic and addictive energy from its great cast and hilarious animated comic timing. It is, after all, what made the Minions so popular in the first place – timing and delivery. That's all here, but the third time around, it's just not pushing the envelope the way the first two did. The Minions spin-off, too, felt more like a by-the-numbers affair than a genuine spectacle – even though its beginning and end sewed in a ton of interesting lore.
But, let's leave lore at home – DM 3 is a great family movie as it does everything kids will expect to see from these wacky characters – it's just a shame to see that much of what is on offer in terms of plot or spectacle fall rather flat. It's an issue that befell Shrek the Third back in the day – though DM 3 at least dodges much of the tedium that the ogre's third adventure wallowed in for much of its runtime.
The advice here is clear – it's not a miss – but it's nowhere near the paragon of quality we've expected from Illumination in recent history. If you're a fan of the series or if you have kids who simply can't get enough Minions, this is an afternoon well-spent. It'll be interesting to see if there's any steam left in the DM engine – and the way that the studio are ploughing on with their sequels elsewhere, who knows what's next for Gru and co? Minions 2, at least, is on the cards – meaning we've long from seen the end of the little yellow blighters.