MOVIE REVIEW: Baby Driver

Tuesday, 4 July 2017
by 👨‍💻 Graham Pierrepoint


BABY DRIVER

Dir: Edgar Wright

Starring Ansel Elgort, Jon Bernthal, Jon Hamm, Eiza Gonzalez, Lily James, Kevin Spacey, Jamie Foxx





4 STARS (out of 5)
Action thrillers may come and go, but it certainly takes something special to be able to turn what would be a relatively standard heist caper into something of a pop culture musical – that is, at least, without all of the cheesy trappings and forced nuances. Edgar Wright is a director who is well known for being intensely intricate – each touch, each visual cue, each moment of dialogue – all build up to a wider meaning. While much of his work has been celebrated and others critically divisive, he is a director that courts considerable audiences on his style alone – meaning that Baby Driver, at least from the outset, was promising to be something that would command cult viewing.
From the same auteur behind the likes of Shaun of the Dead, Scott Pilgrim Vs The World and more besides comes a story that is seemingly rather simple on the surface. Baby Driver follows a getaway driver called Baby (Elgort), oddly enough – who is part of a band of criminals who work under the sinister Doc (Spacey), paying off a debt – all the while caring for his father and going about his business in a somewhat unorthodox fashion. What sets Baby apart from perhaps every other getaway driver in the business – and on the trope sheet – is that he has a necessity to plug into his favourite tunes whenever he's tackling the streets. This is all thanks to tinnitus, offering him to have a constant need to distract his ears while taking on improbable stunts and getting his motley crew up and away from the scene of their latest job. But what's really driving this driver? Coming to terms with the loss of his mother, and finding himself at an urge to break away from the life of crime that Doc has waged for him from an early age, it takes a chance meeting with the mysterious Debora to set him thinking about the life he could lead outside of running jobs for Doc and his gang – especially when it seems his future could be in danger.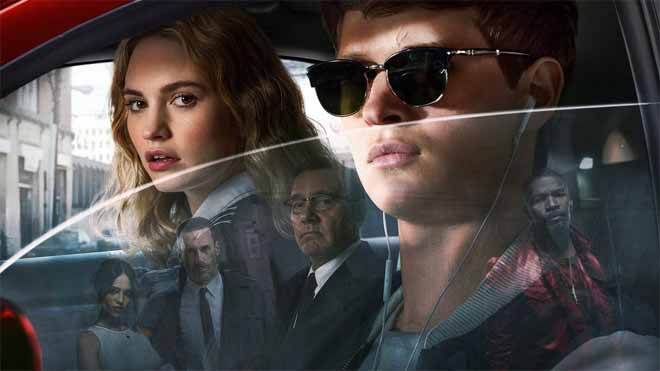 This is a film that has been receiving wild praise from those who really do like a movie that is crammed full of the little details – and much of what Baby Driver has to offer shimmers through a fantastic soundtrack and plenty of fun car choreography to appeal to even the most ardent of thriller fans. This is a movie that relishes every moment that it is on screen – it leads in with a hugely original story, a curious cast and a series of big name stars who really do give a shot of credibility and pizzazz to proceedings. Beyond this, however, much comes down to the editing and the pacing – there's a genuine energy here that is a joy to behold, and this is rather prevalent across much of Wright's movies. While they are often full of fun and intricacy, there is a frankness and often visceral action to balance things out.
Baby Driver benefits from a great cast with a witty script and just the right amount of exposition to match. This is a movie, however, that may not appeal to everyone – it is undyingly offbeat, and it is sincerely proud of it – but it has a core cast of central characters that you do want to get behind and to learn more about as the film moves along. There are many action movies that take themselves far too seriously – and while Baby Driver certainly puts things across as fairly serious stuff at times, it takes plenty of opportunities to have fun with its already original material. While this is refreshing – and highly entertaining – it may catch some more genre-savvy viewers off guard.
Baby Driver - Official Trailer (Sony Pictures Entertainment)
As a film, it is impeccably made – and it knows how to keep an audience happy – but it is finding that audience that may be an issue. It is a critical darling, having received perfect scores across the board, purely on the grounds that it is so refreshing and so enjoyable in equal measure – these are incredible things to be proud of, of course, but it has the same sticking points that work against it in the same way that Scott Pilgrim sometimes stumbled – this is a movie that loves itself. That being said, it is a film that is very easy to love right back – and anyone looking for a fun ride as opposed to the same old safe screenplays will no doubt get a kick out of this.
Baby Driver is what it is – hugely original and surprisingly captivating – and while it is certainly deserving of the praise coming its way, it may not necessarily be the catch-all favourite for every cinemagoer. Does it have that enduring appeal that the all-time greats so easily court? Maybe – there's no doubt this will play well to a certain audience – but if you're up for something a little different, go into this one to enjoy yourself and you'll be fine.