MOVIE REVIEW: Spider-Man: Homecoming

Monday, 10 July 2017
by 👨‍💻 Graham Pierrepoint


SPIDER-MAN: HOMECOMING

Dir: Jon Watts

Starring Tom Holland, Michael Keaton, Robert Downey Jr, Jacob Batalon, Marisa Tomei, Donald Glover, Zendaya, Laura Harrier, Jon Favreau, Tyne Daly





4.5 STARS (out of 5)
Spider-Man is the one character – comic book or otherwise – who really does seem to keep coming back again and again. It can be hard to really nail a character with so much iconic status and image right the first time – and while there are fans of both Tobey Maguire and Andrew Garfield as the web-slinger extraordinaire, it remains to be said that neither series really hit the nail on the head the way the Marvel Cinematic Universe appears to have with other comic book properties. The fact that Spider-Man has been rebooted twice for cinema across three separate actors over a period of fifteen years is mind-boggling – and this time, at least, it really is third time lucky.
Internet-famous vigilante Peter Parker is struggling to balance an 'internship' with Tony Stark – aka Iron Man – after the events of Captain America: Civil War. Not only is he hanging on the phone for a call from his potential new boss, he's having to navigate the awkwardness of high school, trying to focus on doing good as the neighbourhood hero and all at the same time as juggling a crush on someone who may well harbour the same feelings back. While all this is happening, a local crime lord (Keaton) specialising in alien weapons is starting to make a killing on the local market – and once Parker sniffs out this wrongdoing, it's down to him – and his affable sidekick Ned – to try and take down The Vulture and his cronies away from the gaze of Stark Industries.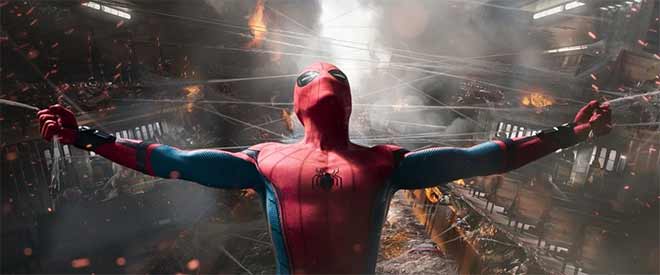 Spider-Man: Homecoming is enormous fun. This is the main point – there is absolute joy to behold here in every last beat, in every frame – Holland is a goofy, likeable and honest-to-god normal teenager. He's awkward, he's full of grand ideas, and he's trying to survive high school – all the while balancing a double life of being the friendly neighbourhood Spider-Man. On these grounds, this reboot really does get Parker and Spidey right – he's just flawed enough to be our viewer avatar and just talented enough to offer spectacle. He really is an Avenger in-training – he has none of the angst or the previous trauma, but has a ton of ambition and all of the gusto. This is a Spider-Man that is very easy to get behind – and is at the same time all the more likeable than his predecessors.
As a movie, Homecoming follows many of the tried-and-tested formulae that the Marvel Universe is all too happy to wade through. This isn't a bad thing – in fact, despite Tony Stark making plenty of appearances in the movie – along with another Avenger in a series of very funny asides – this really does feel like the standalone Spider-Man movie we've been waiting for that seamlessly ties in with the existing Marvel Universe.
Michael Keaton once again shines at his surly best, portraying a villain with plenty of reason, perhaps, to get into what he gets into – only ever really treading into full-blown monster territory in the fact that he's a grimy arms dealer (which, point taken, is villainous enough). The supporting cast is wonderful – vulnerable and snarky in various shades, providing Peter Parker with a likeable background to play over. The stunts, visuals and all of the intricacies involved with Spidey's suit are wonderful – there's just enough techno-babble and just enough playing around for it to really hit home.
Spider-Man: Homecoming - Official Trailer
There are a few points which render Homecoming just short of the MCU's greatest outing – though it really is up there. It is fairly by-the-numbers. If you're not really into these movies and are tired of tropes and clichés that pop up and the willing snark that seems to glue the dialogue and script together, you need not apply. This is not ground-breaking in terms of comic book cinema. It is ground-breaking in terms of Spider-Man cinema, however, and it is this which makes its resounding critical success all the more deserving.
It's plain and simple as day - Holland is a likeable and enchanting Spider-Man and it is likely that we will see lots more from him in the years to come. His first full outing may not be the game-changer some thought it could be, but it is nowhere near the paltry offering many more feared it could become. There are many more Marvel movies on the slate – and Spidey really does set the bar high for some of the more riskier pictures yet to hit our screens. After five Spider-Man movies, have we found the perfect adaptation? Maybe not perfect – but as close as we're going to get for a long time, at least!