CAPTAIN UNDERPANTS: THE FIRST EPIC MOVIE
Dir: David Soren
Starring Ed Helms, Kevin Hart, Thomas Middleditch, Nick Kroll, Kristen Schaal, Jordan Peele





4 STARS (out of 5)
Oh, boy. Just look at that title. Last week, we had the likes of Dunkirk and War For the Planet of The Apes. This week, we have Captain Underpants and The Emoji Movie. Yes – the summer holidays have started – and so, you'd be forgiven for thinking, has silly season. With Pixar cruising on the laurels of the watchable Cars 3 until the release of Coco later this year – and with Disney sitting pretty on the animation front until Ralph Breaks The Internet in 2018, the summer is now completely clear for the other big names in animated movies to pull in the box office money. Sony went with The Emoji Movie. DreamWorks have gone with Captain Underpants. Regardless of how I'm going to review this one, you already know who's won – but after the mediocre The Boss Baby rattled into cinemas earlier this year, it is a genuine surprise and delight to find a movie from DreamWorks that really seems to get what kids want from entertainment.
Captain Underpants started life as a hugely popular series of children's books authored by Dav Pilkey – they've been around for nigh on twenty years now – so it was only a matter of time, of course, before the y-fronted headmaster-turned-superhero took to the big screen. This movie – as its perhaps cynical tagline suggests – is the origin story, and the first in what DreamWorks clearly intend to be a good run. Subtitling your movie the 'first' was last attempted by Disney's 'Doug's First Movie', and you only have to look for a sequel that doesn't exist to see how well that turned out. Digressing, slightly, I admit.
Fourth-graders Harold and George are your typically naughty kids. They cause chaos, they pull stunts, and – as such – the school system punishes them for it. However, the boys aren't taking this lying down. Owing to a series of bizarre circumstances, they find themselves able to hypnotise their stern headmaster – convincing him that he is, in fact, Captain Underpants – a superhero kitted in naught but a pair of y-fronts and a red cape. Chaos, of course, ensues from there.
Let's be clear – this is a kids' movie, through and through. It's a movie which will likely raise laughs for parents – but this is perhaps one of the most kid-focused animated movies to have been released in years. That seems odd to say – but animation is no longer a children-only vehicle – while family-orientated fare such as Moana and Finding Dory find their audiences in young and old alike, it's rare to see a movie that is so 'down with the kids' – literally. In fact, it's very refreshing to see such a film without any of the pandering or product placement that can have a habit of bringing these pictures down (see a certain movie about emoji).
Captain Underpants is absolutely joyous. It may not strike gold with every joke, but it is defiantly, unashamedly silly, and sticks firm to the style and attitude of the books. It is a movie that is keen to go against the grain in being so off-the-wall bonkers – to throw out low-brow kids' humour that Disney might wince at – and it is offered in such a way that it is hard not to get caught up in it. Nicholas Stoller was on board as screenwriter here – having brought Storks to our screens last year – and the same rampant, unapologetic energy is rife here. Only – this time, there's less tropes – there's a nicer animation style to fit the energy – and there's no pretension.
Captain Underpants: The First Epic Movie - Official Trailer (DreamWorks)
Captain Underpants could well have been a slack-jawed dud that annoyed adults and bored kids – but it doesn't. It approaches young viewers on a level that's pretty rare, regardless of the quality of family films over the years – it meets them with silly, smart humour which – while crude and loud at times – at least offers a nice sense of self-awareness. Make no bones about it – Captain Underpants is not breaking any new ground beyond its razor-sharp focus – but for a kid-friendly movie that is simply a riotous laugh-fest for anyone under the age of nine, you can hardly go wrong.
Sure – it doesn't have the emotional core of Kubo and the Two Strings. It doesn't have the clever subtext of Zootopia, or the high concept of Inside Out. What it does have is a big, fat man in y-fronts and a cape – and believe me when I say, yet again – it really does run with that. Given a choice between a transparent corporate cop-out and a genuinely peppy, fun-filled movie that won't make you look at your watch every two minutes, which are you going to pick? If your kids beg you to let them see The Emoji Movie – by all means necessary, 'accidentally' take them to Captain Underpants instead – someday, they will thank you for it.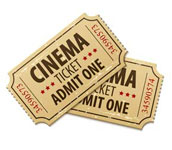 » See more of Graham's Movie Reviews