THE NUT JOB 2 : NUTTY BY NATURE
Dir: Carl Brunker
Starring Will Arnett, Katherine Heigl, Maya Rudolph, Jackie Chan, Isabela Moner, Jeff Dunham, Bobby Moynihan, Peter Stormare, Bobby Cannavale, Tom Kenny





1.5 STARS (out of 5)
When The Nut Job 2 is one of the more palatable animated movies released in any given season, you know you've been in for one heck of a rough ride – at least, if you're parents of cinema-thirsty kids. Short of Pixar's middling-to-somewhat-good Cars 3 and Dreamworks' surprisingly impressive Captain Underpants, the pick of the crop for family-friendly animation has been somewhat marred lately. While Dreamworks may be back on an even keel after the shockingly banal The Boss Baby, Sony Pictures has a lot to claw back in terms of credibility after the unspeakable Emoji Movie (the worst-rated movie of all time here at One News Page) and following lacklustre reviews for The Dark Tower (more on that next week).
On the other side of the coin is the relative budget effort of The Nut Job 2. If you've seen the original, you'll wonder why this exists at all. You will likely be even more surprised to learn that the sequel outstrips the original by approximately 0.5 stars – though I am perhaps leading against the grain of critical opinion by not believing the original to have been as egregiously bad as many say it is. This, at least, is because I saw it – by choice – after Norm of The North. Perhaps I can return to Norm now dreaming of happier times before The Emoji Movie – stay tuned!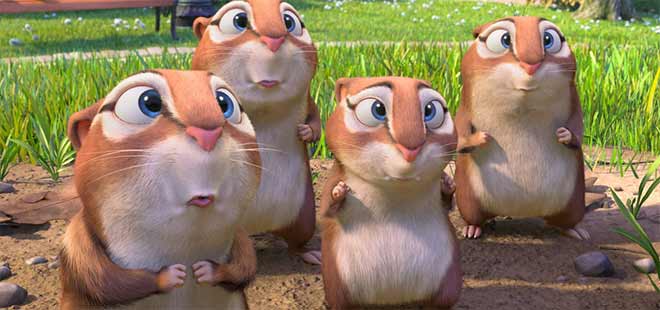 Nut Job 2 – Nutty By Nature (collective groan) picks up where the original left off, with the park critters having set up their own nut buffet, only for it to collapse around them when they least expect it. This leads them to consider returning to their scavenging roots – only to find that there's a sinister plan (of course) to level the local park – putting lives at risk in the process. Can Surly the squirrel (collective groan) and friends fight back against the horrors of man to reclaim their land? Have you seen Over The Hedge or Norm of The North? Then you already know the answer.
First things first – yes, it's more of the same. This time, however, there does seem to be a touch more class in terms of timing, and it certainly benefits from having a few reasonably funny turns from Jackie Chan as a sensei mouse of sorts (it makes sense in context). The animation has, thankfully, improved a little – though it is still a muddled, rather ugly-looking universe – one which never quite dips to the level of, say, Hoodwinked, but still doesn't quite get the visual sheen or gloss to match the wacky hijinks it prides itself on.
Nut Job 2 is still – and you saw this coming – a cookie cutter kids' movie. Not even a good one, however – one which rehashes the rehashable and depends upon a largely forgettable B-list cast – with Maya Rudolph perhaps going for two in a row having helped out on The Emoji Movie recently – and Will Arnett, who since the first movie has made more of a mark on family cinema as the dark knight in Lego Batman. It's a movie which doesn't ever strive to go anywhere new. It seems insistent on relying upon clichés and tried-and-tested 'goofy cartoon movie' standards which went out the window the minute Disney's Home on The Range fell flat on its face. As such, it's absolutely mind-boggling as to why this one has even seen a cinema release. It's even more bizarre to think that it's been staggered (in the UK, at least) to avoid Emoji and Captain Underpants – almost as if it believes it has a chance to capture family interest midway through the six-week holidays.
The Nut Job 2: Nutty by Nature - Official Trailer (Open Road Films)
All things considered, Nut Job 2 isn't completely offensive to the senses – but its banality and pointlessness is all the more stark as the movie goes on. Back in the day, we would call this the equivalent of a straight-to-video picture – or even straight-to-DVD – but these days, it will likely swing straight into Netflix and Amazon's monthly bundle without so much as a fanfare. The characters, while they do have their moments (and the cast does well with the material, it has to be said), aren't engaging or memorable. The story has been done so many times I am suffering from an ice cream headache just thinking about it. The only saving grace it has is completely relative – that it is less cretinous and mildly more entertaining than its predecessor – a midsummer miracle.
Let me close this review by reminding you, just briefly, that the original Nut Job finished with the characters shamelessly and irrelevantly dancing to 'Gangnam Style'. Two years after the song was considered popular. We could therefore expect Nut Job 3 to feature squirrels performing Miley Cyrus' 'Wrecking Ball' in parachute pants.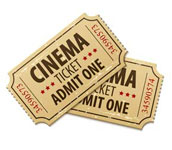 » See more of Graham's Movie Reviews