THE DARK TOWER
Dir: Nikolaj Arcel
Starring Matthew McConaughey, Idris Elba, Tom Taylor, Dennis Haysbert, Ben Gavin, Claudia Kim, Jackie Earle Haley, Fran Kranz, Abbey Lee





2 STARS (out of 5)
Stephen King is one of the most adapted authors to the big screen bar none. Many of his most famous tales have gone on to make award-winning and critically-lauded movies in their own right – consider The Shining, Stand By Me, The Green Mile, Misery – though perhaps less so It (which is getting a remake very soon indeed) and The Langoliers, which have perhaps aged a little worse. One tale – or in this case, sprawling series of tales – has avoided the movie treatment for some time. If both Naked Lunch and Watchmen were considered 'unfilmable', you can safely add The Dark Tower to the list of those which have broken through the 'never-say-never' barrier – though what we've ended up with isn't particularly what was expected, in what continues to be a spectacularly critically downbeat summer for Sony's cinema division. Interestingly enough, as a side note, Jackie Earle Haley was pivotal as Rorschach in Watchmen – and he's cast here, too.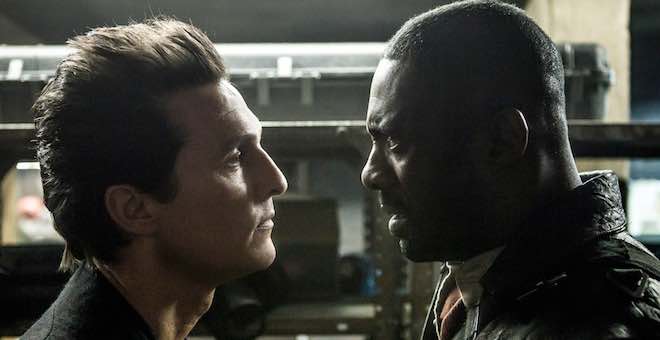 The Dark Tower is based on an eight-part series of books which are said to be sprawling, complex and highly in-depth – its fans are steeped deep in the lore, the characters and the worlds that they inhabit. Therefore, adapting such a tome was never going to be an easy, nor enviable task. David Lynch attempted to bring the colossal Dune (Frank Herbert) to the big screen to uneven results, and with Blade Runner 2048's Denis Schumacher set to re-adapt it in the years to come, it seems that certain directors may never tire of a little challenge every now and again. Therefore, it's perhaps best that I keep the story on display here as simple as I can - though this alone may not be a mean feat.
The Dark Tower (cinema version, leaving the books to one side) centres on the concept of a lone structure, the titular tower, which allegedly holds the universe together. Surrounding this tower is a long-running (read: endless) battle between two men – the ominous Man in Black (McConaughey) and Roland Deschain, otherwise known as the 'last gunslinger' (Elba) – as the former wishes to take the tower down and the latter wishes to, naturally, prevent him from doing so. The Man in Black has been invading nightmares, too – and as one boy (Tom Taylor) is finding himself haunted by visions of the tower and of the Man in Black, he finds himself partnered with the last gunslinger in an effort to try and save the universe at stake.
While the outline of the story does seem a little confusing, the output is perhaps not as headachey as you're expecting it to be. What's transpired here is what is essentially a re-telling or perhaps even a sequel to the original tomes which have been condensed and flattened out into a cinema-friendly option. It's therefore chock full of much of the mythology and the bizarre occurrences that King's books are known for, but the film can sadly give very little time to flesh them out. Instead, we're treated to a rather terse tale that whips along without much care – and without giving much time to let certain elements breathe.
The Dark Tower - Official Trailer (Sony Pictures Entertainment)
This is one of two movies I'm reviewing this week which largely rely on their brilliant personnel to help coast through – though The Dark Tower does also offer plenty of visual stimulus, and for that it deserves a little more than the cries of 'dreck' that are perpetuating Rotten Tomatoes right now. The RT quote alone asserts that you should 'go watch another Stephen King adaptation instead' – a rather brusque assessment of a film which, while it never really sires on any of the cylinders it's aiming for, still stands as something of an achievement – that someone attempted to bring The Dark Tower to the big screen, and that they did so with two big stars and with at least a semblance of passion.
McConaughey is going through a huge career spike right now and this is largely thanks to the likes of Interstellar and Dallas Buyer's Club showing what the actor can genuinely do – and here, he's in even wilder territory as an over-the-top villain who may well appear far too cheesy for some cinematic aficionados. Elba, meanwhile – arguably the busiest man in cinema during 2016 – offers as much gravitas as he can with the material – and he is perhaps one of the better choices that could have been made in casting the gunslinger.
Sadly, however, it's a film which whips along and desperately tries to condense plot and mythology into its run time as best it possibly can – resulting in more of a disappointment than a complete deconstruction of the original work. If you go into The Dark Tower expecting an experiment as opposed to a chance to bring the extensive material to the big screen in a perfect manner, you may enjoy it more – but, as such, it's rather overwhelming and all the more disappointing – though perhaps not as dire as some critics will have you believe.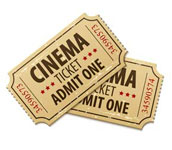 » See more of Graham's Movie Reviews