THE LIMEHOUSE GOLEM
Dir: Juan Carlos Medina
Starring Bill Nighy, Olivia Cooke, Douglas Booth, Daniel Mays, Sam Reid, Maria Valverde, Henry Goodman, Morgan Watkins, Eddie Marsan





3 STARS (out of 5)
Horror is an odd genre – it certainly seems to vary from country to country and from culture to culture. While US cinema has been happy to perpetuate slasher flicks since the dawn of film, the influence of the Japanese has helped to make the genre evolve into something a little more rounded. The British side of things, however, has always seemed a little more grisly, more old-worldly, perhaps even creepier – after all, Christopher Lee is still considered the iconic depiction of Dracula – and British Hammer Horror movies have plenty to answer for when it comes to inspiration on the modern genre. It's therefore not surprising to see a murky British horror thriller make its way onto modern screens again – even if this particular tale may not be the genre-changer it perhaps should have been.
The Limehouse Golem, adapted from Peter Ackroyd's Dan Leno and the Limehouse Golem, is a grim, murky tale sit in the mists of Victorian London – where it appears that a number of bizarre murders are escalating. The killings appear to follow ritual of some kind – and Inspector Kildare (Nighy) is brought in to help figure out who or what is behind the bizarre deaths – while playwright's wife Elizabeth (Cooke) stands trial accused of killing her husband, who himself was a suspect in what are being called the Limehouse Golem killings. Kildare finds himself pilloried by the press and in charge of a murder investigation which suggests that an otherworldly monster could be to blame – but is the truth more human?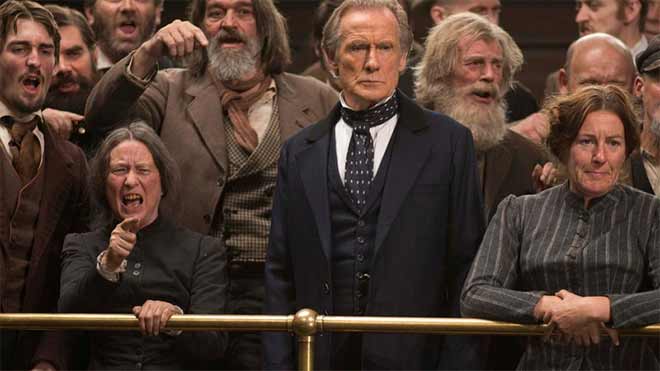 Limehouse Golem is a movie which is chiefly concerned with plots, and narrative, and twists therein – therefore, it makes for a fairly nice change of pace amongst many films to have reached the big screen this year which flatter to deceive. Certainly, Golem is no stranger to going all-out on atmosphere, either – as the grimy Victorian stage is set for Ripperesque murder and mayhem which will likely appeal to a niche audience – it's all very Sunday night BBC1 – and this is perhaps where a number of its flaws may stem from.
The movie is a grandiose project which does well to provide plenty of twists and turns – as well as muddling flashback devices here and there – in an effort to flesh out the story. These storytelling quirks are certainly welcome, if not rather haphazard – and there are plenty of grisly moments thrown around here and there when it comes to the murders themselves. This is absolutely prime time Sunday night British TV viewing – albeit a little denser, a little more macabre but nonetheless still fascinating in its own little way. A longer running time, perhaps, would have gone a fair way here – especially when it comes to deepening the mystery. Anyone savvy enough with this sort of drama will have worked out the mystery long before Bill Nighy does – meaning that while much of the fun is gone from working out whodunit, you can at least enjoy the visual spectacle and the showtunes of old. Scene setting is nicely attended to here – that, at least, is a strength.
The Limehouse Golem - Official Trailer (Lionsgate)
The cast here is great – some of them well-known to British viewers, others just breaking through – and once again, Bill Nighy proves that he can carry a lead with vigour and passion. Nighy's issues on the big screen lately have been to do with the characters he's been given as opposed to his performances – while Inspector Kildare may well be perfectly played by Nighy (though it was supposedly lined up for the late Alan Rickman), his character just isn't that interesting – there's too much twisting and turning of the plot and too little attention paid to either the story or Kildare's journey for any of this to hit home as well as it could have.
What Limehouse Golem is, however, is different – perhaps even challenging – to the cinematic norm. It is richly atmospheric, and while episodes of Murder She Wrote may have had harder mysteries to work out, this is a movie which delights in being a little more macabre than you are expecting, perhaps a little more period than you were paying for – and while it certainly does provide for a fairly memorable trip to the cinema, it never really reaches for anything beyond its station. There are a number of flaws here which prevent Golem from being a game-changer – but, at the same time, it is a creepy, tense, grisly and engaging film that will very likely appeal to a niche audience – and then some. If anything, it is always worth seeing Bill Nighy on the big screen in a lead role – as far as British actors go, he continues to be one of the most reliable, and indeed versatile.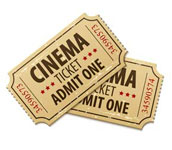 » See more of Graham's Movie Reviews