IT
Dir: Andy Muschietti
Starring Jaeden Lieberher, Bill Skarsgard, Jeremy Ray Taylor, Sophia Lillis, Finn Wolfhard, Wyatt Oleff, Chosen Jacobs, Jack Dylan Grazer, Nicholas Hamilton, Jackson Robert Scott





4 STARS (out of 5)
This was always going to be a big deal. It seems to be a summer of Stephen King right now, with The Dark Tower having recently made its way to cinemas – and having received largely mixed reviews leaning towards negative – and, as summer draws to a close, we're now being treated to a re-imagining of King's whopping tome of tortured adolescence and bizarre sewer clowns. King's original mammoth book weighs in at over 440,000 words – that's around 10,000 away from the entirety of the Lord of the Rings trilogy – making it one of the densest, most explorative and most controversial of the horror author's seminal works.
Certainly, it's not the first time we've seen It hit our screens – many will of course be familiar with the 1990s TV adaptation, spread over several hours and allowing Tim Curry to shine as the monstrous Pennywise, the Dancing Clown – and, 27 years on, it perhaps seems right to revisit the material. After all, clown phobia has never been more rife – and director Andy Muschietti makes the more than reasonable decision to restage the characters and their lives in the late 1980s as opposed to the 1950s in the source text. This, at least, gives the movie plenty of nostalgia value from the off – one which balances nicely with both familiarity and dread.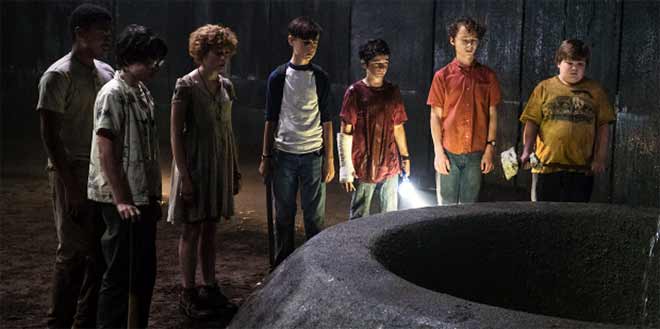 King's story focuses on a band of friends collectively known as 'The Losers' Club' – a bunch of social misfits finding their way through adolescence one issue at a time. In their home town, word of local kids going missing is striking a chord – and it seems that a malevolent entity lurking beneath the sewers, feeding on fear and pulling in any tasty morsels that may come its way. The entity – otherwise known as It – largely seems to take the form of Pennywise – a sinister-looking clown with a fiendish grin and an affinity for balloons. This adaptation focuses on the childhoods of the main characters – and while the 1990 adaptation showed us their childhood and adulthood, this picture serves only as 'part one'. For the most part, there's every reason you should be clamouring to see the follow-up.
This is a movie that follows horror convention rather solidly, and while it's not moving out of the genre's box with anything particularly new, it plays to King's tropes and strengths well, choosing to eschew plenty of notes and nuances in the epic novel which smack with some controversy. It is a movie which will surprise many viewers as less about creepy clowns and more about tortured adolescence – these characters are going through particularly grim times – and the movie frames just about everything front and centre. As such, it's a picture which has to be commended for its dedication to character development – of course, King's novel offered over 400,000 words to its main cast – meaning that a film rendition was always going to be delving this far deep.
The main cast of kids, therefore, can be commended – they do a great job of selling everyday fears and insecurities – while balancing reactions to the hideous Pennywise as we'd expect. Bill Skarsgard is an altogether different Pennywise from Tim Curry's – Curry opting for a hammier take with a few twinges of genuine humour here and there – while here, we get a Pennywise that is altogether more sinister in a plethora of different ways – this evil clown is somewhat childlike at times, while offering a genuinely disturbing look that has likely captured a ton of interest through direct marketing. The movie, therefore, is an aesthetic triumph – balancing nostalgia, trauma and otherworldly horror – as well as creepy clowns – in a nicely unnerving package that doesn't ever outstay its welcome.
It - Official Trailer (Warner Bros. Pictures)
Horror fans may not find this version of It to be too scary – after all, much of the horror on display takes place in the everyday lives of the kids – but when Pennywise appears and does what he needs to do, you can believe that it's a movie that ups the ante when it comes to visual scares. It's essentially an old-school horror movie with plenty of nods to the source and the 1990 rendition – while seemingly remaining fresh and new in the meantime.
This will be a fairly disturbing movie to some, and somewhat predictable to others. It does, of course, have all of the usual King hallmarks and it never quite pushes the boundaries of the film genre – but what it does do is revel in the source material and bring Pennywise and the kids' lives up to a new nostalgic level that will seem creepily familiar to many viewers. A must see for King fans and those in need of a retro fix.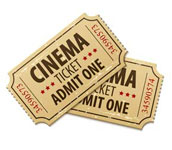 » See more of Graham's Movie Reviews