BLADE RUNNER 2049
Dir: Denis Villeneuve
Starring Ryan Gosling, Harrison Ford, Ana de Armas, Sylvia Hoeks, Robin Wright, Mackenzie Davis, Carla Juri, Lennie James, Dave Bautista, Jared Leto





4.5 STARS (out of 5)
The original Blade Runner – of course, based on Philip K Dick's Do Androids Dream of Electric Sheep – never really fared too well on its first outing at the cinema. It was one of many movies to have been heralded as 'great art' and a 'masterpiece' decades afterwards, and this may largely be thanks to a rather polarising, all-too-easy ending that was derided by many and, perhaps thankfully, smoothed over in director Ridley Scott's final cut some years down the line. Scott paved the way for dystopian futures on film to be dark, gritty and not as pleasant as The Jetsons may have made everything seem. Quite where George Jetson and Astro would fit into Denis Villeneuve's take on an alternate LA at the edge of 2050.
Blade Runner 2049 – rather than aiming for the obvious and sometimes loaded '2' tag – does indeed take place decades after the original movie, which was in fact set in 2019. The original set up the idea that in this alternate future, replicants – that is, humans who have been specifically engineered from scratch – have a role to play in farming outer space. They're essentially shipped out to do humans' dirty work – and in the original, they started fighting back – and it was down to Rick Deckard (Harrison Ford) to bring them to justice. Thirty years on, the story's not changed too much – only this time, it's down to a replicant known as K (Ryan Gosling) to do the hunting. Only, he unearths a secret that could turn the tables for humanity as we all know it – and he may well cross paths with familiar themes and characters along the way.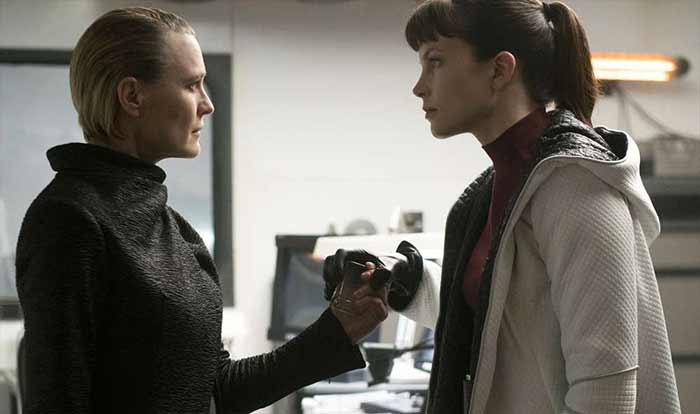 This is not your average sci-fi film, nor is it the sort of movie which will appeal to a wider audience. While the original movie is hailed as a visionary classic, as a property on the big screen it perhaps lacks that killer ticket-selling bite – it would be rather like, in the same vein, if they remade 2010, the sequel to 2001. It would pull in the core audience, but it sadly might not fare as well as a dirty great clown with razor sharp teeth. That being said, Blade Runner 2049 is a masterpiece for the eyes and ears, keenly bringing together a dystopian landscape which, while altogether rather different from the one we saw thirty years ago, still manages to match all the right beats and poignant tones that Deckard's adventure saw splashed onto the big screen.
Villeneuve has many of the original's stalwart crew on board for this – including Ridley Scott – and while there are touches of Scott-ness throughout, this is largely a Villeneuve movie, with cinematographer and previous collaborator Roger Deakins creating an often disquietingly beautiful experience on the aesthetics front – this is perhaps not the bang-bang-you're-dead picture you're expecting – it's an oddly muted, existential journey that has Gosling ideally placed at the front of the pack, and with Ford returning once again to an iconic role with absolute panache. Ford's decision to revisit some of his old characters is proving to be one of the best decisions he's ever made, though we'll certainly have to see how Indiana Jones 5 pans out.
Blade Runner 2049 - Official Trailer 2 (Warner Bros. Pictures)
Blade Runner 2049 has received critical praise from most quarters upon release, though doesn't seem to be faring brilliantly at the box office at the time of writing – so nowhere near history repeating in that sense. What's incredible is that Villeneuve et al have been able to return us to this alternative Earth and have been able to move it on three decades without it neither feeling too derivative of the now perhaps slightly-dated 2019 of 1982, nor too outwardly reaching. There are holograms, pervasive advertising and murky politics all around – but hey, aren't we already heading in these directions?
This is a movie which is designed not only to appeal to the aesthetics but also to make you think rather deeply about the tentative balance that is life and the rights we possess. It's also deeply mysterious – something Villeneuve has proven to have been very good at seeding and carrying out on several occasions now – and it will therefore likely appeal to anyone looking for a deep, resonant and affecting journey that's handled with incredible talent and care. That's the main thing to take from Blade Runner 2049 – the auteurs, the cast, everyone involved – they clearly cared about making this movie. Free from the tedium of faux-future flicks such as this year's Ghost in The Shell adaptation, Blade Runner 2049 is a mind-melting, gorgeous cinematic experience that, while not everyone's cup of tea, deserves watching at least once.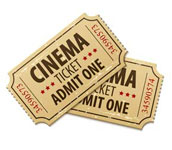 » See more of Graham's Movie Reviews