JUMANJI: WELCOME TO THE JUNGLE
Dir: Jake Kasdan
Starring Dwayne Johnson, Jack Black, Kevin Hart, Karen Gillan, Nick Jonas, Bobby Cannavale





4 STARS (out of 5)
Jumanji is one of those beloved properties from the 1990s that has taken on that modern-day reverence amongst those the media likes to call 'Millenials' – the original movie is fairly beloved, perhaps bolstered by the fact that it was one of the late Robin Williams' most spirited performances and that it was simply so brave for its time – it's visually impressive and it can be rather intense for a family film. To this day, it's extremely well-loved – and while its spiritual semi-sequel Zathura (based on an entirely different imaginary world) perhaps hasn't gained the same amount of reverence or sheer love Jumanji has, it goes without saying that it is still a film that pulls in the replay value.
The original movie focused on two kids who find a strange, old boardgame called – you guessed it – Jumanji. The game isn't your average round of Frustration or Ludo, however, as it has the power to both capture you within its world and to unleash the very jungle it's so famous for. This latest take on the Jumanji universe – subtitled 'Welcome to The Jungle' and avoiding the temptation to throw a '2' on the end – updates things rather curiously for a whole new generation of teenagers. In this movie, they're playing an old school videogame which transports them into the titular jungle – and, curiously, into the bodies of the characters within the game. This means that – of course – they're going to need to 'finish the game' in order to break free. With a cast comprising some of the funniest talent in cinema right now, you'd be forgiven for thinking that Jumanji 2 (as it shall be known from here on out) could be hiding a lacklustre script and direction behind such immense casting. Thankfully, for the most part, you'd be wrong.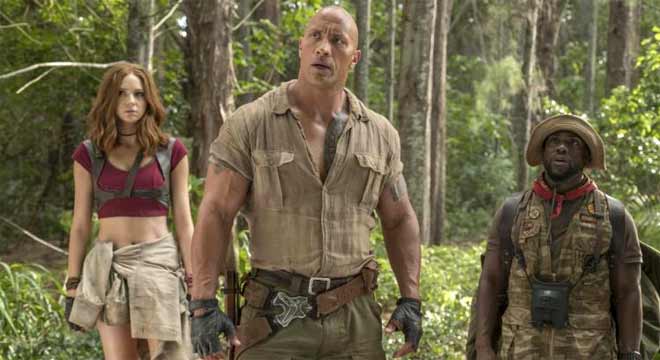 Jumanji: Welcome to the Jungle (Sony Pictures Entertainment)
Jumanji 2 is surprisingly refreshing, at least in the sense that it really doesn't borrow that much from the original movie. Certainly, there are moments and there are call-backs, but it remains to be said that this is a comedy movie that is firmly its own entity – and on sheer joy alone it runs, clearly having a wonderful time. The energy and pacing, at the very least, are infectious – it's hard not to get behind these guys and for that you will be thankful – as it can wear on a little towards the end. That being said, which comedies don't feel like they grind on a bit? Even the best of them can run out of steam – and this one at least has a solid reputation and a very capable cast to fall back on.
Jumanji 2 makes the most of the immense camaraderie between Johnson and Hart, last explored in Central Intelligence – as well as drafting in Gillan to show yet another side of her repertoire that I sincerely hope will be explored further by Hollywood. Anyone who purely knows her as Amy Pond from Doctor Who, Nebula from Guardians of the Galaxy or whoever it was she played from the utterly cretinous The Circle will be pleasantly surprised. Jack Black, too, is inarguably at his best in straight-up silly roles, and his performance as a teenage girl in a male, middle-aged professor's body is something to behold – and very, very funny to boot.
Jumanji: Welcome to the Jungle - Official Trailer #2 (Sony Pictures Entertainment)
Jumanji 2 succeeds where other comedies fail in that it genuinely always seems to have something going on. It has an intriguing premise and a focus, as well as a band of passionate characters whom, while goofy, we come to genuinely care about. Where other comedies such as Daddy's Home fail lies in the fact that both premise and laughs are extremely unbalanced – and that, for many Hollywood studios, banality is tempting if the revenue is guaranteed. Jumanji 2 takes a huge risk in resurrecting a franchise that is well-remembered and offers new vigour, energy and intrigue. To say that it is even worth watching came as something of a surprise – comedy reboots do not generally fly well on my radar, meaning that this one can perhaps act as something of a bar to be set. Dross like Baywatch and CHiPS need only fall into Jumanji 2's shadow – cunningly unveiled at the height of the holiday season, too, to ensure maximum attention from families.
Reboots and remakes can be lazy and even mildly infuriating – but show a franchise enough love, while running with enough steam on your own, and you can make something good out of even the oldest of properties. Jumanji 2 is a great little movie and it's one that deserves to do well – particularly thanks to incredible main cast chemistry and genuine comic timing and direction throughout.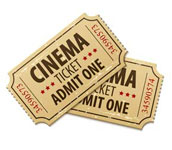 » See more of Graham's Movie Reviews