DARKEST HOUR
Dir: Joe Wright
Starring Gary Oldman, Kristin Scott Thomas, Lily James, Stephen Dillane, Ronald Pickup, Ben Mendelsohn





3.5 STARS (out of 5)
History is, of course, well trodden when it comes to cinema. It's no surprise that we know so much about the various conflicts and historical twists and turns that have culminated in our present day situation – when there are so many historical dramas which exist to tap into real life intrigue that we may not have been alive to witness at the time. World War II is certainly well-trodden – and there are more war dramas around nowadays than ever, it would seem – with Dunkirk and Hacksaw Ridge being two of the biggest war-based pictures to have wowed audiences in recent times. Certain personalities involved in our various conflicts, however, are long overdue a re-examination – and while British Prime Minister Winston Churchill may have been portrayed again and again to the point of almost parody, the time certainly feels right for the wartime PM to be brought to the big screen with renewed gravitas.
Darkest Hour – which is already being touted as an Oscar potential – focuses on Great Britain at the height of World War II, where its PM – Churchill (Oldman) – finds himself in the middle of conflict that could mean the fall of both the UK and France. Churchill's role in proceedings – especially when it comes to what action he took with regard to pushing forward or cow-towing to Adolf Hitler – are examined in intense detail, particularly giving us a look at the man behind the ready wit band the 'V' sign that we perhaps haven't seen anywhere else. How does it hold up, however, as an effective piece of narrative and one which gives us a unique insight into a world at war?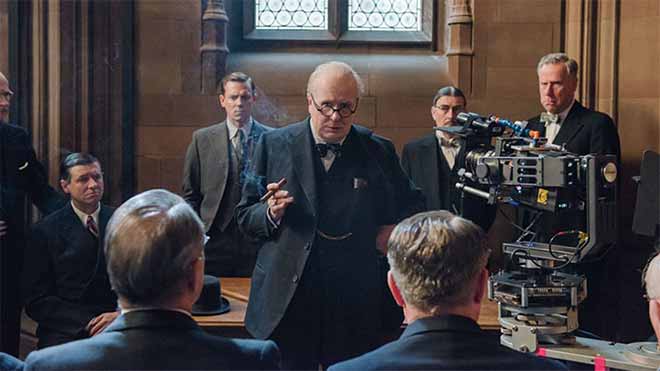 Darkest Hour (Universal Pictures)
Critical reception of the movie I have to generally agree with is also fairly widespread. Darkest Hour is a good movie – on its own, it tells a side to a story we've perhaps heard a million times before – and while it doesn't really try anything different, it rattles through the motions with gusto. Some may say that the movie requires a level of drama that it promises and never quite delivers on – and I have to agree to some extent. This is a fairly wordy movie which may well lose some in transition – however, what it also does is give us very little new to work with. It's always interesting to see what went down in this period of history, but something a little more abstract, or perhaps even more dramatic, would have hit the spot a little sweeter.
Regardless, this is a movie which is rather deserving of its nods at the Golden Globes – and that's largely down to Gary Oldman. Oldman is a chameleonic actor who has been overlooked far too often in terms of his genuine range and ability to mould to a huge range of characters. Is it completely unbelievable that the Churchill here is also the Sid Vicious we saw in Sid and Nancy all those years ago? It is a rather stark difference – and it is all kudos to his ability and his focus as an actor. Oldman here is undoubtedly at his best – having been given some of the best lines in history (Churchill's wit is some of the most enduring on the planet), he really does run with them – bringing to life a script which may otherwise have floundered in lesser talent's shoes. It's hard to praise a movie sometimes when its lead offers so much of the meat and the drama – but Darkest Hour morphs around Oldman in such a way that it feels both natural and all the more dramatic for it. The ensemble cast is marvellous – but you may as well believe the hype, as this is the Gary Oldman show – and what a show it is, at times.
Darkest Hour - Official Trailer (Universal Pictures)
All things considered, if you enjoy war movies and are genuinely fascinated by what went on behind doors in the Churchill compound, there's no reason why Darkest Hour won't work for you – while anyone who is likely tired of wartime drama in this vein may not have much to take away beyond Gary Oldman's sterling performance. This, of course, is a great thing to take away – and it's highly likely he'll be rewarded handsomely at the Oscars, too – but is Darkest Hour necessarily the Oscar bait that so many are lining it up to be? Maybe not.
Darkest Hour is a good movie that hugely benefits from incredible performances – Gary Oldman has been in better pictures and has been given more to do elsewhere, though has he ever been better than he is here? It's debatable – and for that reason, even if it only shows up as a blip on your radar of interest, Darkest Hour is certainly worth a watch.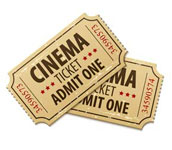 » See more of Graham's Movie Reviews