EARLY MAN
Dir: Nick Park
Starring Eddie Redmayne, Tom Hiddleston, Maisie Williams, Timothy Spall, Richard Ayoade, Selina Griffiths, Johnny Vegas, Mark Williams, Gina Yashere, Simon Greenall, Rob Brydon, Kayvan Novak, Miriam Margolyes, Nick Park





3.5 STARS (out of 5)
Aardman are back – and for those of us who are truly into our animation, they couldn't arrive soon enough. Animated movies have been up and down for some time now, and while the likes of Disney, Pixar and Laika have certainly led the way in terms of their output, it remains to be said that there needs to be more of a step up in quality made by other comers. 2018 is set to be an interesting year for animation – and with it having been kicked off in the UK with Coco recently, it's only fitting that Pixar's latest triumph is followed up by a fittingly worthwhile watch from the UK's finest. With this, you can at least expect that old Nick Park charm – the character designs, the cheeky comic timing – it's all here – but does it hold up the movie as a classic in its own right?
Dug (Redmayne) is a caveman whose tribe is facing the brink of eviction – as the Bronze Age is rolling in, and with it, the snide Lord North (Hiddleston), who seeks to use Dug's home as a mine. Dug decides to take matters into his own hands and put the tribe's home on the line as the main prize in a football match to end them all – with his band of cavemen and cave women facing off against Nooth's best team – however, the Stone Agers have never played football before in their lives. Help is at hand from Goona (Maisie Williams), a Bronze City native who befriends the Early Men and Women. Expect all of the goofy Aardman action you've come to love over the years – but is it enough?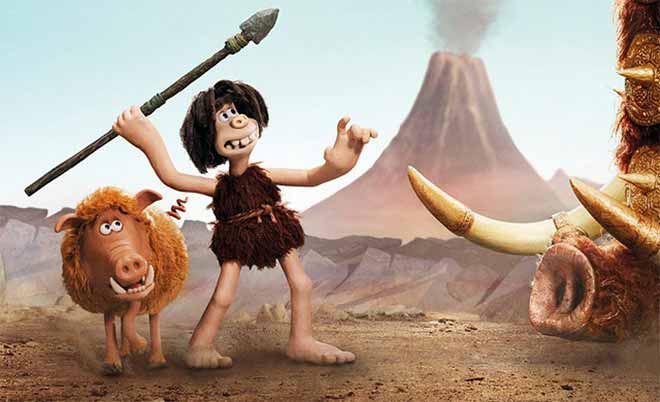 Early Man (Aardman / Lionsgate)
Yes and no. Early Man takes all of the beats and comic frenzy of the Wallace and Gromit shorts, along with Aardman's movie output, and throws them at us in 2018 like they've never been away. If anything, it's perhaps a little bit more cheeky than anything more family-friendly fare – the Wallace and Gromit movie Curse of The Were Rabbit helped to establish this route – and the iconic Britishness of the whole thing will appease anyone who really digs this kind of humour. For the British, it's all too familiar – for everyone else, it's a bit of a treat – and while the movie offers plenty of big laughs and all the cheeky asides you'll come to expect, it doesn't really match up with some of the studio's best output elsewhere.
The plot line – for those of us who are really steeped in 90s culture – is remarkably similar to that of Space Jam – though there are likely plenty of other underdog stories that have come and gone which have also inspired the same beats. The fact that this plot has been done so many times makes it less interesting than it perhaps could be – there are similar beats and moments that savvy viewers will want to get past as soon as possible – though it is thankful the characters are relatively charming and consistently funny. Early Man really has gone for the A-Lister approach here, similarly to Flushed Away (which in fact remains one of my personal favourite animations of all time) – and like Flushed Away, the cast does dig into their characters in a big way, allowing them to try something a little different. Tom Hiddleston, best known for playing stuffy Brits and the likes of Marvel's Loki, clearly enjoys Frenching it up as the main villain – though my own personal struggle with finding the appeal in Eddie Redmayne's performances doesn't particularly extend here. The ensemble cast is a mosh-mash of some of the best of British, with the extremely funny Johnny Vegas standing out in particular for me.
Early Man - Official Trailer (Lionsgate)
Early Man has been on the slate for a long time and it is reportedly Nick Park's first directorial venture since the last Wallace and Gromit short in 2008 – and, while it follows in the footsteps of some of the Aardman studio's best output in years gone by in some ways, it isn't the most compelling, nor is it the funniest. The charm of Wallace and Gromit lacks a little here – and the barmy plots of Flushed Away and The Pirates seem a mile away. It's a little disappointing – particularly as we're used to seeing the likes of the still brilliant Chicken Run from this team – but it's still extremely satisfying given that it seems so long since we've seen anything new from the big British studio.
Early Man – essentially Space Jam with cavemen – will satisfy plenty, and it ticks most of the boxes – but it doesn't go the extra mile to lay the charm on thick. It's funny, has a great cast and possesses all of the technical touches that make this studio so distinctive. Give it a go – but British audiences might want to take in Coco for a more emotionally arresting and worthwhile watch.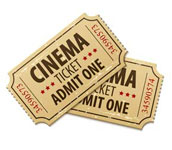 » See more of Graham's Movie Reviews