THE SHAPE OF WATER
Dir: Guillermo Del Toro
Starring Sally Hawkins, Michael Shannon, Richard Jenkins, Doug Jones, Michael Stuhlbarg, Octavia Spencer





4.5 STARS (out of 5)
By the time you read this, Guillermo Del Toro's latest movie may well be the first-ever Best Picture winner to feature inter-species romance. It may also be the first movie to ever win the coveted Oscar featuring a mute lead – with Sally Hawkins also in the running to win Best Actress. The nominations lists for the Academy Awards are certainly getting more adventurous and certainly more accommodating towards sci-fi and fantasy pictures in particular – and while Arrival appearing on last year's list of potentials was a welcome surprise that never came to fruition, at the time of writing – literally on the cusp of the awards being announced – it seems that we may finally have a Best Picture winner that is ultimately sci-fi at its core – even if it is a magnificent and decidedly odd, sometimes uncomfortable romance to the fore.

The Shape of Water (Fox Searchlight / 20th Century Fox)
It is not even that simple to describe on paper – or screen – and it is even less likely an Oscar contender if you compare the plot lines of winners from times gone by – but it's largely this oddness that contributes to its appeal. Elisa (Hawkins) cleans at a scientific facility where a strange creature (Jones) is being studied – and said studies aren't particularly kind to the beast – as the humanoid being with gills and scales finds itself drawn to her in a way that's fairly unorthodox to say the least. Elisa, too, is an interesting character – she's completely mute – and it's on this basis that the creature can perhaps find itself at evens with the cleaner. However, sinister experimentation continues on the beast, and while dreamlike sequences are scattered throughout, there are nightmares set to unfold.
The Shape of Water is an immensely bold movie and one which is cut straight from the cloth of Del Toro's best, with the auteur having been well known from bringing otherworldly creature features and more besides to the big screen in the form of Mimic, Pan's Labyrinth and beyond – this time around, he's woven a romance story into the fabric of a sci-fi staple which, if handled poorly, could have been the makings of a schlocky B-Movie standard. However, the story that evolves here between two silent characters – amongst chaos, experiments and horror unfolding around them – is truly magical. This is Del Toro's standard – finding genuine magic in the darkest of corners – and allowing interesting characters to leap forth.
The Shape of Water - Official Trailer (Fox Searchlight / 20th Century Fox)
Hawkins is intensely emotive and expressive as Elisa – fantastically cast following on from a slow-burning but fruitful career in British films such as Happy-Go-Lucky, Paddington and Made in Dagenham – and if, at the time of writing, she is not in receipt of the Oscar she is nominated for, she has performed for her life regardless. Doug Jones is hugely prolific as a character actor in prosthetics and various creature guises (you've perhaps seen him in Del Toro's Pan's Labyrinth or, more recently, as Saru in Netflix's Star Trek Discovery) – and his physical acting is on prime form here as the focal point for much of the movie's horror.
This is a movie which is meticulously devised and directed – it really is a feast for the eyes and the ears as much as it makes leaps and bounds in terms of bold choices – and it's clear to see why it has shaken things up for the sci-fi community and for the Academy at large. Much in the same vein as Arrival, this is a movie which has led with dreamscapes and visual majesty up in the foreground – and with a truly affecting story behind the scenes. The Shape of Water is a movie which has a message at its heart – which may perhaps be a little distracting, though no less important – but it is this bizarre relationship and the way that it is cultivated that steals the day. Their romance is given time to breathe and to develop across body language and dreamy sequences – all the while played out over the top of nightmarish sci-fi fare that wouldn't otherwise go amiss in the TV specials of old. This isn't to say that it's of low quality – far from it – but it is a brilliant juxtaposition that effectively allows two positively different stories to play out at once.
The Shape of Water has grasped itself the most nominations at this year's Oscars for good reason – this is a truly alternative movie which challenges, repels and genuinely charms – it's hard to get this balance right and it appears that Del Toro team al have found a winning mix. While it's not a film which will appeal to everyone – let alone Academy Award aficionados – it is a stunningly lovingly crafted and dystopian picture which may well delight and horrify in equal measure.
Editor's Note: The Shape of Water emerged as the biggest Academy Awards winner of 2018. It won four Oscars, including best picture. Del Toro won best director.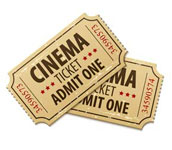 » See more of Graham's Movie Reviews