by 👨‍💻 Graham Pierrepoint


The Trump-Russia scandal that is still under investigation in the US continues to grow murkier by the day – while all commentary on any links between the US President's top team and Russian intelligence remains pure allegation at this time, it seems that there are more and more spanners being thrown into the works in what will likely go down as one of the most dramatic Presidential debuts in modern history. At present, allegations suggest that Russia may have had a hand in helping Donald Trump achieve the US Presidency in November last year – and, further to this, that his staff have had communication links to Vladimir Putin's staff without due declaration. This, of course, was what led to the departure of Michael Flynn from the White House staff – and with former FBI Director James Comey having testified on comments made regarding the President and Flynn's case under oath, the Republican Party remains under considerable pressure over how to handle their controversial new Commander in Chief. That is, of course, if allegations are proven true.

This week, emails from between Donald Trump Jr and music mogul Rob Goldstone show the President's son offering clear opinion on Russian intelligence potentially aiding the Trump campaign in 2016. In the emails, Goldstone advised that Trump's campaign, on behalf of Russia's crown prosecutor, could be in receipt of 'incriminating' documents relating to Hillary Clinton which 'would be very useful to (his) father'. The emails elude to a meeting set up between senior White House staffer Jared Kushner, campaign chief Paul Manafort and Trump Jr himself – with 'Russian government attorney' Natalia Veselnitskaya. Trump Jr's response to Goldstone alleging that such 'helpful' documents could be available is what has grabbed headlines this week, however – "If it's what you say, I love it, especially later in the summer."

Excerpt from Trump Jr.'s email exchange with Rob Goldstone: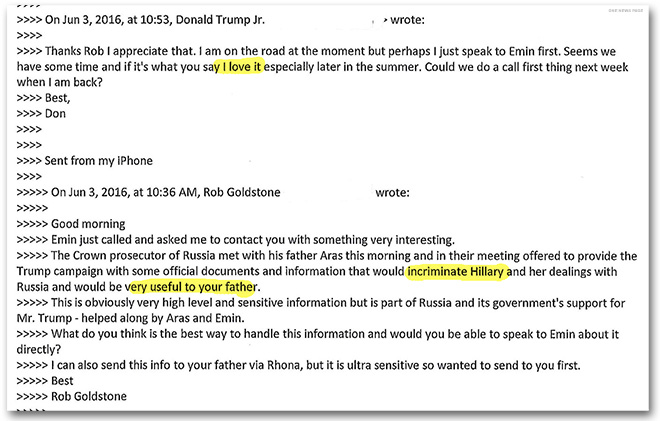 Donald Trump Jr. was informed in an email of a Russian government effort to aid his father's presidential candidacy - and reacted by indicating his appreciation
Trump Jr states he did not inform his father about a meeting with the Russian lawyer, however, these emails are fairly damning – and could call into question the legality of Trump's election campaign. In brief, Trump is now fighting another battle – not only is he waiting to see his travel ban put through by the Supreme Court later in the year, but he is both standing against allegations of corroborations with Russia – and now allegations regarding the authenticity of his Presidential campaign. Have Trump Jr's emails added the biggest fuel to the fire yet? Let's wait and see.