Rare solar eclipse casts eerie shadow

Friday, 20 March 2015
by 👨‍💻 Marc Pinter-Krainer


Total solar eclipse kicks off first day of spring in rare astronomical alignment

Millions of people across Europe were mesmerised by the sight of a rare partial solar eclipse on Friday morning as the Moon passed between the Earth and the Sun.

Starting at 07:45 UTC, the solar eclipse coincided with two other astronomical events: A supermoon, with the Moon at its closest distance to Earth making it appear larger than usual, and spring equinox, when day and night are roughly at equal length. The next time a solar eclipse coincides with the March equinox will be in 2034. Millions of onlookers were stunned by the rare sight of much of the solar disk being obscured by the Moon. The eclipse lasted around 2 1/2 hours.

A relatively small number of people, however, were able to observe the eclipse from one of the few landmasses that were plunged into darkness as the Moon covered the Sun entirely for over two minutes. The total solar eclipse was visible from Denmark's Faroe Islands and Norway's Svalbard Islands in the North Atlantic.

Another place to watch the spectacular total eclipse from was aboard Easyjet flight 6747 bound for Iceland. The pilot circled the Airbus A320 aircraft southwest of the Faroe Islands so passengers could see and experience the rare astronomical event.

Aboard the flight, Sarah took this amazing photograph of the eclipsed Sun, along with the Moon's shadow plunging much of the surface below into darkness: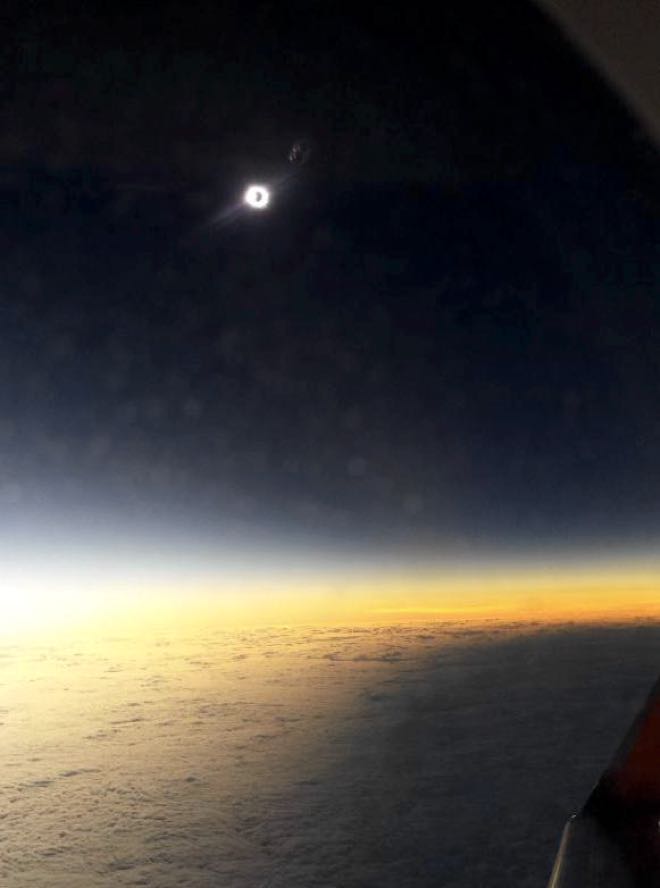 Photo credit: Sarah via Twitter @Synaes (used with kind permission)
"Had a fantastic view of the full eclipse courtesy of @easyJet this morning. #eclipse2015," Sarah tweeted.
The next total solar eclipse is set to take place on 8 March 2016 and will be visible from Sumatra, Borneo, Sulawesi and from locations in the Pacific Ocean. The Western world will get to enjoy a solar eclipse on 21 August 2017, which will be the first total solar eclipse visible from contiguous United States since 1979, with locations spanning from the East Coast to the West Coast experiencing totality.