by 👨‍💻 Graham Pierrepoint


Banksy, the controversial artist who is known for having created a number of street artwork making a number of different social and political statements over the years, has made something of a comeback this week with a fairly prescient piece of artwork in Dover, UK. No one is quite sure who or what Banksy is – is he one person, a team or something entirely different? And how come he, she or they have never been caught? It's never been particularly clear – but what is for certain is that they are continuing to provoke local people and the world media alike. This week, Banksy's latest work seems to pick up on a particularly contentious issue at a time of high drama in international politics. Whether you're American, British, or French, 2017 is proving to be a tumultuous year.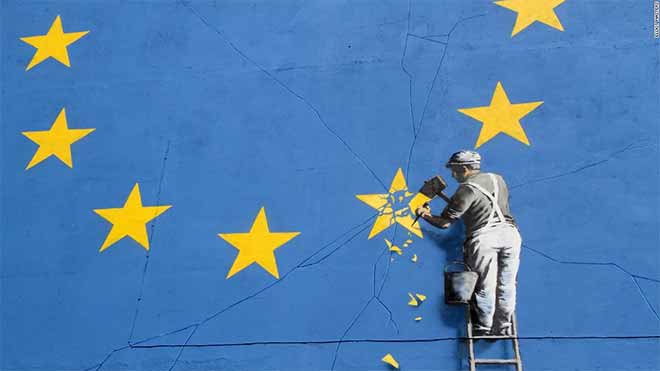 British street artist Banksy tackles Brexit with a mural of a workman chipping away one of the 12 gold stars of the EU flag on a wall in Dover
The artist's latest work – as always, untitled – depicts the flag of the European Union – the famous dark blue design with a ring of yellow stars – with one slight change. If you haven't cottoned on already, Banksy is taking a pop at Brexit – and they've thrown in the addition of a workman slowly chipping away at a star towards the bottom of the ring of stars, clearly symbolizing the UK having decided to split away from the Union in an unprecedented move. It's already symbolic in its own right – but the position of the artwork is also particularly cunning, as it is on display close to Dover's ferry port, which acts as one of the central, if not the most famous, link between Britain and Europe via sea. Therefore, Banksy is yet again intending for relevant people to see the work and to react accordingly! Calais, directly across the sea from Dover, is in fact home to an entire Banksy project – entitled 'Dismaland'.
Is the slow chipping away of the star symbolic of the supposedly lengthy process lined up for the UK and its leader Theresa May? It's not clear, but this could be quite a popular assumption – and Banksy, as ever, seems to have picked a particularly provocative piece of art in a curious position. Will the artful dodger ever be revealed – and how many more socio-political statements will they make before they hang up their stencils? Now is certainly a time ripe for satire and comment – and who could be better than Banksy to lead the charge?