by 👨‍💻 Graham Pierrepoint


This week, the first meeting between two of the most polarizing figures in world politics finally occurred – with Russia's Vladimir Putin and the US' Donald Trump sharing in a well-publicized handshake which has captured headlines all over the world. Critics of Trump and Putin will of course allege that the pair may have had contact before – this is little other than conjecture while investigations reverberate over Trump's team's alleged links with Russia. For supporters of Trump – and of Putin – their meeting ahead of the G20 summit in Germany made for a momentous occasion. For everyone else, however, it will still have been a moment being watched with concerned interest.

To mark the occasion, a Russian customization firm have taken a handset from Nokia – who have recently been resurging into the cellphone market with plans to break into smartphones – to really push the boat out. The device, technically one of the relaunched Nokia 3310 handsets, comes emblazoned with a gold, embedded plaque of Trump and Putin – along with a date marking the duo's first meeting in Hamburg, Germany. Further to this, it's thought to be made with tempered titanium – and the decidedly odd creation is thought to cost the equivalent of $2500 – meaning that it's likely you'll have to be truly invested in either of the divisive figureheads to want to bling out with this gold-encrusted creation. Regardless of where you stand politically, however, it really is an eye-catching device – but there's far more affordable ways for you to play 'Snake' in the modern age!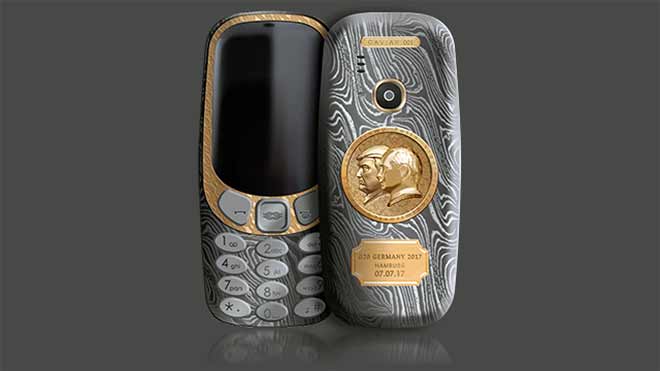 Nokia 3310 Trump/Putin smartphone marking the occasion of the first meeting between the world leaders at the 2017 G20 summit in Hamburg, Germany
Trump and Putin's meeting is momentous – there has been considerable interest in just how closely-linked the two parties are following the FBI launching an investigation into Trump's team's supposed connections and discussions with Russian operatives leading up to 2016's US General Election. This investigation has added fuel to fires started by conspiracy theories over Putin's role in Trump being elected – and though the US President is holding his own – and while neither figurehead have publicly met in the flesh before – satire and allegations alike have proposed otherwise.
Want to mark the meeting between Trump and Putin in a unique and flashy way? Dig deep for $2500 and you can carry around a gold-plated effigy of the pair to your ear on a daily basis – stranger things have sold!