Merry Christmas from All Here at One News Page

Sunday, 24 December 2017
by 👨‍💻 Graham Pierrepoint


It's been an incredible year – and it's hard to believe that we're just about to peer into a new one already! What a monumental one it's been for news – and for technological advancement – as well as in terms of the entertainment we've been treated to. Anyone who's been reading our movie reviews regularly will know that we've been watching some spectacular films in 2017 – and anyone who follows our staff stories regularly will also know that US President Donald Trump – among others – has provided more than enough content to fill our columns two or three years over!

While the year may seem to have been jam-packed full of grim stories and events that we can barely believe are happening around us – there's been plenty of hope and fun to be found, too. Christmas is a time of year where, regardless of religion, creed and ideology, we should come together and appreciate just how lucky we are to even exist – a world that is growing ever more confusing and ever more bizarre is still one where we are all connected in the same experience – and this holiday, we should take time to offer gratitude for those things we may take for granted on a daily basis. We should, of course, spare a thought for those less fortunate than ourselves, and for those, too, who lost their lives this year – sometimes in circumstances that should hardly bear thinking about.

This column is hardly intended to be an outpouring of sorrow – 2017 has been a complex and world-changing year on so many different fronts. Technology and research into our planet and the universe around us continues to evolve at a rapid and fascinating pace – and it's incredible that we are so lucky to witness it unfolding around us. The world is changing so fast that it can seem hard to keep up – but that's part of the beauty of what we do here at One News Page! We bring together world news from so many different trusted sources that you're always likely be kept, solidly, in the loop.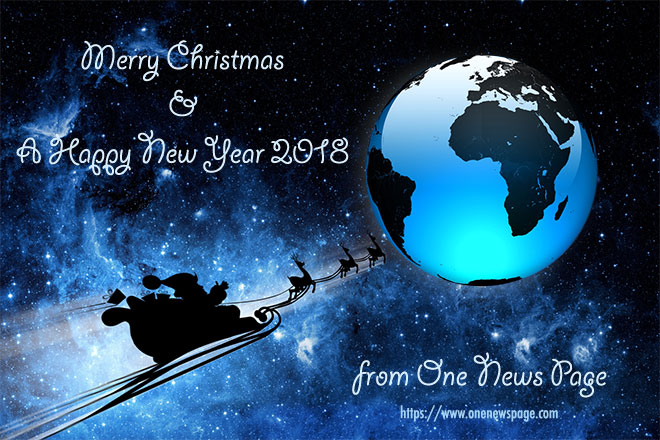 Merry Christmas and a Happy New Year 2018 from One News Page
This Christmas – if only for one day – set aside time to let the worries of the world pass you by. Take time to appreciate your loved ones and to really kick back and relax. We all deserve a break every now and again – and the holidays are a perfect time to wind down ready for the big reboot in 2018. No matter what you believe – have a wonderful Christmas and a spectacular new year – and stick with us for what will likely be another fascinating twelve months of stories from all over the world.