Former Gov. Charlie Crist is trying to make a point that he's already taken a strong position on climate change and Republican Gov. Rick Scott hasn't.
WEAR ABC 3 13 hours ago

In Florida's bareknuckle governor's race, it's as if the 2010 campaign season never ended.
Miami Herald 2 days ago
Videos for "Charlie Crist"
Rick Scott has outspent Charlie Crist on campaign ads by a large margin.


Source: TBO.com - 1 week ago



During a visit from New Jersey governor Chris Christie, Florida governor Rick Scott said his opponent Charlie Crist was helping the Castro regime by visiting Cuba.


Source: TBO.com - on May 23, 2014



U.S. Secretary of Transportation Anthony Foxx joined Florida Gov. Rick Scott during the opening ceremony of the PortMiami tunnel which will allow port traffic to bypass the streets in downtown Miami...


Source: Associated Press - on May 19, 2014



Completing a weekend that kicked off the governor's race in the crucial Tampa Bay area, former Gov. Charlie Crist roused a crowd of Democrats on his home turf in Pinellas County Saturday by telling..


Source: HuffPost Live Highlights - on May 12, 2014



Former Florida Gov. Charlie Crist (D), a former Republican, said racism is a "big reason" why he left the GOP.


Source: HuffPost Live Highlights - on May 7, 2014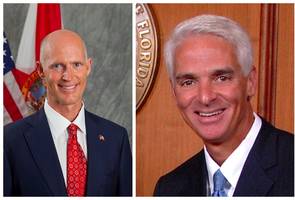 Patch Bloomingdale-Riverview, FL -- Former Gov. Charlie Crist leads incumbent Gov. Rick Scott in gubernatorial race, according to polling results released Wednesday.
Patch 3 days ago

Gov. Rick Scott and Charlie Crist are essentially tied 37-39 percent in Florida's hotly contested governor's race, partly because a little-known Libertarian candidate is sapping support from the..
Miami Herald 3 days ago

With the campaign dominated by a barrage of back-and-forth attacks, Democrat Charlie Crist's lead over Republican incumbent Rick Scott has narrowed in the race for Florida governor, a new poll shows...
bizjournals 3 days ago
Search this site and the web: