On June 8, 1972, the photographer took a picture that would change his life - as well as that of his subject's
People Magazine on June 8, 2014

Since its founding 60 years ago, McDonald's has played a near-ubiquitous role in pop culture. At times, it can feel like there's an ad for or reference to Ronald McDonald or the golden arches at nearly..
Huffington Post on April 24, 2014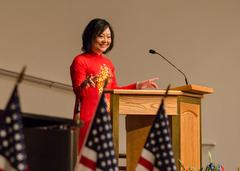 Patch Perkiomen Valley, PA -- Kim Phuc Phan Thi, known to many as the "Napalm Girl", visited Valley Forge Baptist to share her story and message of forgiveness. Though badly burned and still scarred..
Patch on November 24, 2013

A recent BagNews post has caused readers to take a new look at a famous photograph from a Vietnam War atrocity. The snapshot--taken by Army Photographer Ronald Haeberle during the My Lai Massacre, in..
Huffington Post on November 13, 2013
Search this site and the web: