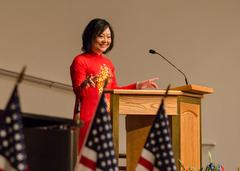 Patch Perkiomen Valley, PA -- Kim Phuc Phan Thi, known to many as the "Napalm Girl", visited Valley Forge Baptist to share her story and message of forgiveness. Though badly burned and still scarred..
Patch on November 24, 2013

A recent BagNews post has caused readers to take a new look at a famous photograph from a Vietnam War atrocity. The snapshot--taken by Army Photographer Ronald Haeberle during the My Lai Massacre, in..
Huffington Post on November 13, 2013

Associated Press (AP) have published a new book called Vietnam: The Real War, containing over 300 powerful images to mark the 50th anniversary of the conflict. Published today, the book contains..
Huffington Post on October 2, 2013

People go to work at the office cubicle. Or man the phone banks and receptionist desk. Maybe do automotive or computer repairs or toss around ideas at the start up. For several years of my life, I did..
Huffington Post on June 17, 2013
Search this site and the web: