ZENIT 8 hours ago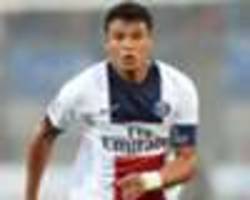 The former France defender feels the Swede offers more leadership than his Brazilian teammate and accused the center back of panicking on the field.
Goal.com 12 hours ago
Videos for "Thiago Silva"
Brazil ended their home World Cup to a cacophony of boos on Saturday (July 12) as the defensive errors that crushed their bid for a sixth title resurfaced in a shoddy 3-0 loss to the Netherlands in the..


Source: Reuters - Sports - 3 weeks ago



Fans went into the semi-final against Germany on Tuesday (July 8) pumped that the nation could overcome the loss of their injured talisman, Neymar, and suspended captain, Thiago Silva. Fans sang the..


Source: Reuters - Sports - 3 weeks ago



Brazil's star player, Neymar, Jr., is out for the rest of the tournament and captain Thiago Silva faces a one game suspension for the semifinal match.


Source: Newsy - on July 6, 2014



High above the beaches of Rio de Janeiro, Brazil fans celebrated a well-deserved win over a hungry Colombian side as they advanced to the semi-finals of the 2014 World Cup on Friday (July 4). The host..


Source: Reuters - Sports - on July 5, 2014



A sea of Brazilian fans blocked a main road in Brazil's coastal city of Fortaleza to watch the team beat Colombia in the World Cup quarter-final on Friday (July 4). These were thousands of adoring..


Source: Reuters - Sports - on July 5, 2014



Frank Lebouef believes Zlatan Ibrahimovic should be Paris Saint-Germain captain, having suggested Thiago Silva has an "attitude problem". Silva, the […]
SoccerNews.com 13 hours ago

Ticket Down announces that they have rolled back ticket prices across the board for the friendly exhibition game between soccer powerhouses, Brazil and Ecuador, at the MetLife Stadium in East..
PRWeb 2 days ago

ZENIT 5 days ago
Search this site and the web: