Cambridge Analytica
British data analysis company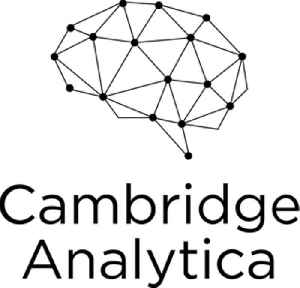 Cambridge Analytica Ltd (CA) was a British political consulting firm which combined misappropriation of digital assets, data mining, data brokerage, and data analysis with strategic communication during the electoral processes. It was started in 2013 as an offshoot of the SCL Group. After closing operations with legal proceedings including bankruptcy, members of the SCL Group have been continuing operations under the legal entity Emerdata Limited. The company closed operations in 2018 in the course of the Facebook–Cambridge Analytica data scandal, although related firms still exist.


Cambridge Analytica and big tech's history of manipulating elections
A longtime Facebook executive has admitted the company's platform helped Donald Trump win the 2016 election, and it may happen again this year. In an internal memo, Facebook Vice President Andrew..
WorldNews - Published
'Our democracy is under threat', former Cambridge Analytica employee tells FRANCE 24
Brittany Kaiser is a former employee of the British political consultancy firm Cambridge Analytica, which is now notorious for its involvement in the election of Donald Trump and in the Brexit..
France 24 - Published
Facebook agrees to pay fine over Cambridge Analytica data use
London — Facebook has agreed to pay a £500,000 fine for breaches of data protection law related to the harvesting of data by consultancy Cambridge Analytica, Britain's information rights regulator..
WorldNews - Published
Cambridge Analytica whistleblower Christopher Wylie: "You are the target" of companies like Facebook
Data analyst Christopher Wylie exposed how Cambridge Analytica harvested information of millions of Facebook users during the 2016 campaign. Now he's out with a new book, "Mindf*ck: Cambridge Analytica..
CBS News - Published
Judge lets Facebook privacy class action proceed, calls company's views 'so wrong'
A federal judge on Monday ordered Facebook Inc to face most of a nationwide lawsuit seeking damages for letting third parties such as Cambridge Analytica access users' private data, calling the social..
Reuters - Published
'The Great Hack': Cambridge Analytica is just the tip of the iceberg
It was the scandal which finally exposed the dark side of the big data economy underpinning the internet. The inside story of how one company, Cambridge Analytica, misused intimate personal Facebook..
WorldNews - Published
$5 billion fine reported for Facebook data-privacy bungles
Facebook had allowed Trump vendor Cambridge Analytica to collect data from millions of users without their knowledge
CBS News - Published
Facebook: Nick Clegg says 'no evidence' of Russian interference in Brexit vote
In the interview, Sir Nick dismissed claims that data analytics firm Cambridge Analytica influenced people's decision to vote Leave in the EU referendum in 2016. "Much though I understand why people..
WorldNews - Published
U.S. judge waves through D.C. case against Facebook
A U.S. judge on Friday denied Facebook Inc.'s request to dismiss a lawsuit by the Washington, D.C. attorney general over the social media giant's improper sharing of 87 million users' data with British..
Reuters - Published
You Might Like