Michael Flynn
US Army general and former US National Security Advisor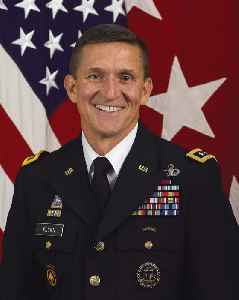 Michael Thomas Flynn is a retired United States Army Lieutenant General and convicted felon and was, briefly, National Security Advisor to President Donald Trump.


Fight for redacted Mueller report material escalates
The fight between Democrats in Congress and the White House is intensifying as lawmakers seek the redacted material from the Mueller report. A federal judge has also ordered new documents released in..
CBS News - Published
Barr: Answers have been 'inadequate' on origins of Russian probe
Attorney General William BarrWilliam Pelham BarrSchiff says DOJ hasn't complied with subpoena for Mueller report Flynn provided details in Mueller's obstruction inquiry, new memo shows Eric Holder:..
WorldNews - Published
Judge Firm On Trial Date In July For Michael Flynn's Partner
According to Politico, A federal judge said Friday he's committed to launching a trial in July for one of the cases springing from Special Counsel Robert Mueller's investigation: the prosecution of..
Credit: Wochit News Duration: 00:49Published
Schiff blasts GOP critics on Trump, Russia
House Intelligence chairman Adam Schiff laid into his Republican party critics Thursday, giving a blow by blow account of evidence he says points to collusion by the Trump campaign with Russia, even if..
Credit: Reuters Studio Duration: 02:45Published
McCarthy calls for Schiff to resign
House minority leader Kevin McCarthy on Thursday repeated Republican calls for House Intelligence Committee Chairman Adam Schiff to resign in the wake of the Mueller report that cleared President Trump..
Credit: Reuters Studio Duration: 00:57Published
Mueller report: Judge orders portions about Michael Flynn to be made public
A federal judge has ordered the release of some of the material withheld when the Mueller report was made public. It's about former National Security Adviser Michael Flynn and a phone call he had..
CBS News - Published
US: Flynn described efforts to interfere with cooperation
WASHINGTON — Former White House national security adviser Michael Flynn told the special counsel's office that people connected to the Trump administration and Congress sought to influence his..
WorldNews - Published
Flynn detailed attempts to obstruct Russia probe: U.S. court filing
Former U.S. national security adviser Michael Flynn gave Special Counsel Robert Mueller information about attempts by people tied to the Trump administration and Congress to obstruct the Russia..
Reuters - Published
Search this site and the web:
You Might Like