Stanley Cup
Championship trophy awarded annually in the National Hockey League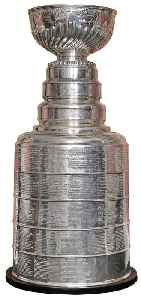 The Stanley Cup is the championship trophy awarded annually to the National Hockey League (NHL) playoff winner. It is the oldest existing trophy to be awarded to a professional sports franchise, and the International Ice Hockey Federation (IIHF) considers it to be one of the "most important championships available to the sport". The trophy was commissioned in 1892 as the Dominion Hockey Challenge Cup and is named after Lord Stanley of Preston, the Governor General of Canada who donated it as an award to Canada's top-ranking amateur ice hockey club. The entire Stanley family supported the sport, the sons and daughters all playing and promoting the game. The first Cup was awarded in 1893 to Montreal Hockey Club, and winners from 1893 to 1914 were determined by challenge games and league play. Professional teams first became eligible to challenge for the Stanley Cup in 1906. In 1915, professional ice hockey organizations National Hockey Association (NHA) and the Pacific Coast Hockey Association (PCHA) reached a gentlemen's agreement in which their respective champions would face each other annually for the Stanley Cup. It was established as the de facto championship trophy of the NHL in 1926 and then the de jure NHL championship prize in 1947.


Memorial Day deals, Trump in Japan and Stanley Cup: 5 things you need to know Monday
It's Memorial Day. Here's what's making news.
USATODAY.com - Published
The Latest: Blues' Dunn skates at practice, status uncertain
The latest from Stanley Cup media day
USATODAY.com - Published
Can Anything Stop Tampa Bay From Winning the Stanley Cup?
The Tampa Bay Lightning are the heavy title favorites heading into the NHL playoffs, but will they take home Lord Stanley's cup? SI senior writer Alex Prewitt joins SI Now to discuss what, if anything,..
Credit: Sports Illustrated Duration: 01:16Published
Bruins' veteran quintet could be key in latest Cup bid
Five current Bruins players carry knowledge from Boston's most recent Stanley Cup triumph in 2011, and loss and in 2013
USATODAY.com - Published
Bruins' Backes must face Blues buddies for Stanley Cup
Former Blues captain will David Backes will have to go through his old team if he is going to win the Stanley Cup for the first time
USATODAY.com - Published
Bruins hoping to win Stanley Cup, join Boston's title parade
The Boston Bruins are hoping to end the city's (3-month) championship drought with a victory over the St. Louis Blues for the NHL title
USATODAY.com - Published
Stanley Cup keys: Here are five factors that will determine Bruins vs. Blues series
The Bruins vs. Blues Stanley Cup Final is a rematch of their 1970 Final when Boston swept St. Louis. The Blues have not made the Final since 1970.
USATODAY.com - Published
Blues fan is a Stanley Cup away from turning $400 into $100K in unlikely bet
A Blues fan was on a business trip in Las Vegas when he noticed the Blues were a 250-1 longshot to win Stanley Cup. Now his $400 can become $100K.
USATODAY.com - Published
Stanley Cup playoff schedule: Results, dates, times, TV for NHL postseason
The Boston Bruins will host Game 1 of the Stanley Cup Final on Memorial Day against the winner of the San Jose Sharks-St. Louis Blues series.
USATODAY.com - Published
You Might Like