Stanley Cup
Championship trophy awarded annually in the National Hockey League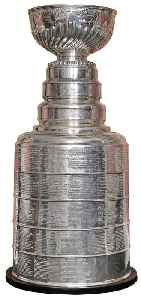 The Stanley Cup is the championship trophy awarded annually to the National Hockey League (NHL) playoff winner. It is the oldest existing trophy to be awarded to a professional sports franchise, and the International Ice Hockey Federation (IIHF) considers it to be one of the "most important championships available to the sport". The trophy was commissioned in 1892 as the Dominion Hockey Challenge Cup and is named after Lord Stanley of Preston, the Governor General of Canada who donated it as an award to Canada's top-ranking amateur ice hockey club. The entire Stanley family supported the sport, the sons and daughters all playing and promoting the game. The first Cup was awarded in 1893 to Montreal Hockey Club, and winners from 1893 to 1914 were determined by challenge games and league play. Professional teams first became eligible to challenge for the Stanley Cup in 1906. In 1915, professional ice hockey organizations National Hockey Association (NHA) and the Pacific Coast Hockey Association (PCHA) reached a gentlemen's agreement in which their respective champions would face each other annually for the Stanley Cup. It was established as the de facto championship trophy of the NHL in 1926 and then the de jure NHL championship prize in 1947.


St. Louis Blues celebrate Stanley Cup: A parade 52 years in the making
The St. Louis Blues won the first Stanley Cup in the franchise's 52-year history and celebrated with fans at a parade and rally.
USATODAY.com - Published
Search this site and the web:
You Might Like