Riyadh
Capital city / Metropolis in Saudi Arabia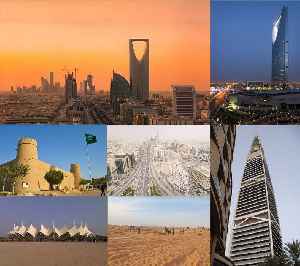 Riyadh is the capital city and seat of government of the Riyadh Province and the Kingdom of Saudi Arabia, the largest city on the Arabian Peninsula and a governorate in the Riyadh Province. Located in the center of the an-Nafud desert, on the eastern part of the Najd plateau, the city sits at an average of 600 metres (2,000 ft) above sea level, and receives more than 16 million tourists each year, making it the 2nd most visited city in the Arab world. Riyadh had a population of 7.6 million people in 2019, making it the most populous city in Saudi Arabia, 2nd most populous city in the Arab world, and the 38th most populous in Asia.


Saudi King Salman admitted to hospital

Saudi Arabia's 84-year-old ruler, King Salman bin Abdulaziz, has been admitted to hospital in the capital Riyadh, suffering from inflammation of the gall bladder, state news agency SPA said on Monday...
Credit: Reuters - Politics Duration: 00:59
Published
Saudi coalition shoots down Houthi ballistic missiles and drones

Missiles and 'booby-trapped unmanned aircraft' from Yemen's Houthi rebels intercepted, including one fired on Riyadh.
Credit: Al Jazeera STUDIO Duration: 06:01
Published
Houthis launch missile, drone attack on Riyadh

Yemen's Iran-aligned Houthi movement said it launched a large missile and drone attack deep in Saudi Arabia on Tuesday that struck the defense ministry and a military base in Riyadh, but the kingdom..
Credit: Reuters Studio Duration: 01:24
Published
Smoke seen in Riyadh sky, bangs heard

Smoke hung in the sky over Riyadh on Tuesday (June 23) morning as Reuters witnesses heard loud bangs.
Credit: Reuters Studio Duration: 00:34
Published
You Might Like



Saudi Royal Court says King Salman discharged from hospital

Saudi Arabia's King Salman has been discharged from a hospital in the capital Riyadh after more than a week following surgery to remove his gall bladder ......




WorldNews - Published





Saudi King, 84, Chairs Cabinet Meet From Hospital, In Stable Condition

Saudi King Salman held a cabinet meeting via video call from hospital in the capital Riyadh on Tuesday, a day after the 84-year-old monarch was admitted with what state media said was inflammation..




WorldNews - Published





Saudi King, 84, Admitted To Hospital For Gall Bladder Inflammation

Saudi Arabia's 84-year-old ruler, King Salman bin Abdulaziz, has been admitted to hospital in the capital Riyadh, suffering from inflammation of the gall bladder, state news agency SPA said on Monday...




WorldNews - Published





Saudi King Salman admitted to hospital for medical checkup

Saudi Arabia's 84-year-old ruler, King Salman bin Abdulaziz, has been admitted to hospital in the capital Riyadh, suffering from inflammation of the gall bladder, state news agency SPA said on Monday...




WorldNews - Published





Alleged breaches of international law by Saudi forces in Yemen exceed 500

The Ministry of Defence has revealed it has logged more than 500 Saudi air raids in possible breach of international law in Yemen, even though last week it justified resuming arms sales to Riyadh on..




WorldNews - Published





UK showers Saudis with apologies hastily after criticizing Riyadh regime's rights record: Report

The United Kingdom has reportedly offered Saudi Arabia profuse apologies, only days after London publicly leveled criticism against the ultra-conservative kingdom over its human rights abuses and..




WorldNews - Published





Vande Bharat Mission flight with 148 Indians departs from Riyadh

"Air India AI 1936 bound for Hyderabad has departed from King Khalid International Airport Riyadh with 148 passengers, including 3 infants on board," Indian Embassy in Saudi Arabia tweeted. India had..




IndiaTimes - Published





Indian from Hyderabad dies under suspicious circumstances in hospital in Riyadh

A 27-year-old man from Hyderabad, Shaik Ghouse, died under suspicious circumstances in the bathroom of a hospital he was working at in Riyadh in Saudi Arabia on Saturday.




IndiaTimes - Published





HRW: Riyadh must free children of ex-Saudi official in exile, overhaul justice system

Human Rights Watch (HRW) has called for the immediate release of two adult children of a former Saudi intelligence officer, who has been lying low abroad since the rise of Crown Prince Mohammed bin..




WorldNews - Published





Saudi coalition calls for end to escalation in Yemen, immediate return to Riyadh agreement

A Saudi Arabia-led coalition said on Monday all parties need to return to the status that existed before the Southern Transitional Council (STC) in Yemen declared an emergency in Aden, according to a..




Reuters - Published





U.N. says Saudi deportations of Ethiopian migrants risks spreading coronavirus

The United Nations said on Monday that deportations of illegal migrant workers by Saudi Arabia to Ethiopia risked spreading the coronavirus and it urged Riyadh to suspend the practice for the time..




Reuters - Published





Canada lifting a freeze on arms exports to Saudi Arabia, opposition wants big deal scrapped

Canada is lifting a freeze on weapons exports to Saudi Arabia and has renegotiated a much-criticized $14 billion contract to sell General Dynamics Corp armored vehicles to Riyadh, Ottawa said on..




Reuters - Published





Saudi capital, cities get 24-hour curfew, Kuwait isolates two districts over coronavirus

Saudi Arabia placed its capital Riyadh and other big cities under a 24-hour curfew on Monday, locking down much of the population as the largest Gulf Arab country expanded efforts to stem the spread of..




Reuters - Published





Saudi Arabia imposes 24-hour curfew in Riyadh and other cities

Saudi Arabia imposed on Monday a 24-hour curfew in the capital Riyadh and a number of cities effective immediately and until further notice, as a precautionary measure against coronavirus spread, state..




Reuters - Published





Oil crash poses severe test for OPEC+ after Moscow, Riyadh miscalculate

U.S. President Donald Trump says he has brokered a deal with Saudi Arabia and Russia that would see sweeping oil output cuts. Riyadh has called for emergency talks, and Moscow has said it no longer..




Reuters - Published





Saudi Arabia calls for emergency oil meeting, sending weak crude prices higher

Saudi Arabia called on Thursday for an emergency meeting of OPEC, Russia and other oil producers to stabilise the oil market, which has been in turmoil since a deal on supply curbs collapsed and Riyadh..




Reuters - Published





Saudi intercepts missiles in attacks claimed by Yemen's Houthis

Saudi Arabia said its air defenses intercepted two ballistic missiles on Saturday night in an attack that Yemen's Iran-aligned Houthi group on Sunday said they had launched towards the capital Riyadh..




Reuters - Published




Yemen's Houthis claim rocket, drone attacks on Saudi's Riyadh, Jazan and Asir

A military spokesman for Yemen's Houthis on Sunday said the group's forces had launched rockets and drones at "sensitive" sites in the Saudi capital Riyadh and at economic and military sites in Jazan..




Reuters - Published





Saudi forces intercept missile over Riyadh

The Saudi-led coalition fighting in Yemen said early on Sunday that the kingdom's air defences intercepted two ballistic missiles on Saturday night launched by Yemen's Iran-aligned Houthi group towards..




WorldNews - Published





Saudi-led coalition intercepts missiles fired by Yemen's Houthis: spokesman

The Saudi-led coalition fighting in Yemen said early on Sunday that the kingdom's air defenses intercepted two ballistic missiles on Saturday night launched by Yemen's Iran-aligned Houthi group toward..




Reuters - Published





Missiles intercepted above Saudi capital and city of Jazan -state media

Ballistic missiles were intercepted on Saturday in the sky above Saudi Arabia's capital Riyadh and the southern city of Jazan, state media reported, citing its own sources and the Saudi-led coalition..




Reuters - Published





U.S. working with Saudi authorities to arrange repatriation flights

The U.S. embassy in Riyadh said on Saturday it was working with the Saudi authorities to arrange repatriation flights to the United States on a commercial airline.




Reuters - Published




Saudis tighten anti-virus curfew, UAE closures leave travellers stranded

Saudi Arabia reported its second coronavirus death and tightened a nationwide curfew on Wednesday, barring entry to and exit from the capital Riyadh and the holy cities of Mecca and Medina as well as..




Reuters - Published




Saudi tightens coronavirus curfew; travelers stranded in UAE

Saudi Arabia reported its second coronavirus death and tightened a nationwide curfew, barring entry to and exit from the capital Riyadh and the holy cities of Mecca and Medina as well as movement..




Reuters - Published




Saudi Arabia tightens curfew to contain coronavirus

Saudi Arabia tightened a nationwide curfew to contain the spread of the coronavirus, barring entry to and exit from the capital Riyadh and the holy cities of Mecca and Medina as well as movement..




Reuters - Published




Turkey charges 20 Saudis over Khashoggi murder

Turkey has charged 20 suspects including two former aides to Saudi Crown Prince Mohammed bin Salman over the 2018 murder of Riyadh critic Jamal Khashoggi, prosecutors have said. Prosecutors accuse..




WorldNews - Published





When will the oil war end? History signals a long wait

NEW DELHI: How long can the vicious oil-price war between Saudi Arabia and Russia last? If history is any guide, the battle will be a long one. Riyadh has waged four price wars, including the current..




WorldNews - Published





Saudi Arabia closes Riyadh boulevard, winter wonderland over coronavirus fears

The Saudi entertainment authority announced early on Monday the closure of Riyadh boulevard and winter wonderland due to concerns about the new coronavirus, state TV reported.




Reuters - Published





Dominic Raab urged to end Saudi Arabia arms sales during visit to Riyadh

Campaigners say Raab lacks 'moral authority' over Yemen until the UK bans sales of weapons




Independent - Published





Coronavirus puts 'fragile' global recovery at risk: IMF

The deadly coronavirus epidemic could put an already fragile global economic recovery at risk, the IMF warned Sunday, as G20 financial chiefs voiced "real concern" over its economic ripple effects...




WorldNews - Published





G20 agrees on final communique with reference to climate change

Finance officials from the world's 20 biggest economies (G20) meeting in Riyadh on Sunday reached agreement on the wording of a final communique that includes a reference to climate change for the..




Reuters - Published




IMF chief, Argentina flag path to new debt deal after G20 meet in Riyadh

Argentina on Saturday agreed to start consultations with the International Monetary Fund that could lead to a new financing program, days after the global lender said the country's debt situation had..




Reuters - Published




Digital Tax Fight Emerges as Global Economic Threat

European finance ministers, meeting at the G20 in Riyadh, are pushing the United States for a global tax deal as a year-end deadline looms.




NYTimes.com - Published





Saudi Arabia says it intercepts Yemen missiles ahead of G20 meeting

Saudi Arabia said it had intercepted several ballistic missiles fired by Yemeni Houthi forces towards Saudi cities on Friday ahead of a gathering of finance ministers and central bankers from the Group..




Reuters - Published





Saudi Arabia intercepts missiles fired from Yemen as G20 ministers gather

Saudi Arabia said it had intercepted several ballistic missiles fired from Yemen towards Saudi cities on Friday as finance ministers and central bankers from the Group of 20 major economies gathered..




Reuters - Published





Qatar accuses Saudi Arabia of hampering its access to Gulf meet on coronavirus

Qatar has accused Saudi Arabia of allowing a protracted dispute to hinder Gulf Arab coordination over the coronavirus outbreak by denying the Qatari health minister timely access to a meeting of..




Reuters - Published





Pompeo: Iran must be held accountable for Baghdad attacks

Addis Ababa: US Secretary of State Michael Pompeo said Iran must be held accountable for its proxies' attacks on American forces in Baghdad, warning that such violence can't become routine."It..




WorldNews - Published





China won't send officials to G20 meeting amid virus outbreak: sources

China's central bank and its finance ministry will not send any officials to a G20 meeting of finance ministers and central bank governors in Riyadh due to virus outbreak, officials said.




Reuters - Published




Saudi Arabia's King Salman discusses Red Sea, Gulf of Aden security with Eritrean president

RIYADH: Saudi Arabia's King Salman held talks on Monday with Eritrean President Isaias Afwerki in the capital Riyadh. During the talks, they reviewed the bilateral relations between the two countries..




WorldNews - Published





Despite Yemen violence spike, Saudi says talks with Houthis progressing

Saudi Arabia's foreign minister said on Saturday that Riyadh was still committed to back-channel peace talks with Yemen's Houthi rebels, despite a recent increase in violence in the five-year conflict.




Reuters - Published





Human rights group say Saudi Arabian GP would help state 'sportswashing'

Plans to stage a Formula One grand prix in Saudi Arabia would serve only to further the gulf state's process of "sportswashing" and help legitimise the country's repressive regime, according to..




WorldNews - Published





France deploys radar system in Saudi Arabia to 'reassure' Riyadh

PARIS: France has deployed a radar system on the eastern coast of Saudi Arabia to beef up its ally's defences after missile attacks on the kingdom's oil infrastructure in September, French..




WorldNews - Published





Pakistan minister in Riyadh to discuss regional tensions

ISLAMABAD: Pakistan's Foreign Minister Shah Mahmood Qureshi was welcomed in Riyadh on Monday by his Saudi counterpart, Prince Faisal bin Farhan Al-Saud, Pakistan's Foreign Office (FO) said on..




WorldNews - Published





After Sultan Qaboos, Oman to retain its treasured neutrality

DUBAI — The sultanate of Oman, positioned geographically and diplomatically between regional powers of Riyadh and Tehran, earned outsize influence under the long reign of the late Sultan Qaboos. As..




WorldNews - Published





Conflict with Iran impacts entire world: Shinzo Abe

Riyadh: Japanese Prime Minister Shinzo Abe has warned that military confrontation with Iran will impact global peace and stability, as he visits the Middle East hoping to ease tensions spiked by the US..




WorldNews - Published





Yemen's southern separatists pull out of Riyadh agreement committees

Southern separatists in Yemen have pulled out of committees implementing a November agreement to end a power struggle in the south that had opened a new front in the country's multifaceted war.




Reuters - Published





Saudi Arabia sentences Riyadh concert stabber to death: state TV

A Saudi Arabian court sentenced on Sunday a man accused of stabbing three performers at a live show in the capital Riyadh in November to death, state television said.




Reuters - Published





Burj Khalifa to feature Dakar Saudi Arabia 2020 video

An international campaign has launched across a number of major cities across the world to mark the Kingdom of Saudi Arabia hosting the Dakar Rally for the first time in Asia from 5 to 17 January. The..




WorldNews - Published