New Jersey
State in the northeastern United States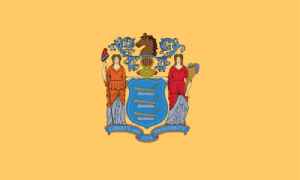 New Jersey is a state in the Mid-Atlantic region of the Northeastern United States. It is bordered on the north and east by the state of New York; on the east, southeast, and south by the Atlantic Ocean; on the west by the Delaware River and Pennsylvania; and on the southwest by Delaware Bay and the State of Delaware. New Jersey is the fourth-smallest state by area but the 11th-most populous, with 8,882,190 residents as of 2019 and an area of 8,722.58 square miles, making it the most densely populated of the 50 U.S. states. Its largest city is Newark. All but one county in New Jersey lie within the combined statistical areas of New York City or Philadelphia. New Jersey was the second-wealthiest U.S. state by median household income as of 2017.


Rapper Fetty Wap's Brother Was Murdered In New Jersey

Rapper Fetty Wap's brother Twyshon Depew was shot and killed in New Jersey last week. According to a press release from the Passaic County Prosecutor's Office, the incident took place Thursday. CNN..
Credit: Wochit News Duration: 00:32
Published
Man Carves Sculpture Of Dwayne Johnson From A Tree

The Rock has been crafted from an oak tree. Talented sculptor James O'Neal has painstakingly fashioned Dwayne Johnson from wood. The life-like sculpture was carved from a single piece of a red oak log...
Credit: Cover Video STUDIO Duration: 01:15
Published
Return To Sender: Rookie USPS Mail Carrier Dumped Ballots Into New Jersey Dumpsters

Nicholas Beauchene began working for the US Postal Service in July, 2020. No longer. The DOJ has charged him for dumping 1,875 pieces of mail, including ballots, in two dumpsters in North Arlington and..
Credit: Wochit News Duration: 00:35
Published
Kayleigh McEnany tests positive for COVID-19

[NFA] White House Press Secretary Kayleigh McEnany is the latest White House staffer to test positive for the coronavirus, following an outbreak that has also infected the president, the first lady,..
Credit: Reuters - Politics Duration: 02:06
Published
Chris Christie Helped Trump Prep For Debate, And All He Got Was This Lousy COVID-19

CNN reports former New Jersey Gov. Chris Christie has tested positive for the novel coronavirus, COVID-19. The news comes a day after US President Donald Trump announced he and First Lady Melania Trump..
Credit: Wochit News Duration: 00:37
Published
Fauci: Data 'good enough' on aerosol spread

The nation's top infectious disease expert, Dr. Anthony Fauci, said on Thursday he believes "there's good enough data to say that aerosol transmission does occur." This report produced by Yahaira..
Credit: Reuters - Politics Duration: 01:41
Published
Oregon's wildfires force mass evacuations

Deadly wildfires raging across Oregon kept half a million people under evacuation alert on Saturday even as weary firefighters took advantage of improved weather to go on the offensive against the..
Credit: Reuters - Politics Duration: 01:55
Published
'Developer And Mouthpiece' For QMap Is A Dude From New Jersey With A Day Job

QAnon supporters are far-right extremists who believe President Donald Trump is battling a covert, widespread cabal of Satan-worshipping pedophiles. The conspiracy theory later blew up on Facebook and..
Credit: Wochit News Duration: 00:47
Published
Exclusive: Nearly 100 key Republicans endorse Biden

Nearly 100 Republican and independent leaders endorsed Democrat Joe Biden for president on Thursday, people involved in the effort told Reuters. Lisa Bernhard produced this report.
Credit: Reuters - Politics Duration: 01:39
Published
New Jersey Resuming Indoor Dining

New Jersey Resuming Indoor Dining
Credit: Wochit News Duration: 00:33
Published
You Might Like



Halloween attractions in New York, New Jersey, Philadelphia: 'Scary-yet-safe' amid COVID-19

Here's how Eastern State Penitentiary, Six Flags Great Adventure and more are adapting to life under COVID-19.




USATODAY.com - Published





New York lieutenant governor on new coronavirus surge in the northeastern U.S.

The northeast region of the U.S. is experiencing a surge of the coronavirus, and governors from New York, New Jersey, and Connecticut are urging citizens to stop all unnecessary or non-essential travel..




CBS News - Published





Watch live: N.J. governor speaks amid new COVID-19 surge

The state reported more than 1,000 new coronavirus cases for four days straight, and the governor announced Wednesday he was self-quarantining.




CBS News - Published





Chris Christie says he should have worn a mask at White House

"I mistook the bubble of security around the president for a viral safe zone. I was wrong," the former New Jersey governor wrote.




CBS News - Published





In New Jersey's most segregated county, racism and coronavirus made a 'vicious circle'

Housing segregation made New Jersey ripe for the pandemic's spread. In this six-part series, USA TODAY investigates how racism fuels COVID-19 deaths.  




USATODAY.com - Published




Watch live: New York Governor Cuomo makes announcement

Cuomo is speaking after red zone COVID-19 infection rates have come down in parts of the state in the last week, but as as New Jersey sees a surge in cases.




CBS News - Published





Singapore to New York: The world's longest flight will restart in November

The world's longest flight is returning to the skies, and this time it's going to fly even further. Singapore Airlines has announced the resumption of flights from its home base at Changi Airport to..




WorldNews - Published





Democrats in New Jersey are voting at high rates.

Democrats in New Jersey are voting at higher rates than Republicans in conservative strongholds with three weeks to go before Election Day.




NYTimes.com - Published





Chris Christie reveals he was in the ICU for 7 days with COVID

Former New Jersey Governor Chris Christie told the New York Times he was "wrong" to not wear a mask.




CBS News - Published





Covid 19 coronavirus: Top Trump ally Chris Christie says he was wrong to not wear mask at White House

Former New Jersey Governor Chris Christie says he was wrong not to wear a mask at the White House, after he and US President Donald Trump both came down with the coronavirus.Christie, in a statement on..




New Zealand Herald - Published





Christie Says He Was 'Wrong' Not to Wear Masks at White House

Chris Christie, the former New Jersey governor who was hospitalized as he battled the coronavirus, urged people to follow C.D.C. guidelines in public.




NYTimes.com - Published





Johnson & Johnson pauses COVID vaccine trial over sick participant

The New Jersey-based pharmaceuticals giant is the latest to halt a major coronavirus vaccine trial over a single unexplained illness.




CBS News - Published





'Class Action Park': Deadly history of American theme park revealed

Snake-infested waters, an enclosed loop slide and a ferocious wave pool – this theme park in the US was responsible for the death of six people in the space of seven years.The story of Action Park in..




New Zealand Herald - Published





Chris Christie Released From Hospital a Week After COVID Diagnosis

Former New Jersey Governor Chris Christie is out of the hospital, after spending a solid week in there after suffering COVID symptoms. As you know, Christie tested positive for coronavirus after..




TMZ.com - Published





Former NJ Gov. Chris Christie released from hospital a week after testing positive for COVID-19

The former New Jersey governor was released from Morristown Medical Center one week after testing positive for COVID-19.




USATODAY.com - Published





I volunteered for a COVID-19 vaccine trial in New Jersey. Here's what it's been like since the shot.

What's it like being part of a trial to see if the COVID-19 vaccine being developed by Moderna is effective?




USATODAY.com - Published





New York and New Jersey record highest coronavirus cases since May

Coronavirus cases in New York and New Jersey are soaring, recording their highest number of cases since May. Meg Oliver reports.




CBS News - Published





Ex-N.J. Gov. Chris Christie spends a 6th day in the hospital with COVID-19

As former New Jersey Gov. Chris Christie spends his sixth day in a hospital being treated for COVID-19, current Gov. Phil Murphy said Thursday his predecessor is "the quintessential Jersey fighter."..




WorldNews - Published





A New Jersey postal worker was arrested after he threw away nearly 100 blank ballots, prosecutors say.




NYTimes.com - Published





How to watch the first vice presidential debate

Illustration by Alex Castro / The Verge On Wednesday, October 7th, Sen. Kamala Harris (D-CA) and Vice President Mike Pence will take the stage for the first and only vice presidential debate of the..




The Verge - Published





NJ Gov. Murphy announces investigation into Trump's Bedminster event for COVID violations

Officials are investigating whether the fundraiser violated state guidelines by exceeding capacity and providing a buffet meal.




USATODAY.com - Published




New Jersey governor calls Trump fundraiser "completely reckless"

New Jersey Governor Phil Murphy said at a press conference in Trenton on Monday that President Trump's trip to a fundraiser at his golf club in the state was "completely reckless." The trip occurred..




CBS News - Published





Covid 19 coronavirus: Trump's golf club fundraiser hours before announcing infection 'put lives at risk'

President Donald Trump's fundraiser at his Bedminster golf club hours before he announced he had contracted the coronavirus was wrong and "put lives at risk," New Jersey Governor Phil Murphy said..




New Zealand Herald - Published





New Jersey Governor Phil Murphy on President Trump's Bedminster event and mitigating crisis

New Jersey's Democratic governor, Phil Murphy, joins "CBS This Morning" to discuss his state's handling of President Trump's visit to Bedminster on Thursday.




CBS News - Published





Guess Who This Cheesin' Kid Turned Into!

Before this cheesin' child became one of the greatest basketball players of all time, he was just another cute kid smiling for his school pictures in Newark, New Jersey. Throughout his NBA career, this..




TMZ.com - Published





Covid 19 coronavirus: Trump campaign fundraiser in spotlight

State health officials in New Jersey have contacted more than 200 people who attended a campaign fundraiser at the Trump National Golf Course in Bedminster on Thursday (US time), hours before the..




New Zealand Herald - Published





Chris Christie is the latest in Trump circle to get virus

Former New Jersey Gov. Chris Christie tested positive for COVID-19, he tweeted Saturday morning – the latest in a string of virus cases connected to President Donald Trump's inner circle. Christie..




WorldNews - Published





Chris Christie Tests Positive for Coronavirus

Former New Jersey Governor Chris Christie is the latest Trump loyalist to test positive for the coronavirus. Christie just announced, "I just received word that I am positive for COVID-19. I want to..




TMZ.com - Published





Push to defund police gains no traction in NJ as state's largest towns increase funds for cops

Among New Jersey's big towns that have adopted budgets since June, only eight have cut funding for police.  




USATODAY.com - Published





SNL star Joe Piscopo glad Trump attended NJ event

Comedian Joe Piscopo attended the fundraiser in Bedminster, New Jersey on Thursday, which he described as a small gathering for President Donald Trump's friends. (Oct. 2)  




USATODAY.com - Published





US Senate candidate recounts Trump's NJ fundraiser

A U.S. Senate candidate from New Jersey attended the private fundraiser at President Trump's Bedminster golf resort. He describes the event as following all social distancing guidelines, but said he..




USATODAY.com - Published





Press secretary: "White House operations" decided it was safe for Trump to go to New Jersey fundraiser

White House press secretary Kayleigh McEnany took questions outside on Friday amid the news the president and first lady had COVID-19. She told CBS News' Paula Reid that "White House operations made..




CBS News - Published





New Jersey officials are scrambling to trace attendees of Trump fund-raiser at golf course.




NYTimes.com - Published





Trump went ahead with campaign events in New Jersey after Hope Hicks tested positive for COVID

President Donald Trump went ahead with campaign events in New Jersey apparently knowing that aide Hope Hicks had tested positive for COVID-19.




USATODAY.com - Published





'No one was wearing masks' during debate prep, Chris Christie says after president contracts coronavirus

The former New Jersey governor said he visited the White House from Saturday through Tuesday. He was tested every day he was there.




USATODAY.com - Published





New Jersey Man's Body Is Recovered From the Depths of Lake Tahoe

Officials said the recovery of Ryan Normoyle's body, which was 1,565 feet down, was the deepest ever recorded at the lake.




NYTimes.com - Published





George W. Bush's first EPA chief on why she supports Joe Biden

Christine Todd Whitman, the former Republican governor of New Jersey who headed the Environmental Protection Agency under President George W. Bush, is endorsing Joe Biden in the presidential race. She..




CBS News - Published





Federal judge halts USPS move to dismantle mail-sorting machines, remove mailboxes

"We will have a free and fair election," New Jersey Attorney General Gurbir Grewal said in a tweet on Sunday.




USATODAY.com - Published




"This time is different:" Biden attracts slew of ex-military, GOP endorsements

"I haven't seen this volume of people willing to publicly say, 'I can't support my party,'" former New Jersey Governor Christine Todd Whitman.




CBS News - Published





New Jersey law says criminal cops should go to jail. Records reveal they often don't.

Officers accused of violence, sexual misconduct and more have walked free in deals that dodge a tough sentencing law. Lawmakers want to eliminate it.




USATODAY.com - Published




How Ruth Bader Ginsburg helped a high school girl in New Jersey win a spot on boys tennis team

In a case that supported what became Title IX reforms, Ruth Bader Ginsburg fought for a teenage girl who just wanted to compete in tennis.




USATODAY.com - Published





Transcript: Cory Booker on "Face the Nation"

The following is a transcript of an interview with New Jersey Senator Cory Booker that aired Sunday, September 30, 2020, on "Face the Nation."




CBS News - Published





Booker: GOP doing "tremendous" damage to Senate in rush to fill Ginsburg's seat

New Jersey Senator Cory Booker says Republican efforts to confirm a nominee to replace Justice Ruth Bader Ginsburg on the Supreme Court "does a tremendous amount of damage to the institution of the..




CBS News - Published





Suspects open fire on home of New Jersey police officers and newborn baby; reward offered

Assailants opened fire on the home of two New Jersey police officers Tuesday night, with two bullets piercing the front door.




USATODAY.com - Published





Gun man targeted home of New Jersey police officers and their baby, public's help sought

Investigators seek public's help after attack on officers' East Camden home.  




USATODAY.com - Published





Actress headed back to prison for fatal 2010 drunk driving crash

It was a startling development in a case that has bounced around the New Jersey court system for nearly a decade.




CBS News - Published





'Melrose Place' Amy Locane Resentenced to 8 years in Prison For Deadly DWI crash

Amy Locane -- who played Sandy in the original "Melrose Place" -- was just resentenced for killing someone in a drunk driving accident ... and she's getting 8 years behind bars. A New Jersey judge gave..




TMZ.com - Published





Deal Reached in N.J. for 'Millionaires Tax' to Address Fiscal Crisis

Gov. Philip Murphy said the tax would help make up shortfalls caused by the pandemic, but Republicans warned it would lead to an exodus of wealthy residents.




NYTimes.com - Published





What happened when Newark's troubled police department was forced to reform

Journalist and historian Jelani Cobb joined "Red and Blue" to discuss his new documentary for Frontline/PBS, "Policing the Police 2020." In it, he goes back to Newark, New Jersey, where he began..




CBS News - Published





UFO Sighting in New Jersey According to Many, Others See a Blimp

You're about to enter another dimension of sound and sight ... and mind. That, or you're just walking into a tire ad courtesy of a flying billboard -- you tell us. So, supposedly, there was a UFO..




TMZ.com - Published