Geoffrey Rush
Australian actor and film producer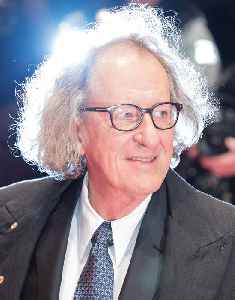 Geoffrey Roy Rush is an acclaimed Australian actor of the stage and screen. He is known for his roles in various films, including his role as Captain Barbossa in the Pirates of the Caribbean films. Rush won an Academy Award for Shine (1996), and was nominated for his performances in Shakespeare in Love (1998), Quills (2000), and The King's Speech (2010). He also appeared in various films including Elizabeth (1998), Les Miserables (1998), Frida (2001), Munich (2005), and The Book Thief (2013).


You Might Like
ShowBiz Minute: Whedon, Rush, Harry
Actor says "Justice League" director Joss Whedon was "abusive"; Australian court upholds Geoffrey Rush's defamation payout; Prince Harry stresses need to tackle institutional racism. (July 2)  
USATODAY.com - Published
Court upholds Geoffrey Rush damages payout against Australian newspaper
An Australian court today rejected a newspaper publisher's appeal against Oscar-winning actor Geoffrey Rush's 2.9 million Australian dollars (US$2 million) payout for defamation. Three Federal..
WorldNews - Published
Geoffrey Rush: Sydney newspaper loses appeal over defamation payout
Actor Geoffrey Rush will receive a record sum from an Australian newspaper, after it lost an appeal.
BBC News - Published
Judge was 'justified' in Geoffrey Rush findings, court hears
The judge who ruled in favour of Geoffrey Rush in his defamation case was justified in finding the actor was unable to work, an appeal court has been told.
SBS - Published
Slur to suggest Geoffrey Rush 'delivered lines in witness box', appeal hearing told
Rush, 68, sued Nationwide News and a journalist over two front-page stories and a newsagent poster published in late 2017.
The Age - Published
ShowBiz Minute: BTS, Rush, US Box Office
Seoul police investigating BTS member over traffic accident; Australian publisher appeals Geoffrey Rush's defamation payout; "Terminator: Dark Fate" is No. 1 in the U.S., but it's no winner. (Nov...
USATODAY.com - Published
Geoffrey Rush trial judge appeared to be biased, newspaper claims in appeal
The Daily Telegraph's publisher is appealing a $2.83 million payout to Geoffrey Rush and a judgment that found the newspaper defamed the actor.
The Age - Published
'An astonishing omission': Geoffrey Rush defamation findings challenged
An appeal by Nationwide News against Geoffrey Rush's defamation win has started in Sydney's Federal Court.
SBS - Published
Judge refuses to grant gag order in Geoffrey Rush defamation case
The Daily Telegraph is free to criticise the decision in the Geoffrey Rush defamation case, a Federal Court judge has said.
The Age - Published
Telegraph takes aim at judge's 'tone' as it seeks access to Rush tapes
The tabloid is seeking access to parts of the audio recording of the Geoffrey Rush trial because it believes the judge's "tone" is relevant to its appeal.
The Age - Published