Quentin Tarantino
American film director, screenwriter, producer, and actor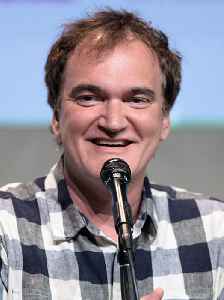 Quentin Jerome Tarantino is an American filmmaker and actor. His films are characterized by unconventional nonlinear storylines, aestheticization of violence, extended scenes of dialogue, ensemble casts, references to popular culture and a wide variety of other films, soundtracks primarily containing songs and score pieces from the 1960s to the 1980s, alternate history, and features of neo-noir film. He is widely regarded as one of the greatest and most influential filmmakers of cinema history of all time.


Oscar-winning composer Ennio Morricone dies aged 91

Italian composer Ennio Morricone, who created the memorable coyote-howl theme for the Spaghetti Western The Good, The Bad And The Ugly, has died aged 91.His lawyer Giorgio Assumma said the Maestro, as..
Credit: PA - Press Association STUDIO Duration: 01:06
Published
You Might Like



Once Upon a Time in Hollywood script 'was locked in a safe'

Quentin Tarantino's 'Once Upon a Time in Hollywood' script was locked in a safe during filming. The acclaimed comedy-drama movie - which features the likes of Leonardo DiCaprio, Brad Pitt and Margot..




WorldNews - Published





Quentin Tarantino and wife welcome first child

Quentin Tarantino and his wife Daniella Pick have welcomed their first child together. The couple became parents...




WorldNews - Published





'Best Picture' Oscar Nominations 2020 - What's Going to Win? The One News Page Verdict

by Graham Pierrepoint - It's that time of year again – on February 10th, millions of people all over the world will be tuning into the Academy Awards. It's a brilliant celebration..




One News Page Staff - Published





Critics' Choice Awards 2020: 'Once Upon a Time' won big – but Brad and Leo weren't there

"Once Upon a Time in Hollywood" took home best picture at the Critics' Choice Awards, but Quentin Tarantino was without his film's biggest stars.




USATODAY.com - Published





'1917,' 'Once Upon a Time in Hollywood' win best picture honors at Golden Globes

Sam Mendes' World War I tale "1917" wins best picture, drama, and Quentin Tarantino's "Once Upon a Time ... in Hollywood" wins best film, comedy or musical at the 77th Golden Globes. (Jan. 6)  




USATODAY.com - Published





Joaquin Phoenix on award: 'Part of me thinks this is ridiculous'

The 31st Palm Springs International Film Festival winners included Joaquin Phoenix, Renee Zellweger, Jennifer Lopez, Quentin Tarantino and Martin Scorsese. (Jan. 3)  




USATODAY.com - Published





Jennifer Aniston, Brad Pitt to repeat history at Golden Globe Awards 2020?

LOS ANGELES: Jennifer Aniston is expected to attend the upcoming Golden Globe Awards in January 2020. Rumours have it that the dashing TV personality would grace the event along with her ex-husband..




WorldNews - Published





Nicolas Cage to star as Nicolas Cage in film about Nicolas Cage

Nicolas Cage is reportedly in talks to play himself in a film about him trying to land a role in a new Quentin Tarantino movie. The meta-sounding film,...




WorldNews - Published





Danny DeVito on Quentin Tarantino

In this web exclusive, actor Danny DeVito tells Martha Teichner how he came to be a producer on one of Quentin Tarantino's most acclaimed films.




CBS News - Published





Is Tarantino's extended Once Upon a Time in Hollywood worth seeing?

After I saw Quentin Tarantino's summer hit Once Upon A Time In Hollywood I actually said to a friend: "All I want is to watch more of Brad Pitt just driving around Los Angeles." When I heard that..




WorldNews - Published





'Once Upon a Time in Hollywood' is being re-released with 10 minutes of new footage

Quentin Tarantino's "Once Upon a Time," starring Brad Pitt and Leonardo DiCaprio, is heading back to theaters Friday with 10 minutes of added scenes.




USATODAY.com - Published





Israel Seems Paralyzed, but Is the System Broken?

To understand the paralysis in Israel's political system, think of a Mexican standoff, like in a Quentin Tarantino movie, minus the guns.




NYTimes.com - Published





'Pulp Fiction' turns 25: Quentin Tarantino made hearts stop with Uma Thurman's overdose scene

Quentin Tarantino made moviegoers' hearts stop 25 years ago when Uma Thurman's Mia overdosed with John Travolta's Vincent Vega in "Pulp Fiction."




USATODAY.com - Published





Daniella and Quentin Tarantino are expecting their first child

(CNN)Quentin Tarantino may need to learn to keep it rated G around his home now that he and his wife Daniella are expecting their first child. "Daniella and Quentin Tarantino are very delighted to..




WorldNews - Published





MOVIE REVIEW: Once Upon a Time in Hollywood

by Graham Pierrepoint - ONCE UPON A TIME IN HOLLYWOOD IMDb Dir: Quentin Tarantino Starring Leonardo DiCaprio, Brad Pitt, Margot Robbie, Emile Hirsch, Margaret Qualley, Timothy Olyphant, Austin..




One News Page Staff - Published

Also reported by •WorldNews


Kareem Abdul-Jabbar slams Quentin Tarantino's 'somewhat racist' depiction of Bruce Lee

Kareem Abdul-Jabbar is the latest celebrity to weigh in on Bruce Lee's controversial depiction in Quentin Tarantino's "Once Upon A Time in Hollywood."




USATODAY.com - Published





Once Upon A Time In Hollywood: When Leonardo DiCaprio got fired and Brad Pitt almost did

The stars of Quentin Tarantino's latest film share stories from the early days of their careers.




BBC News - Published





Bruce Lee's daughter: Quentin Tarantino should 'shut up about' dad's depiction already

"Or (Quentin Tarantino) could apologize or he could say, 'I don't really know what Bruce Lee was like,'" the actor's daughter Shannon Lee said.




USATODAY.com - Published





Once Upon A Time In Hollywood: Ranking Every Major Performance

With Tarantino's latest film, Once Upon a Time in Hollywood finally being unleashed upon the world at large, it is bound to be a great many things to a great many people. Set in...




WorldNews - Published





Quentin Tarantino defends 'arrogant' Bruce Lee depiction in 'Once Upon a Time in Hollywood'

Quentin Tarantino has taken heat for the cocky portrayal of Bruce Lee in "Once Upon a Time in Hollywood." But the director is pushing back.




USATODAY.com - Published





Tarantino and Peele: What do these two filmmakers have in common?

Once Upon A Time in Hollywood and Jordan Peele's Us hold special spots on the US box office chart.




BBC News - Published





Was Bruce Lee that cocky? We fact-check Quentin Tarantino's 'Once Upon A Time in Hollywood'

Quentin Tarantino weaves truth and fiction in "Once Upon A Time in Hollywood." We handle burning questions (spoiler-free!) around the film's veracity.




USATODAY.com - Published





Quentin Tarantino takes box office silver behind The Lion King

The filmmaker's ninth film misses out on the top spot but lands his biggest opening weekend.




BBC News - Published





"Once Upon a Time in Hollywood" marks Tarantino's biggest opening

The star-studded film made an estimated $40.4 million in ticket sales in the United States and Canada over the weekend.




CBS News - Published





'The Lion King' wins, but 'Once Upon A Time in Hollywood' is Tarantino's biggest debut ever

Already, 'The Lion King' is the year's fourth-biggest film. Still, Quentin Tarantino's 'Once Upon A Time in Hollywood' represents a career high.




USATODAY.com - Published





Every Tarantino film, ranked from worst to best

With the arrival of 'Once Upon A Time in Hollywood,' starring Leonardo DiCaprio and Brad Pitt, it's time to definitively rank Quentin Tarantino films.




USATODAY.com - Published





The best and worst Quentin Tarantino movies (including 'Once Upon A Time in Hollywood')

Quentin Tarantino's films all share a cool style but also consistent high quality. Here's how 'Once Upon A Time in Hollywood' stacks up with the rest.




USATODAY.com - Published





Quentin Tarantino opens up about retiring after making 10 films

Ace filmmaker Quentin Tarantino really meant what he said about his retirement plans from filmmaking. For years now, the Oscar-winning director has said that he will step away from the director's chair..




WorldNews - Published