Susan Collins
United States Republican Senator from Maine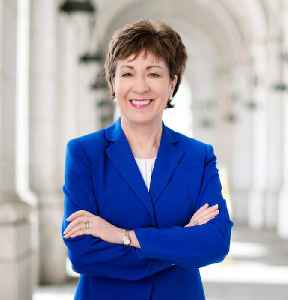 Susan Margaret Collins is an American politician serving as the senior United States Senator for Maine. A Republican, she has represented Maine in the Senate since 1997.


Republicans blast debate as 'a brawl', 'embarrassment'

Republican U.S. Senators including Mitch McConnell, Mitt Romney, John Cornyn and Susan Collins on Wednesday blasted Tuesday night's presidential debate and denounced President Trump for not condemning..
Credit: Reuters Studio Duration: 01:38
Published
Murkowski, Collins break ranks on swift SC vote

[NFA] Republican Senators Lisa Murkowski of Alaska and Susan Collins of Maine broke ranks with President Donald Trump on his plan to swiftly hold a Senate vote on a potential successor to late Supreme..
Credit: Reuters - Politics Duration: 02:28
Published
You Might Like



Maine race key to flipping control of U.S. Senate

Sara Gideon was leading a local town council less than a decade ago, but the Democrat is tapping anger with President Donald Trump and Sen. Susan Collin's vote for Supreme Court Justice Brett Kavanaugh..




USATODAY.com - Published





After Susan Collins again says she won't back Judge Barrett, Trump lashes out.




NYTimes.com - Published





Trump says Susan Collins 'not worth the work' over her Supreme Court stance

This story will be updated. President Donald Trump tore into U.S. Sen. Susan Collins of Maine in a Friday tweet, saying the vulnerable Republican whose race is crucial to control of the Senate was..




WorldNews - Published





Senators ask Trump to end blanket closure of U.S.-Canada border

"We believe that border restrictions should reflect the actual, localized risk on both sides of the border," wrote Senators Susan Collins




USATODAY.com - Published





Sara Gideon Is Running Strong Against Susan Collins in Maine

Her opponent, Sara Gideon, is running on her record in the state — but does it matter in a year when all politics is national?




NYTimes.com - Published





Maine Senator Susan Collins in hotly contested race

Maine Senator Susan Collins faces a tough battle to keep her seat. The Republican incumbent is seeking a fifth term, but recent polls show support for her is slipping. Portland Press Herald reporter..




CBS News - Published





Lisa Murkowski, Susan Collins oppose vote on Ruth Bader Ginsburg replacement before election

Murkowski joins Sen. Collins of Maine as the only two Senate Republicans to explicitly reject the idea of voting on a nominee before the election.




USATODAY.com - Published





Murkowski opposes filling Supreme Court seat before the election

Murkowski is the second Republican, behind Senator Susan Collins of Maine, to voice opposition to filling the late Justice Ruth Bader Ginsburg's Supreme Court seat before the November election.




CBS News - Published





Susan Collins says she opposes holding a vote on a replacement for Ginsburg before the election.




NYTimes.com - Published





G.O.P. senators are struggling in key states, a Times poll found.

A New York Times/Siena College survey showed Joe Biden leading President Trump by wide margins in Maine and Arizona, and effectively tied in North Carolina. Susan Collins trailed her Democratic rival..




NYTimes.com - Published





Polls: Coronavirus Pulls Down Trump and GOP Senators Suffer

A New York Times/Siena College survey showed Joe Biden leading President Trump by wide margins in Maine and Arizona, and effectively tied in North Carolina. Susan Collins trailed her Democratic rival..




NYTimes.com - Published




'The political challenge of her life': Maine Sen. Susan Collins trailing in bid for 5th term, polls find

"Senator Collins faces the political challenge of her life," said Quinnipiac University Polling Analyst Tim Malloy.




USATODAY.com - Published





Why Trump's Republican Senate enablers must be ousted this fall: Former NH GOP chair

The Lincoln Project is dedicated to the electoral defeat of Trump and Trumpism. Susan Collins won't be the only Senate Republican in our ads.




USATODAY.com - Published





Maine Dem. Gideon wins primary, will face Collins

Maine House Speaker Sara Gideon has beaten two Democrats for the right to challenge U.S. Sen. Susan Collins this fall. (July 15)  




USATODAY.com - Published





Sara Gideon Wins Nomination to Challenge Susan Collins in Maine

Ms. Gideon, backed by the Senate Democratic campaign arm and outside political groups, had long been the favorite to challenge Senator Collins, the sole remaining New England Republican in Congress.




NYTimes.com - Published





Sessions Pays the Price for Incurring Trump's Wrath, Losing Alabama Senate Race

In Maine, Sara Gideon was facing limited competition for the Democratic primary and the chance to face Susan Collins in a race that has become the priciest Senate campaign in the state's history.




NYTimes.com - Published





What Time Do Polls Close in Alabama, Maine and Texas?

Jeff Sessions is fighting for his political life in an Alabama race that will signal the strength of President Trump's hold on his base. And in Maine, the spotlight is on which Democrat will face..




NYTimes.com - Published





Supreme Court Elevates Abortion in Senate Campaigns

The court's rejection of a restrictive Louisiana abortion law, and Justice Brett M. Kavanaugh's dissent, may create new challenges for Susan Collins and other Republican senators up for..




NYTimes.com - Published





'A threat to accountable democracy': Some Republicans object to Trump dismissal of federal watchdog

"The President has not provided the kind of justification for the removal of IG Linick required by this law," said Sen. Susan Collins, R-Maine.




USATODAY.com - Published





Sen. Susan Collins says Trump's public statements on the coronavirus outbreak have been 'very uneven'

Sen. Susan Collins, R-Maine, faces a tough reelection battle in the fall and has criticized Trump on a number of occasions.




USATODAY.com - Published





GOP sens. draft $300B plan for small businesses

Republican Sens. Marco Rubio of Florida and Susan Collins of Maine unveiled a draft bill that would provide $300 billion in help for small businesses, including loans that would attempt to help them..




USATODAY.com - Published





Trump impeachment: looming Senate acquittal threatens to overshadow Iowa

As a growing number of Republican senators confirmed they will vote to acquit Donald Trump at the conclusion of his impeachment trial on Wednesday, the saga threatened to overshadow the first contest..




WorldNews - Published





Senate rejects witnesses in Trump trial, ensuring acquittal

WASHINGTON — The Senate rejected the idea of summoning witnesses for President Donald Trump's impeachment trial late Friday, all but ensuring his acquittal. But senators considered pushing off..




WorldNews - Published





Phone calls flood senators' offices.

Asked about call volume, the office of Senator Susan Collins, said that about one in every 25 calls was targeted, profane or threatening.




NYTimes.com - Published





GOP Sens Collins, Romney want witnesses in Trump Senate trial, but additional testimony remains uncertain

Republican Sens. Susan Collins and Mitt Romney said they want witnesses at the Senate trial of President Donald Trump, but decision remains uncertain.




USATODAY.com - Published





Susan Collins says she'll vote in favor of witnesses.

Democrats would need four Republicans to side with them on Friday to demand new witnesses and documents.




NYTimes.com - Published




Even Senators keep their eyes on the moderates during the question periods.

The three Republicans seen as most likely to vote for witnesses are Susan Collins, Lisa Murkowski and Mitt Romney.




NYTimes.com - Published





Susan Collins submits first question of the trial on behalf of centrist Republicans.

She was joined by Senators Lisa Murkowski and Mitt Romney.




NYTimes.com - Published





Romney called 2016 a time for choosing on Trump. What choice will senators make now?

Sens. Romney, Portman and Burr, Susan Collins, Lamar Alexander and others, it is time for choosing. Which path will you choose for history to record?




USATODAY.com - Published





Republican Collins says Bolton report strengthens case for impeachment trial witnesses

Republican U.S. Senator Susan Collins said on Monday the case for calling witnesses in President Donald Trump's Senate impeachment trial had been strengthened by a New York Times report on a book..




Reuters - Published




Sen. Susan Collins wrote note to Chief Justice Roberts prior to his admonishing of Senators

Sen. Susan Collins, R-Maine, said she was "stunned" by remarks given by House Judiciary Chairman Jerry Nadler at the start of the trial




USATODAY.com - Published





A courtroom artist illustrates 2 senators at work.

Senators Susan Collins of Maine and Lisa Murkowski of Alaska appeared to be closely following the arguments.




NYTimes.com - Published





Impeachment Trial Puts Susan Collins, Stung by Kavanaugh Backlash, Under Scrutiny

The four-term Maine senator, who crossed party lines to vote against President Clinton's impeachment, must now decide whether to break with President Trump.




NYTimes.com - Published





Susan Collins surpasses Mitch McConnell as the most unpopular senator in a new poll

The Maine Senator's net approval rating has dropped 10 points since the end of September, leaving her with a 52 percent disapproval rating




USATODAY.com - Published





Susan Collins credits herself and three colleagues for securing a vote on witnesses.

The Maine Republican confirmed the rules will allow a vote on whether to call witnesses.




NYTimes.com - Published




3 Republicans Are Open to Impeachment Witnesses, but Democrats Need a 4th

Senators Susan Collins, Lisa Murkowski and Mitt Romney seem open to witnesses in President Trump's impeachment trial. With one more Republican, Democrats could commandeer the proceedings.




NYTimes.com - Published





Sen. Susan Collins: 'It is inappropriate' for Mitch McConnell, Democrats for prejudge impeachment trial

Sen. Susan Collins, R-Maine, said that senators on both sides of the aisle were wrong to predetermine the outcome of the Senate impeachment trial.




USATODAY.com - Published





2nd Senate Republican Questions Impartiality of Impeachment Trial

Senator Susan Collins of Maine joined Lisa Murkowski in raising concerns over her leaders' approach, and said she would be "open" to calling witnesses.




NYTimes.com - Published





Senator Susan Collins of Maine Announces Bid for Re-election

The campaign, formally announced on the day President Trump is expected to be impeached, will most likely be her most expensive and challenging.




NYTimes.com - Published





GOP Sen. Collins of Maine Launches Reelection Bid for 2020

Republican Sen. Susan Collins officially launched her bid for reelection Wednesday, setting up an expensive and closely watched battle that's starting against the backdrop of impeachment proceedings..




WorldNews - Published





Sen. Susan Collins asks President Trump: turn over any evidence of wiretaps to Intel Committees

Republican Senator on the Intelligence Committee, Susan Collins says, "it would be more helpful" if President Donald Trump turned over any evidence he had of wiretaps to Congressional Intelligence..




CBS News - Published





Full Interview: Susan Collins, March 5

Sen. Susan Collins, R-Maine sits down with Face the Nation Host John Dickerson to discuss President Trump's wiretap accusations, the Senate Intelligence Committee investigation into Russia and..




CBS News - Published





Sen. Susan Collins on Healthcare reform status: "There is not a consensus"

Sen. Susan Collins, R-Maine says that there is currently no consensus on efforts to replace or reform the Affordable Care Act. "It is very complicated and we shouldn't rush it," the Republican Senator..




CBS News - Published





Open: This is Face the Nation, July 23

This week on "Face the Nation," host John Dickerson interviews Anthony Scaramucci, Senators Susan Collins and John Barrasso, and Congressman Adam Schiff to discuss the White House's new communications..




CBS News - Published




Sen. Susan Collins says President Trump should not comment further on Russia investigations

Senator Susan Collins, R-Maine, discusses the latest on the Russia investigations and the path forward for replacing Obamacare with Face the Nation Moderator John Dickerson.




CBS News - Published





Sen. Collins says it's hard to envision voting yes on Graham-Cassidy

Senator Susan Collins, R-Maine, shares her concerns about the Graham-Cassidy health care plan with "Face the Nation" moderator John Dickerson.




CBS News - Published





Sen. Susan Collins: Separating immigrant families "traumatizing" for children

In an interview with "Face the Nation" moderator Margaret Brennan, Sen. Susan Collins, R-Maine, said that the Trump administration policy of separating immigrant families who cross the border illegally..




CBS News - Published





Collins: "Ranks right up there" with the hardest votes she's ever cast

Key swing vote Sen. Susan Collins, R-Maine, told John Dickerson on "Face the Nation" that her vote to confirm Brett Kavanaugh to the Supreme Court "ranks right up there" of the hardest votes she's ever..




CBS News - Published





Full interview: Sen. Susan Collins appears on "Face the Nation"

Maine Republican Sen. Susan Collins sat down with John Dickerson for an interview on "Face the Nation."




CBS News - Published