Johns Hopkins University
Private research university in Baltimore, Maryland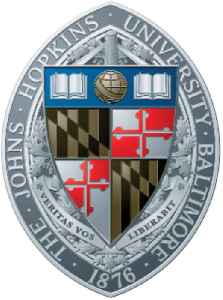 The Johns Hopkins University is a private research university in Baltimore, Maryland. Founded in 1876, the university was named for its first benefactor, the American entrepreneur, abolitionist, and philanthropist Johns Hopkins. His $7 million bequest —of which half financed the establishment of Johns Hopkins Hospital—was the largest philanthropic gift in the history of the United States up to that time. Daniel Coit Gilman, who was inaugurated as the institution's first president on February 22, 1876, led the university to revolutionize higher education in the U.S. by integrating teaching and research. Adopting the concept of a graduate school from Germany's historic Heidelberg University, Johns Hopkins University is considered the first research university in the United States. Over the course of several decades, the university has led all U.S. universities in annual research and development expenditures. In fiscal year 2016, Johns Hopkins spent nearly $2.5 billion on research. The university has additional graduate campuses in Italy, China, and Washington, D.C., in addition to its main campus in Baltimore, Maryland.


Alabama Is Running Out of ICU Beds For COVID Patients

According to Gizmodo, Alabama is running out of ICU beds for coronavirus patients. A Johns Hopkins University tracker reports that there are 13,414 cases of coronavirus and 529 deaths in Alabama. This..
Credit: Wochit News Duration: 00:35
Published
Johns Hopkins To Begin Blood Plasma Trials For Treatment Of COVID-19

Johns Hopkins University will begin two clinical trials of convalescent blood plasma to treat COVID-19 next week. Convalescent blood plasma is plasma derived from the blood of COVID-19 survivors...
Credit: Wochit News Duration: 00:32
Published
Experts Predict Where COVID-19 Pandemic Is Likely To Hit Hardest Next

The latest figures from Johns Hopkins University indicate 1.2 million Americans have been diagnosed with the novel coronavirus COVID-19. More than 30% of the people diagnosed so far live in the New..
Credit: Wochit News Duration: 00:46
Published
How People With 'Mild' COVID-19 Generally Recover

Data from Johns Hopkins University indicates more than 1 million people around the globe are considered recovered from the novel coronavirus COVID-19. But how long does it take to get healthy again?..
Credit: Wochit News Duration: 00:34
Published
New York needs 'tracing army' to help slow coronavirus -Gov. Cuomo

New York Governor Andrew Cuomo said on Thursday that he would need an "army" of between 6,400 and 17,000 people to handle contact tracing, a process for identifying the contacts of a person who has..
Credit: Reuters Studio Duration: 02:20
Published
Governor Ron DeSantis Calls Florida 'God's Waiting Room' For The Elderly

Florida Gov. Ron DeSantis said the state is "God's waiting room" because of how many nursing homes they have. According to Business Insider, data shows elderly people are the most susceptible to..
Credit: Wochit News Duration: 00:32
Published
U.S. Coronavirus Death Toll Is Over 50,000

The number of deaths being attributed to the novel coronavirus has now exceeded 50,000. Gizmodo reports Johns Hopkins University has been maintaining data regarding the virus. The staggering figure..
Credit: Wochit News Duration: 00:40
Published
US Records Lowest Coronavirus-Related Deaths in 2 Weeks

According to Johns Hopkins University, 1,433 people died due to COVID-19 on April 20th. That is an average of 600 less deaths than previous days
Credit: Cover Video STUDIO Duration: 01:08
Published
COVID-19 Global Death Toll Surpasses 100,000

Johns Hopkins University reports that the global total was at 100,375 the morning of April 10.
Credit: Cover Video STUDIO Duration: 00:55
Published
US Sets Coronavirus Death Toll Record—Over 2K Deaths In A Day

According to Reuters, as of Friday the U.S. became the first country to report over 2,000 coronavirus deaths in a single day. According to research data from Johns Hopkins University, 2,108 people died..
Credit: Wochit News Duration: 00:35
Published
Half a million infected in US as daily death toll passes 2,000

The US is currently the most impacted by the global pandemic with more than half a million confirmed cases of the virus, according to a Johns Hopkins University count.View on euronews
Credit: euronews (in English) Duration: 01:20
Published
US COVID-19 Death Toll Surpasses 10,000

According to John Hopkins University, the United States coronavirus death toll hit 10,335 as of Monday afternoon.
Credit: Cover Video STUDIO Duration: 01:16
Published
Over 1 Million People Have Been Infected With COVID-19 Worldwide

According to Johns Hopkins University, as of Friday, more than 1,033,000 people have been infected with the virus.
Credit: Cover Video STUDIO Duration: 01:51
Published
'Should be prepared for' 100,000 deaths in U.S.: Fauci

Dr. Anthony Fauci, director of the National Institute of Allergy and Infectious Diseases, said on Tuesday that the U.S should be prepared for 100,000 deaths as a result of the spread of the..
Credit: Reuters Studio Duration: 01:33
Published
You Might Like



Coronavirus live updates: Global cases top 5M; new pool rules ahead of Memorial Day; Ohio, West Virginia reopen indoor dining

The number of confirmed coronavirus cases around the world surpassed 5 million early Friday, according to Johns Hopkins University.




USATODAY.com - Published




Coronavirus: Global death toll passes 311,000 as countries gradually ease lockdowns

Coronavirus has infected more than 4.6 million people across the world and killed more than 311,000, according to a tally kept by Johns Hopkins University. Many countries are starting gradual easing of..




WorldNews - Published





COVID-19: US adds 1,237 coronavirus deaths in 24 hours: Johns Hopkins

Washington: The United States recorded 1,237 coronavirus deaths in the past 24 hours, bringing its grim...




WorldNews - Published





More Than 1,600 Coronavirus Deaths In US In 24 Hours: Report

The United States recorded 1,635 coronavirus deaths in the past 24 hours, bringing the total to 77,178, according to the latest real-time tally Friday reported by Johns Hopkins University. ......




WorldNews - Published





Coronavirus Outbreak Is 'First Pandemic We Can Control,' WHO Official Says

As the new coronavirus outbreak continues to infect people across the globe, Maria Van Kerkhove, the COVID-19 technical lead at the World Health Organization, reminded people that containment measures..




WorldNews - Published





Russia is Now in the Top 5 Countries Most Affected by the Coronavirus

A sharp rise in the number of cases in Russia has seen the country become home to the fifth highest number of confirmed infections worldwide, according to data compiled by John Hopkins University. The..




WorldNews - Published





Justice Ginsburg hospitalized for gallbladder condition and infection, Supreme Court announces

Ginsburg, 87, underwent "non-surgical treatment" for acute cholecystitis, and is expected to remain at Johns Hopkins for a day or two.




USATODAY.com - Published





Coronavirus live updates: Global death toll surpasses 250,000

Live updates tracking the coronavirus pandemic from Yahoo News reporters in the United States and around the world.Live Updates R Rebecca Corey The latest on the pandemic • More than 3.5 million..




WorldNews - Published




Coronavirus crisis Q&A: 'We are not, at all, past the epidemic'

Are reopening states jumping the gun? How precise is the Hopkins map? Dr. Tom Inglesby, of the Hopkins Bloomberg School of Public Health, answers USA TODAY.




USATODAY.com - Published





Spotlight: U.S. COVID-19 cases top 800,000, divide deepens over reopening economy

WASHINGTON, April 21 (Xinhua) -- The number of COVID-19 cases in the United States topped 800,000 on Tuesday with deaths surpassing 43,000, while Americans are increasingly divided over when and how to..




WorldNews - Published





Coronavirus live updates: US deaths hit 40,000 as NY begins mass antibody testing campaign; cash for small businesses coming

The number of confirmed cases in the U.S. was nearing 760,000, according to John Hopkins University data, after the death toll topped 40K on Sunday.




USATODAY.com - Published




Coronavirus live updates: Florida's Jacksonville parks, beaches to reopen; China reports worst economy data since 1970s

There are over 671,400 coronavirus cases in the U.S. and over 2.1 million worldwide early Friday, according to John Hopkins University data.




USATODAY.com - Published




Coronavirus live updates: 80M Americans to receive stimulus checks after deadliest day in US; IMF predicts worst year since Great Depression

The U.S. death toll was over 26,000 early Wednesday, with more than 609,500 confirmed cases, according to the Johns Hopkins University data dashboard.




USATODAY.com - Published




Coronavirus live updates: Trump to announce new task force as US deaths near 24K; Stimulus money arriving this week

The U.S. death toll was nearing 24,000 early Tuesday, with more than 582,500 cases, according to John Hopkins University data.




USATODAY.com - Published




World Coronavirus Cases Hit 2 Million: Johns Hopkins

The coronavirus pandemic hit another grim milestone Monday. Johns Hopkins University says there are now 2 million confirmed cases worldwide, most of them in the United States and the majority of those..




WorldNews - Published

Also reported by •Reuters


Covid-19: US registers over 2,000 deaths in single day

Washington: The US has become the world's first country to have registered more than 2,000 COVID-19 deaths in a single day with 2,108 fatalities reported in the past 24 hours, while the number of..




WorldNews - Published





COVID-19 deaths top 80,000 worldwide: Johns Hopkins University

Italy had seen the most deaths, standing at 17,127 among 135,586 confirmed cases. NEW YORK, April 7 (Xinhua) -- The death toll from...




WorldNews - Published





Global coronavirus cases cross 11 lakh, death toll nears 59,000

The number of coronavirus cases worldwide has crossed 11 lakh with close to 59,000 deaths, according to the Johns Hopkins University tracker. The tracker recorded 1,100,283 cases worldwide and 58,929..




WorldNews - Published





Coronavirus: Confirmed global cases pass one million

The number of cases has doubled in less than a week, according to figures from John Hopkins University.




BBC News - Published





Global coronavirus deaths top 50,000 - Johns Hopkins tally

Global coronavirus deaths topped 50,200 on Thursday as the pandemic ravages the United States and Europe, according to a tally by Johns Hopkins University.




Reuters - Published





Coronavirus: US death toll exceeds 5,000 mark after new record daily rise

The number of people in America to die after testing positive for coronavirus has exceeded the 5,000 mark, according to figures from Johns Hopkins University. The...




WorldNews - Published





US overtakes China with over 82000 coronavirus cases

Washington DC: United States has now surpassed China in the number of COVID-19 cases around the world, with at least 82,404 people are known to have been infected with the deadly coronavirus, the Johns..




WorldNews - Published





U.S. passes Italy, China as nation with the most confirmed cases of COVID-19

The U.S. surged past China and Italy to become the planet's most infected nation Thursday, a stark milestone in the coronavirus era - and a reminder of its deadly, culture-changing effects on American..




WorldNews - Published





Coronavirus updates: US braces for possible recession as death toll hits 85; Ohio cancels election

The U.S. death toll hit 85, with more than 4,660 confirmed cases, according to the Johns Hopkins University data dashboard.




USATODAY.com - Published




Top U.S. college backs down on Taiwan naming on virus map after protest

A top U.S. university, Johns Hopkins, has backed down on how it refers to Taiwan on a map detailing the spread of the new coronavirus after the island's government protested at the institution's..




Reuters - Published





Taiwan protests as top U.S. university labels island part of China on virus map

Taiwan's government said on Wednesday it would lodge a protest with a top U.S. university, Johns Hopkins, after it began listing the island as part of China on map detailing the spread of the new..




Reuters - Published





Coronavirus: more countries will adopt Italy's measures, says Austrian leader

Austria's chancellor has said other European countries will be forced to adopt containment measures as drastic as Italy's, after Rome placed a quarter of the population in lockdown in an effort to..




WorldNews - Published





Intermittent fasting may provide health benefits: Study

Intermittent fasting may provide numerous health benefits like controlling blood-sugar levels, according to a review of studies which suggests the practice may help physicians guide patients towards a..




WorldNews - Published





The flu season has started early this year. Is it connected to a rise in influenza type B?

Kids and young adults tend to be more afflicted by complications from influenza B, according to Dr. Aaron Milstone at Johns Hopkins University.




USATODAY.com - Published





What is influenza type B, and is it making the flu season worse this year?

Kids and young adults tend to be more afflicted by complications from influenza B, according to Dr. Aaron Milstone at Johns Hopkins University.  




USATODAY.com - Published





Preview: Hearing aids

Only about 20% of adults with hearing loss actually use hearing aids. In this preview of a story to air on "Sunday Morning" September 30, David Pogue talks with Frank Lin, an ear surgeon, professor,..




CBS News - Published





Rise of the far right

Throughout the past few decades, far right groups didn't hold the same kind of political influence as they do today. Why are they gaining political leverage now? CBSN's Vladimir Duthiers spoke to..




CBS News - Published





"I feel like death doesn't frighten me." Psychedelics help a cancer patient overcome anxiety

Most of the 51 cancer patients in a Johns Hopkins study saw their depression and anxiety decrease after their psilocybin experience. Kerry Pappas was one of those patients




CBS News - Published





Euphoria grips US scientists ahead of India's Chandrayaan-2 landing

The US space community believes the landmark mission would help enrich their understanding of the moon's geology. Chandrayaan-2 carries 13 instruments from India and one from NASA. Brett Denevi,..




IndiaTimes - Published





9 dogs died in a Johns Hopkins lab experiment. Now, a federal complaint

An animal rights group has filed a complaint against Johns Hopkins University researchers over a lab experiment where nine dogs had to be euthanized.  




USATODAY.com - Published





3 More U.S. Universities Express Support For Chinese-American Scientists Suspected Of Spying

Three more American universities have issued statements in support of scholars and researchers of Chinese ethnicity, a group that has been increasingly targeted over suspicions of spying for Beijing,..




WorldNews - Published