Carole Baskin
American animal rights activist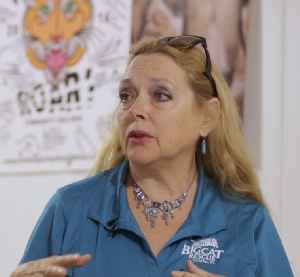 Carole Baskin is an American big-cat rights activist and CEO of Big Cat Rescue, a non-profit animal sanctuary based near Tampa, Florida.


You Might Like
ShowBiz Minute: Black Out Tuesday, Jay-Z, 'Tiger King'
Celebrities take part in Black Out Tuesday on social media; Jay-Z takes out full-page ads in newspapers across the U.S. in honor of George Floyd; Judge gives control of Joe Exotic's zoo to Carole..
USATODAY.com - Published
Judge Gives Carole Baskin the Tiger King's Zoo
The legal battle between Ms. Baskin, an animal-rights activist, and Joseph Maldonado-Passage, a former roadside zoo owner, played out for more than seven years and on a Netflix special.
NYTimes.com - Published
Carole Baskin awarded zoo of 'Tiger King' Joe Exotic, man who allegedly tried to have her killed
Carole Baskin has some news for the "cool cats and kittens." Big Cat Rescue Corp. has been awarded Joe Exotic's zoo, depicted in "Tiger King."
USATODAY.com - Published
Tiger King: Joe Exotic's former zoo handed to rival Carole Baskin
A US judge provides the latest chapter in a big cat saga that has gripped Netflix subscribers.
BBC News - Published
Why 'Tiger King's Carole Baskin didn't make it into Ariana Grande and Justin Bieber duet video
Carole Baskin from "Tiger King" dances with her husband in a clip that Justin Bieber shared of his duet with Ariana Grande. Grande does not approve.
USATODAY.com - Published
Carole Baskin says YouTubers who pranked her into fake interview with Jimmy Fallon were 'clever'
Carole Baskin thought she was doing an interview with Jimmy Fallon, but she was actually speaking to two British pranksters.
USATODAY.com - Published
What happened to Carole Baskin's last husband? Reporter works to solve 'Tiger King' mystery
Jerry Mitchell, central to reopening long-unsolved murders from the civil rights era, saw amid the "Tiger King" lunacy an unsolved homicide.
USATODAY.com - Published
'Tiger King': Sarah Hyland, Wells Adams play dress up, channel Joe Exotic and Carole Baskin
Sarah Hyland seems to have some time on her hands after wrapping up "Modern Family." She and Wells Adams dressed up as Joe Exotic and Carole Baskin.
USATODAY.com - Published