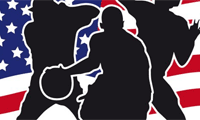 U.S. Sports
---
U.S. Sports media coverage
Tucker Carlson reacts to the Democrat allies in the media turning on President Biden. Meanwhile, Billionaire and part-owner of the..
Mike Pereira and Dean Blandino react to the refs from the Cincinnati Bengals game not working again. "It's obvious the Jerome Boger..
🤖Twitch Live News Channel: https://www.twitch.tv/TheNPCShow
OutKick founder Clay Travis weighs in after the International Olympic committee limited ticket sales due to surging COVID-19 cases,..