Netherlands
Country in Western Europe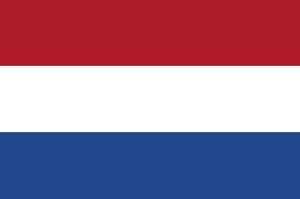 The Netherlands, informally Holland, is a country primarily located in Western Europe and partly in the Caribbean, forming the largest constituent country of the Kingdom of the Netherlands. In Europe, it consists of 12 provinces that border Germany to the east, Belgium to the south, and the North Sea to the northwest, with maritime borders in the North Sea with those countries and the United Kingdom. In the Caribbean, it consists of three special municipalities: the islands of Bonaire, Sint Eustatius and Saba. The country's official language is Dutch, with West Frisian as a secondary official language in the province of Friesland, and English and Papiamentu as secondary official languages in the Caribbean Netherlands. Dutch Low Saxon and Limburgish are recognised regional languages, while Sinte Romani and Yiddish are recognised non-territorial languages.


540 MDMA pills seized by customs at Chennai airport

Chennai Air Customs seized two postal parcels containing total 540 MDMA pills on July 09. The total pills valued at Rs 16 lakhs were smuggled from Netherlands at Foreign Post Office in Chennai. Two..
Credit: ANI Duration: 01:07
Published
Netherlands tourism: Businesses wait to see reopening benefits

There is no sign of visitors even though restrictions have been lifted, but many fear the Netherlands is too dependent on tourism.
Credit: Al Jazeera STUDIO Duration: 02:44
Published
Netherlands reopens with strict social distancing rules

Crowds have been out across the Netherlands as bars, restaurants, museums and theatres were allowed to reopen.
Credit: Al Jazeera STUDIO Duration: 02:56
Published
Netherlands holds virtual auction of 5G network bandwidth

There is hope that the move by the Dutch government will raise at least $1bn, but the plan has been fiercely opposed by rights groups.
Credit: Al Jazeera STUDIO Duration: 02:27
Published
22 Teddy Bears Go On Theme Park Rides During Lockdown

A Dutch theme park had some lockdown fun by putting 22 teddy bears on one of it's roller coasters. Staff at Walibi Holland theme park in Biddinghuizen, Netherlands passed the time in lockdown by..
Credit: Cover Video STUDIO Duration: 00:58
Published
Black Lives Matter movement blooms in Netherlands, Belgium

Teenagers in both countries have come to the forefront in the Black Lives Matter movement after being inspired by events in the United States.
Credit: Al Jazeera STUDIO
Published
The Netherlands struggling to meet housing demand

Number of homeless people has doubled in recent years and 300,000 new houses are urgently needed, but because of the COVID-19 pandemic, the yearly target will not be met.
Credit: Al Jazeera STUDIO
Published
Chelsea reach agreement to sign Werner from Leipzig

Chelsea have reached an agreement with RB Leipzig to sign striker Timo Werner, who is set to join the English side in July.
Credit: Reuters - Sports Duration: 02:54
Published
World's largest container ship arrives in UK for first time

The world's biggest container ship has arrived in the UK for the first time. HMM Algeciras concluded its journey from China to Essex on Sunday –-via South Korea, the Netherlands, Germany and..
Credit: PA - Press Association STUDIO Duration: 00:55
Published
Fans get to watch as Blech stars in drive-in pole vaulting event

Fans deprived of live athletics action are treated to a mini pole vaulting competition as German Torben Blech wins the Flight Night event at a drive-in cinema in Duesseldorf, Germany.
Credit: Reuters - Sports Duration: 03:21
Published
Trump authorizes sanctions against ICC officials

President Donald Trump on Thursday authorized U.S. economic and travel sanctions against International Criminal Court employees involved in an investigation into whether American forces committed war..
Credit: Reuters - Politics Duration: 02:02
Published
Amsterdam protest: Thousands rally against racism in capital city

The Netherlands questions some of its longtime traditions in light of the Black Lives Matter movement.
Credit: Al Jazeera STUDIO Duration: 03:01
Published
Restaurant in the Netherlands to use robots to help out waiters

Robots will help out with basic tasks at this restaurant as the coronavirus pandemic has encouraged physical distancing between people.View on euronews
Credit: euronews (in English) Duration: 00:50
Published
COVID-19: Google Maps rolls out new features to avoid crowds when using public transit

Google on Monday introduced new features to Google Maps that aim to inform users better about how their trip may be impacted due to the coronavirus. When a user will look up public transit directions..
Credit: ANI Duration: 01:09
Published
Passengers arrive at London Stansted Airport as quarantine measures come into effect

Passengers arriving at Stansted Airport react to the Government's new quarantine measures requiring passengers to the UK to self-isolate for 14 days. All passengers – bar a handful of exemptions –..
Credit: PA - Press Association STUDIO Duration: 01:34
Published
Chelsea agree deal to sign Germany forward Werner - media reports

VIDEO SHOWS: FILE FOOTAGE OF TIMO WERNER, FILE FOOTAGE OF CHELSEA'S STAMFORD BRIDGE AND MANAGER, FRANK LAMPARD SHOWS: LONDON, ENGLAND, UK (FEBRUARY 18, 2020) (REUTERS - ACCESS ALL) 1. RB LEIPZIG
Credit: Reuters - Sports Duration: 02:54
Published
Chelsea set to sign Germany forward Werner - media reports

Sky Sports in the UK is reporting that Chelsea have agreed a deal in principle to sign Germany striker Timo Werner from Bundesliga club RB Leipzig.
Credit: Reuters - Sports Duration: 02:54
Published
Dutch Study Reveals Role Children Play In Spreading COVID-19

The Netherlands' National Institute for Health has published its findings on the role young children play in spreading the novel coronavirus COVID-19. According to Reuters, the study concluded that..
Credit: Wochit News Duration: 00:34
Published
Coronavirus: Small greenhouses open to encourage social distanced dining

As the Netherlands emerges from coronavirus lockdown, restaurants are trying to find new ways to encourage diners to return to their tables.View on euronews
Credit: euronews (in English) Duration: 00:50
Published
You Might Like



Dutch government to take Russia to European court over MH17

THE HAGUE, Netherlands (AP) — The Dutch government is taking Russia to the European Court of Human Rights for its alleged role in the shooting down of Malaysia Airlines Flight 17 over eastern Ukraine..




WorldNews - Published





Ecstasy pill variants 'Frosch' and 'Lamborghini' worth Rs 16 lakh seized in Chennai

On suspicion of containing narcotic substances, Chennai Air Customs had detained two postal parcels which arrived from the Netherlands.




DNA - Published





Chennai Customs thwarts efforts to smuggle 'Red Buli' ecstasy pills in foreign postal parcel from Netherlands

These ecstasy pills are commonly known as 'Red Buli' and have a 'bull' stamp on one side and contain around 250 mg of MDMA, which is a very high dose.




DNA - Published





Arsenal striker Miedema wins FWA Women's Footballer of the Year award

Arsenal and Netherlands forward Vivianne Miedema is named the Football Writers' Association Women's Footballer of the Year.




BBC News - Published





Vivianne Miedema: Arsenal & Netherlands striker named FWA Women's Footballer of Year

Arsenal and Netherlands forward Vivianne Miedema is named the Football Writers' Association Women's Footballer of the Year.




BBC News - Published





Stolen Van Gogh: Art detective receives photos of 'stolen work Spring Garden'

Spring Garden was stolen from a museum during the coronavirus lockdown in the Netherlands in March.




BBC News - Published





Dutch cyclist Terpstra in intensive care after crash

Cyclist Niki Terpstra is in intensive care in hospital following a training crash in the Netherlands.




BBC News - Published





Dutch drink offenders to get teetotal tag to keep them dry

People in the Netherlands convicted of crimes related to alcohol abuse will have to wear a special ankle bracelet to monitor their drinking habits once the government has passed the necessary..




Reuters - Published





Astrazeneca wins coronavirus vaccine deal with Germany, France, Italy and the Netherlands

British drugmaker AstraZeneca Plc said on Saturday it signed a contract with Italy, Germany, France and the Netherlands to supply Europe with a vaccine against the coronavirus, with deliveries starting..




Reuters - Published





Italy, Germany, France and Netherlands sign contract with Astrazeneca for COVID vaccine

Italy, Germany, France and the Netherlands have signed a contract with Astrazeneca to supply European citizens with a vaccine against the coronavirus, Italy's health minister said on Saturday.




Reuters - Published





International Criminal Court condemns US sanctions order

THE HAGUE, Netherlands (AP) — The International Criminal Court has condemned the Trump administration's decision to authorize sanctions against court staff, saying it amounted to "an unacceptable..




WorldNews - Published





Netherlands 'very disturbed' by U.S. moves against ICC, says foreign minister

The Netherlands is "very disturbed" by an executive order issued by U.S. President Donald Trump on Thursday that paved the way for sanctions against employees of the International Criminal Court, which..




Reuters - Published




Defence wants more time in Dutch MH17 trial after Covid-19 delays

Defence lawyers on Monday insisted they needed more time to prepare at the trial of suspects in the downing of a Malaysia Airlines flight over eastern Ukraine, as proceedings resumed after a..




Reuters - Published





Vitamin K could help fight coronavirus, study suggests

Scientists in Netherlands explore possible link between deficiency and Covid-19 deaths Coronavirus – latest updates See all our coronavirus coverage Patients who have died or been admitted to..




WorldNews - Published





Dutch PM Rutte sceptical about Black Pete tradition

PM Mark Rutte no longer sees the blackface Christmas character as a harmless Netherlands tradition.




BBC News - Published





Car drives onto sidewalk cafe in southern Netherlands, injuring six

A car drove into an outdoor cafe in the southern Netherlands on Wednesday night, injuring six people, one of them seriously, police said.




Reuters - Published




Dutch coronavirus study: children are not big spreaders

A study by the Netherlands' National Institute for Health (RIVM) published on Wednesday concluded that children under the age of 12 play little role in transmitting the new coronavirus.




Reuters - Published





Dutch school shuts after teachers test positive for COVID-19

An elementary school in the Netherlands closed in the city of The Hague on Wednesday after two teachers tested positive for coronavirus and seven students developed gastrointestinal symptoms, an..




Reuters - Published





Dutch bar terraces fill quickly as lockdown ends

Terraces throughout the Netherlands filled quickly on Monday as bars and restaurants were allowed to open for the first time in almost three months on a sunny public holiday.




Reuters - Published





Dutch PM did not visit dying mother until end due to coronavirus rules: statement

Dutch Prime Minister Mark Rutte did not visit his 96-year-old mother for more than eight weeks until hours before her death this month due to lockdown measures in the Netherlands, his office said on..




Reuters - Published





Striking workers block doors of Tata Steel plant in Netherlands

A group of around 100 striking worker have blocked the doors at Tata Steel's main Ijmuiden plant at the Netherlands, ANP news agency reported on Tuesday.




Reuters India - Published





Mink infected two humans with coronavirus: Dutch government

Mink with the coronavirus have infected two people in the Netherlands in what are probably the first such cases of transmission during the epidemic, government and health authorities said on Monday.




Reuters - Published





EU 'frugal four' present own proposal for coronavirus aid

Four EU countries dubbing themselves the "frugal four" presented their own proposal Saturday for post-coronavirus economic recovery, restating their rejection of any jointly-issued debt instruments...




WorldNews - Published





Covid-19 drug enters human testing phase

LAHORE: The de Khon Global and its partners in the Netherlands and Turkey have reportedly reached the human testing phase in the development of a drug to treat Covid-19. According to a press release,..




WorldNews - Published





Coronavirus: Alarm as crowds flock to European beaches

Authorities in France, the Netherlands and UK urged people to observe social-distancing rules.




BBC News - Published





Dutch schools, cafes and museums to reopen in June

The Netherlands will press ahead with a further easing of lockdown measures in June due to a steadily declining number of coronavirus infections and hospital admissions, Prime Minister Mark Rutte said..




Reuters - Published





Coronavirus World Live Coverage: Greece, Italy, China, Netherlands

The movement of schoolchildren back to their home villages raises virus fears in Nigeria. Japanese men are helping more around the house. And Narendra Modi's popularity surges.




NYTimes.com - Published





Dutch dog, three cats infected with coronavirus: minister

A dog and three cats in the Netherlands have been infected with the new coronavirus, authorities said on Friday, the first confirmed cases involving house pets in the country.




Reuters - Published




Five surfers die in the Netherlands after huge layer of sea foam disrupts rescue

Five experienced surfers drowned off the Netherlands coast on Monday after a storm left a huge layer of foam in the water to thwart a rescue attempt.




USATODAY.com - Published





Safe family reunions under lockdown

Visits to care homes have been banned across the world but a care home in the Netherlands has found a way to bring people together.




BBC News - Published





Dutch coronavirus cases rise 455 to 41,774, with 84 new deaths: officials

The number of confirmed coronavirus cases in the Netherlands have risen by 455 to 41,774, with 84 new deaths, health authorities said on Thursday.




Reuters - Published




Organised sport given September restart date in the Netherlands

Recreational golf and tennis allowed again on Monday Dutch football can begin planning next season Organised sport will only resume in the Netherlands from 1 September, but recreational golf and tennis..




WorldNews - Published





Dutch to begin easing lockdown measures next week, government says

The Netherlands will begin easing coronavirus lockdown measures next week nearly two months after they were imposed, Dutch Prime Minister Mark Rutte said on Wednesday.




Reuters - Published





Netherlands to begin phased easing of lockdown Monday: broadcaster

The Netherlands will begin a phased easing of its almost two-month-old coronavirus lockdown on Monday, according to a report by the national broadcaster NOS.




Reuters - Published





Dutch confirmed coronavirus cases rise by 199 to 40,770: health authorities

The number of confirmed coronavirus cases in the Netherlands rose by 199 on Monday to 40,770, with 26 new deaths, health authorities said.




Reuters - Published




Netherlands boss Koeman in hospital with chest complaints

The Netherlands manager Ronald Koeman is in hospital in Amsterdam after being admitted with "chest complaints".




BBC News - Published





Dutch coronavirus cases pass 40,000

The number of confirmed coronavirus infections in the Netherlands has increased by 445 to 40,236, Dutch health authorities said on Saturday.




Reuters - Published





Netherlands reports 400 new coronavirus cases, 43 deaths - health authorities

The Netherlands' number of confirmed coronavirus cases has risen by 400 to 38,245 health authorities said on Monday, with 43 new deaths.




Reuters - Published





Dutch Kingsday celebrations muted by coronavirus lockdown

Dutch King Willem-Alexander urged all people in the Netherlands to stay at home on Monday, instead of flocking onto the streets clad in orange as they normally do for the annual celebration of..




Reuters - Published





Dutch students sail home across the Atlantic due to coronavirus

A group of 25 Dutch high school students arrived back in the Netherlands in a two-mast schooner on Sunday, after airline restrictions left them with little choice but to help sail it home from the..




Reuters - Published





Mink found to have coronavirus on two Dutch farms: ministry

Two mink farms in the Netherlands have been put into quarantine after animals were found to be infected with the new coronavirus, the agriculture ministry said on Sunday, urging people to report any..




Reuters - Published





No title winners, no relegation - Dutch top flight abandoned for season

The top tier of football in the Netherlands is cancelled because of the ongoing coronavirus pandemic.




BBC News - Published





Netherlands extends ban on events, to allow some school openings

The Netherlands on Tuesday extended by three months a ban on major public events, including professional sports and music festivals, until Sept. 1 to prevent a resurgence of coronavirus infections,..




Reuters - Published





Experts advise Dutch government to reopen primary schools

The experts advising the Netherlands on handling the coronavirus outbreak on Tuesday advised the government to reopen day care facilities and primary schools, documents released by broadcaster NOS..




Reuters - Published





Dutch report lowest daily corona death rate in over 3 weeks

The number of deaths caused by the novel coronavirus in the Netherlands has risen by 83, Dutch health authorities said on Sunday, which was the smallest reported daily increase since March 26.




Reuters - Published





Dutch Coronavirus infections reach 31,589, 142 new deaths: authorities

Confirmed coronavirus infections in the Netherlands have risen by 1,140 to 31,589, Dutch health authorities said on Saturday.




Reuters - Published





Dutch deaths April 6-12 2,000 higher than normal: statistics agency

Deaths in the Netherlands in the week of April 6-12 were around 2,000 higher than in an average week, national statistics agency CBS said on Friday.




Reuters - Published