New Hampshire
State of the United States of America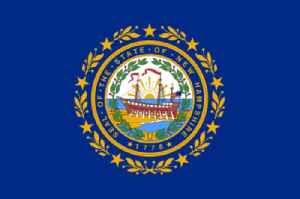 New Hampshire is a state in the New England region of the northeastern United States. It is bordered by Massachusetts to the south, Vermont to the west, Maine and the Atlantic Ocean to the east, and the Canadian province of Quebec to the north. New Hampshire is the 5th smallest by area and the 10th least populous of the 50 states. Concord is the state capital, while Manchester is the largest city in the state. It has no general sales tax, nor is personal income taxed at either the state or local level. The New Hampshire primary is the first primary in the U.S. presidential election cycle. Its license plates carry the state motto, "Live Free or Die". The state's nickname, "The Granite State", refers to its extensive granite formations and quarries.


11/15/18: Red and Blue
President Trump: The White House is running very smoothly; Ohio governor and 2016 candidate takes another trip to New Hampshire.
CBS News - Published
Elizabeth Warren wants you to know her (clean) dog is going to New Hampshire
Warren is one of many presidential candidates attempting to carve a niche online
CBS News - Published
Andrew Yang's Presidential Rally
According to Business Insider, Andrew Yang, the upstart Democratic presidential candidate without a background in politics, held a rally Monday at the Lincoln Memorial and drew a large and diverse..
Credit: Wochit News Duration: 00:36Published
In Four Months We've Already Passed The Total Number of Measles Cases In 2018
April 1 (UPI) -- More cases of measles have been reported four months into 2019 than were reported in all of 2018, the Centers for Disease Control and Prevention reported Monday. So far, 387 cases have..
Credit: Wochit News Duration: 00:47Published
Pete Buttigieg Has Raised $7 Million
Democratic 2020 U.S. presidential candidate and South Bend Mayor Pete Buttigieg greets voters during a campaign stop at Portsmouth Gas Light in Portsmouth, New Hampshire, U.S., March 8, 2019...
Credit: Wochit News Duration: 00:44Published
Sen. Kirsten Gillibrand backs third gender classification at federal level
Gillibrand is on a campaign swing through New Hampshire this weekend
CBS News - Published
N.H. Dems scope out 2020 hopefuls during busy campaign weekend
CBS News spoke with dozens of Democratic voters across 13 campaign events and heard voters overwhelmingly call for seismic change in both candidates and vision
CBS News - Published
Feds Broke Up Scheme To Sell U.S. Military Surplus Machinery To Iran
The Justice Department says a New Hampshire man sold nearly $1 million worth of surplus Defense Department hand-me-down machinery to Iran — and they've got secret tracking data to prove it, the..
WorldNews - Published
In New Hampshire, Jeff Flake talks about Kavanaugh, laments "sickness" in political system
Sen. Flake, R-Arizona, was greeted by protesters outside of the Capitol, in Boston and Manchester
CBS News - Published
Democratic Presidential hopeful Buttigieg draws crowd for Fox town hall
Democratic presidential hopeful Pete Buttigieg on Sunday called for higher taxes on the wealthy, backed abortion rights and promised to run what he called an inclusive campaign in a New Hampshire town..
Reuters - Published
Child In New Hampshire Diagnosed With Measles
BOSTON (CBS) — A child in New Hampshire has been diagnosed with measles, the N.H. Department of Health and Human Services announced Sunday. While the disease was infectious, the child visited..
WorldNews - Published
You Might Like