State of Palestine
De jure state in the Middle East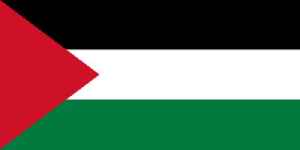 Palestine, recognized officially as the State of Palestine by the United Nations and other entities, is a de jure sovereign state in Western Asia claiming the West Bank and Gaza Strip with Jerusalem as the designated capital, although its administrative center is currently located in Ramallah. The entirety of territory claimed by the State of Palestine has been occupied since 1948, first by Egypt and Jordan and then by Israel after the Six-Day War in 1967. Palestine has a population of 5,051,953 as of February 2020, ranked 121st in the world.


Training kicks off again for young Gaza amputees

Young amputee Palestinian soccer players were back on the field in Gaza on Tuesday (July 7) for the first time since coronavirus restrictions were eased in the territory.
Credit: Reuters Studio Duration: 01:12
Published
Israel drives new ring road through East Jerusalem

A new Israeli ring road is being built that will go through East Jerusalem and link settlement blocks. Palestinian and Israeli critics say it is part of a long-term strategy to consolidate Israel's..
Credit: Reuters Studio Duration: 02:16
Published
With visitors away, zoo sees animal baby boom

Peacocks, ostriches and baboons experienced an animal baby boom at the Qalqilya Zoo, a Palestinian business in the Israeli-occupied West Bank, while humans stayed away during the coronavirus outbreak...
Credit: Reuters Studio Duration: 01:13
Published
George Floyd mural painted on West Bank barrier

A mural of George Floyd appeared this week on the West Bank wall in the Palestinian city of Bethlehem.
Credit: Reuters Studio Duration: 00:46
Published
Anger at killing of autistic Palestinian by Israeli police

Protests in occupied East Jerusalem against killing of Iyad el-Hallak, an autistic Palestinian man, by Israeli police.
Credit: Al Jazeera STUDIO Duration: 02:12
Published
Outrage as Israeli police kill autistic Palestinian man

Israeli police in Jerusalem shot and killed an autistic Palestinian who they mistakenly thought was armed with a gun, provoking furious condemnation.View on euronews
Credit: euronews (in English) Duration: 00:40
Published
Palestinian President Abbas says accords with Israel, US are void

The practical implications of Abbas' announcement, made across national television, remain unclear.
Credit: Al Jazeera STUDIO Duration: 04:02
Published
After three elections, Israel gets its government

Israeli Prime Minister Benjamin Netanyahu presented his new unity government to parliament on Sunday, ending more than a year of political deadlock but still facing a trial starting in a week for..
Credit: Reuters - Politics Duration: 01:19
Published
You Might Like



If Not For The Jewish Right In America, Israel Could Never Annex The West Bank

Article by WN.Com Correspondent Dallas Darling Although Jews make up less than two percent of the United States' population-about five to six million people out of a total population of 350 million,..




WorldNews - Published





Hamas to Israel: 'Annexation is a declaration of war'

The armed wing of Hamas warned on Thursday that Israel's plan to extend its sovereignty to parts of the West Bank would be considered a "declaration of war" on the Palestinians, and said Israel..




WorldNews - Published





Israel annexation plans for West Bank leave Palestinians in despair

Tom Bateman goes to the West Bank to see how Israeli annexation would shape life with Palestinians.




BBC News - Published





By recognising Palestine, Britain can help right the wrongs of the Balfour declaration

If ever there was a time to re-examine colonial legacies and responsibilities, this is it. The theft of Palestine from the Palestinians is one such legacy. On 2 November 1917, the foreign secretary,..




WorldNews - Published





Netanyahu: Putin saved Israel from UNSC resolution to create Palestine state

Russian President Vladimir Putin saved Israel from a potential UN Security Council resolution in 2016 that would have forced the occupation state to setup a...




WorldNews - Published





Exclusive: Israel builds new Jerusalem road that will link settlements as government weighs West Bank annexation

Construction is under way on a major new ring road for Jerusalem that Israeli officials say will benefit all of its residents, but critics of the project say is another obstacle to Palestinian hopes to..




Reuters - Published




Faster than machines, jobless Palestinian graduates bring in Gaza's crops

Covering the ground five times faster than a tractor for subsistence wages, 40 Palestinian graduates have teamed to pick crops in Gaza, after failing to launch the careers they studied for in a..




Reuters - Published





Palestinian PM says not informed of new UAE aid flight via Israel

Palestinian Prime Minister Mohammad Shtayyeh said on Tuesday he was unaware that a plane from the United Arab Emirates was to fly to Israel carrying medical aid for the Palestinians.




Reuters - Published




Palestinian PM: Israel must face consequences over planned West Bank annexations

Israel must face consequences if it annexes land in the occupied West Bank, Palestinian Prime Minister Mohammad Shtayyeh said on Tuesday, pointing to possible European sanctions.




Reuters - Published





Palestinian PM: We'll Respond to Annexation by Declaring State

If Israel annexes sections of Yehudah and Shomron, the Palestinians will unilaterally declare a state based on the pre-1967 lines, Palestinian Authority Prime Minister Mohammed...




WorldNews - Published





Palestine exerts effort in UNSC to stop Israel's annexation plan: official

RAMALLAH, June 6 (Xinhua) -- A high-ranking Palestinian diplomat said on Saturday that the Palestinian side exerts efforts in the United Nations Security Council to stop implementing Israel's plans of..




WorldNews - Published




Norway urges Israel not to annex parts of the West Bank

Norway, which chairs a group of international donors to the Palestinians, urged Israel on Tuesday not to annex parts of the occupied West Bank.




Reuters - Published





Israeli defence chief says he's preparing for consequences of West Bank annexations

Israeli Defence Minister Benny Gantz said on Monday he ordered the military to step up preparations for Israel's pending annexation of parts of the West Bank, a plan that could stoke Palestinian..




Reuters - Published





Amid warming to Israel, UAE urges halt to annexation plans

A minister of the United Arab Emirates has urged Israel to stop its plan to annex parts of the occupied West Bank, warning of a serious setback for the so-called Middle East peace process. "Continued..




WorldNews - Published





Israeli police kill unarmed Palestinian in Jerusalem

JERUSALEM: Israeli police shot dead a Palestinian near Jerusalem's Old City on Saturday who they had suspected was carrying a weapon but turned out to be unarmed. The police say he was carrying "a..




WorldNews - Published





Israeli police fatally shoot man in Jerusalem's Old City - spokesman

Israeli police officers fatally shot a man they suspected was carrying a weapon in Jerusalem's Old City on Saturday, a police spokesman said, but the Palestinian suspect was later found to have been..




Reuters - Published





Erdogan warns that Turkey 'will not allow' Israel to annex West Bank

'We will not allow the Palestinian lands to be offered to anyone else' said the Turkish leader in an Eid address focused on Israel's planned annexation of the West Bank.. ......




WorldNews - Published





Bethlehem's Church of the Nativity reopens as Palestinians ease coronavirus curbs

Bethlehem's Church of the Nativity, the traditional birthplace of Jesus, reopened to worshippers and tourists on Tuesday as Palestinian authorities eased coronavirus restrictions in the occupied West..




Reuters - Published





Palestinians easing coronavirus restrictions in West Bank

Mosques, churches and businesses in the occupied West Bank will reopen on Tuesday in an easing of coronavirus restrictions, Palestinian Prime Minister Mohammad Shtayyeh said on Monday.




Reuters - Published





Palestinians report first coronavirus death in Gaza

A woman has died in Gaza Strip after contracting coronavirus, the Palestinian enclave's first known fatality from the global pandemic, the health ministry said on Saturday.




Reuters - Published





Palestinians shun CIA after declaring end to security coordination with U.S. and Israel

The Palestinians have suspended contacts with the CIA after announcing an end to security coordination with Israel and the United States in protest at Israeli proposals to annex territory in the West..




Reuters - Published





Abbas, Cornered by Israeli Annexation, Opts for 'Judgment Day' Scenario

The Palestinian leader has promoted security cooperation with Israel in his quest for a Palestinian state. That strategy may have hit a dead end.




NYTimes.com - Published





Abbas Declares Palestinians' West Bank Security Commitments Null and Void

The Palestinian leader has made such assertions before, but this may not be a mere threat. The agreements have protected Israelis and preserved the Palestinian Authority's political hold over the..




NYTimes.com - Published





Israeli convicted of West Bank arson attack that killed three Palestinians

A Palestinian infant and his parents were killed when their home in Duma was firebombed in 2015.




BBC News - Published





Israeli fire kills Palestinian in West Bank, military says he attacked troops

An Israeli soldier shot dead a Palestinian on Thursday who the military said drove deliberately at high speed towards troops in the occupied West Bank, injuring one of them.




Reuters - Published





Pompeo urges Israeli caution in West Bank moves

U.S. Secretary of State Mike Pompeo on Wednesday urged Israeli leaders to factor all parties into a proposed de facto annexation of the occupied West Bank so that it squares with Washington's plan for..




Reuters - Published





Pompeo to Israel: Be circumspect on West Bank annexation

U.S. Secretary of State Mike Pompeo on Wednesday urged Israeli leaders to consider "all the factors" involved in a proposed de facto annexation of the occupied West Bank so that it squares with..




Reuters - Published





Palestinian rock-thrower kills Israeli soldier in West Bank: military

A Palestinian rock-thrower killed an Israeli soldier in the occupied West Bank on Tuesday and police wounded a Palestinian who tried to stab security staff at a checkpoint, Israeli authorities said.




Reuters - Published





Israeli Soldier Killed in West Bank as Tensions Rise Over Annexation Push

The killing, Israel's first combat fatality of the year, came amid Palestinian warnings of violent resistance.




NYTimes.com - Published





Palestinian boy braves surgery alone during coronavirus closure in Israel

Heart surgery is a trial for anyone, and especially for a young child. It was even harder for Hamza Ali Mohammad, as the two-year-old Palestinian had to undergo the procedure in Israel while his family..




Reuters - Published





Pandemic boosts Palestinian PM as potential Abbas successor

One man has become the face of the Palestinians' response to the COVID-19 crisis, and it's not President Mahmoud Abbas.




Reuters - Published




Finnish Amnesty Int'l board member says Israel worse than Hezbollah

A prominent Finnish physicist and board member on the NGO Amnesty International was hit with criticism after calling Israel worse than Hezbollah in response to Germany's recent decision to ban the..




WorldNews - Published





Palestinians extend coronavirus state of emergency to June 5

RAMALLAH (Reuters) - Palestinian President Mahmoud Abbas has extended to June 5 a state of emergency declared in areas under his administration in the Israeli-occupied West Bank in response to the..




WorldNews - Published

Also reported by •Reuters


Palestine to cancel all Israel, US deals if annexation plot goes ahead: Abbas

President Mahmoud Abbas says Palestine will nullify all agreements with the United States and Israel if Tel Aviv annexes any part of the occupied West Bank, urging the international community to block..




WorldNews - Published





Palestinian jailed in Gaza for breaking coronavirus quarantine

A Gaza court has sentenced a Palestinian man to six months in jail for escaping from a coronavirus quarantine facility on the Egyptian border, the Interior Ministry said on Thursday.




Reuters - Published





Abbas says Palestinian accords with Israel, U.S. null if Israel annexes West Bank land

Palestinian President Mahmoud Abbas said in remarks aired on Wednesday that his administration would regard agreements with Israel and the United States "completely cancelled" if Israel annexes land in..




Reuters - Published





Israeli forces kill Palestinian attacker near Jerusalem: police

Israeli security forces shot and killed a Palestinian man who stabbed a police officer at a checkpoint near Jerusalem on Wednesday, an Israeli police spokesman said.




Reuters - Published





Coronavirus Updates: Brazil's Health Minister Is Ousted in Clash Over Lockdowns

The Brazilian health minister had urged stronger measures than President Jair Bolsonaro. The United States is aiding Palestine, but the Trump administration's larger approach isn't changing.




NYTimes.com - Published





Modi holds talks with Palestinian President Mahmoud Abbas; discusses Covid-19 pandemic




IndiaTimes - Published





Zoom Call With Israelis Lands a Gaza Peace Activist in Jail

A video chat, intended to build bridges between Israeli and Palestinian strangers, led some in Gaza to label the conversation itself an act of treason.




NYTimes.com - Published





Hamas arrests Palestinians in Gaza for Zoom video chat with Israelis

Hamas arrested a Palestinian in Gaza on Thursday, saying that he had taken part in a video conference with Israelis and describing his act as "treason."




Reuters - Published





Lockdown in West Bank, crowds in Gaza: Palestinians divided over coronavirus

Political and physical divisions between Palestinians in the West Bank and Gaza have induced two very different responses to the coronavirus pandemic, with a strict lockdown in the first and crowds..




Reuters - Published





Israel seeks immediate resumption of talks on citizens held in Gaza

Israel called on Tuesday for the immediate resumption of talks on the return of four Israelis held for years in the Gaza Strip after the Palestinian territory's Hamas rulers said they might be willing..




Reuters - Published





Isolation a double-edged sword for West Bank's Bedouin herders

Bedouin herders in the Israeli-occupied West Bank, already isolated by virtue of their nomadic lifestyle, have become more cut off than ever from ordinary Palestinian life since the coronavirus..




Reuters - Published





Palestine confirms 15 new COVID-19 cases, 134 in total

RAMALLAH, April 1 (Xinhua) -- Palestine Wednesday declared 15 new cases of COVID-19 in the West Bank, raising the total number of cases in...




WorldNews - Published





COVID-19 cases in Palestine hit 97

RAMALLAH/GAZA, March 28 (Xinhua) -- A Palestinian official announced on Saturday that six new COVID-19 cases were recorded in the West Bank, bringing the total number of cases in the Palestinian..




WorldNews - Published





Israel says Gaza militants fired rocket at Israeli town

Jerusalem – Israel says Palestinian militants in the Gaza Strip have fired a rocket into the country's south. There were no reports of casualties or damage. The military says the...




WorldNews - Published





Gaza medics switching focus from border protests to coronavirus

Scarcely two years ago Gaza's border with Israel was a deadly front line, with black smoke swirling around thousands of Palestinian protesters as they faced off against Israeli troops firing live..




Reuters - Published





Palestinian workers find temporary Israeli abodes in coronavirus crisis

Israel's building industry has found temporary housing for many of its nearly 70,000 Palestinian laborers, staving off a construction shutdown after the coronavirus crisis prompted the closure of the..




Reuters - Published





First coronavirus cases confirmed in the Palestinian Gaza Strip

The first two cases of coronavirus have been confirmed in the densely-populated Gaza Strip, Palestinian health officials said on Sunday.




Reuters - Published