Hillary Clinton
67th U.S. Secretary of State, former New York senator and First Lady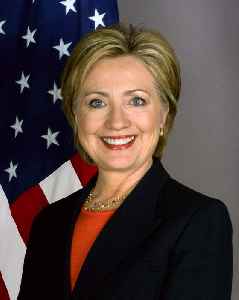 Hillary Diane Rodham Clinton is an American politician, diplomat, lawyer, writer, and public speaker who served as the 67th United States secretary of state from 2009 to 2013, as a United States senator from New York from 2001 to 2009, and as First Lady of the United States from 1993 to 2001. Clinton became the first woman to be nominated for president of the United States by a major political party when she won the Democratic Party nomination in 2016. She was the first woman to win the popular vote in an American presidential election, which she lost to Donald Trump.


Trump says Obama underestimated him

U.S. President Donald Trump weighed in on former U.S. President Barack Obama at a campaign rally in North Carolina Wednesday (October 21) saying Obama had underestimated him as he recalled his victory..
Credit: Reuters Studio Duration: 01:17
Published
Biden has big cash advantage over Trump in final stretch

U.S. Democratic presidential candidate Joe Biden's campaign entered the final stretch of the race with a large cash advantage over President Donald Trump, disclosures filed with the Federal Election..
Credit: Reuters - Politics Duration: 01:20
Published
Chelsea Clinton And Ivanka Trump Used To Be BFF's. No More.

Chelsea Clinton has revealed why her once-close friendship with Ivanka Trump came to an end. According to HuffPost, Chelsea spoke to host Andy Cohen on a Thursday appearance on 'Watch What Happens..
Credit: Wochit News Duration: 00:39
Published
Trump strategy data leak targets Joe Biden

Last night Channel 4 News revealed Donald Trump's strategy to deter millions of Black Americans from voting for Hillary Clinton. Tonight, how white voters are being targeted to be terrified of Joe..
Credit: ODN Duration: 03:24
Published
GOP leaders split with Trump on peaceful transfer of power

[NFA] Senate Republican Leader Mitch McConnell joined other Republican lawmakers in rallying to the defense of constitutional government on Thursday, after President Donald Trump refused to commit to a..
Credit: Reuters - Politics Duration: 02:32
Published
Mourners pay respects to Ginsburg at U.S. Supreme Court

[NFA] Mourners quietly filed past the late Supreme Court Justice Ruth Bader Ginsburg's flag-draped coffin outside the white marble court building on Wednesday as the United States began three days of..
Credit: Reuters - Politics Duration: 01:53
Published
Hillary Clinton Set to Launch 'You and Me Both' Podcast | THR News

iHeartRadio is sharing new details about its upcoming podcast with Hillary Clinton.
Credit: The Hollywood Reporter Duration: 01:15
Published
Trump ally offered to arrange Assange pardon -lawyer

[NFA] A lawyer for Julian Assange told a London court on Friday that she was present when an ally of U.S. President Donald Trump offered to arrange a pardon for the WikiLeaks founder in return for..
Credit: Reuters - Politics Duration: 02:15
Published
Foreign hackers targeting Biden, Trump: Microsoft

Hackers linked to Russia, China, and Iran are trying to spy on people tied to both U.S. President Donald Trump and Democratic challenger Joe Biden, Microsoft Corp said on Thursday. Gloria Tso reports
Credit: Reuters - Politics Duration: 02:04
Published
Why Is Biden's Lead Slipping?

Joe Biden's poll numbers are slipping. The former Vice President is currently leading Pres. Donald Trump in the polls. He led by double digits over the summer. Now, his lead has dropped to low single..
Credit: Wochit News Duration: 00:49
Published
You Might Like



The Countdown: Amy Coney Barrett v Hillary Clinton, and Lil Pump

A quick look at the latest US election drama as Amy Coney Barrett v Hillary Clinton memes emerge.




BBC News - Published





The ghost haunting the 2020 election

(CNN)What is haunting the campaign of 2020? The ghost of 2016, when Donald Trump overcame dismal mid-October polls and eked out a surprise Electoral College victory over Hillary Clinton to become..




WorldNews - Published





Fact check: Hillary Clinton, not Joe Biden, used the phrase 'super predators'

A social media claim about usage of the term "super predators" to describe Black people is inaccurate.




USATODAY.com - Published





As election day nears, what final dirty tricks could Trump turn to?

On 28 October 2016, the then director of the FBI, James Comey, dropped a bomb into the middle of the presidential race. With just 11 days to go until election day, he announced that his agents were..




WorldNews - Published





High stakes ahead of the final presidential debate

Former deputy assistant Secretary of State and senior adviser to Hillary Clinton Philippe Reines joins CBSN's "Red & Blue" to discuss what's at stake in the final debate between President Trump and Joe..




CBS News - Published





Barack Obama to hold first in-person event for Biden

Former President Barack Obama is returning to Philadelphia on Wednesday for his first in-person 2020 campaign event for Joe Biden In 2016, the man known as one of the Democratic Party's strongest..




WorldNews - Published





Why These Voters Rejected Hillary Clinton but Are Backing Joe Biden

For many Democrats and independents who sat out 2016, voted for third-party candidates or backed Donald Trump, Mr. Biden is more acceptable to them in ways large and small than Mrs. Clinton was.




NYTimes.com - Published





"Lock up the Bidens," Trump says at Georgia rally

At a campaign rally in Macon, Georgia, President Trump alleged without evidence that the Bidens are a "corrupt family." "Lock up the Bidens, lock up Hillary," Mr. Trump said.




CBS News - Published





'Never a dull moment': Hillary and Bill Clinton celebrate their 45th wedding anniversary

"Still my best friend," Hillary Clinton writes of 45 years of marriage to husband Bill Clinton, Sunday. Bill too wrote a Twitter greeting to his wife.




USATODAY.com - Published





Election Less Than a Month Away, Trump Leans on Barr and Pompeo for a Lift

The secretary of state said he would make Hillary Clinton's emails public, handing the president a weapon to attack his political foes as the attorney general resisted his overtures to prosecute..




NYTimes.com - Published





Former Hilary Clinton adviser on how Harris should take on Pence in vice presidential debate

Former deputy assistant Secretary of State and senior adviser to Hillary Clinton, Philippe Reines joins Elaine Quijano to discuss how Senator Kamala Harris might take on Vice President Mike Pence..




CBS News - Published





Hillary Clinton and Stacey Abrams accuse the Trump campaign of encouraging voter intimidation.




NYTimes.com - Published





Tim Kaine on What It's Like to Debate Mike Pence

Mr. Kaine, Hillary Clinton's running mate in 2016, spoke to The Times about what lies ahead for Senator Kamala Harris at Wednesday's V.P. debate.




NYTimes.com - Published





Hillary Clinton's first "60 Minutes" interview

In 1992, she was a governor's wife who went on "60 Minutes" to save her husband's run for president. She's been in the spotlight ever since




CBS News - Published





Did the DNC undermine Bernie Sanders' candidacy?

In an interview with 60 Minutes, Hillary Clinton and Tim Kaine discuss the DNC email leak that forced the committee's chair to resign




CBS News - Published





After the political attack, personal apologies

Republicans who make "outrageous attacks on me" often apologize after the campaign is over, Hillary Clinton tells Scott Pelley




CBS News - Published





Confronting bullies in childhood and politics

"There is no room in this house for cowards," Hillary Clinton recalls her mother saying, a childhood lesson that Clinton says has helped her in politics




CBS News - Published





'You have no idea': Hillary Clinton's biting debate response

The moment presidential candidate Joe Biden told Donald Trump to "shut up" in a fiery exchange during the US election debate has everyone talking.Even former presidential candidate Hillary Clinton has..




New Zealand Herald - Published





'A dark event': Hillary Clinton, Dana Bash and media pundits weigh in on chaotic debate

One of the most chaotic, insult-laden presidential debates in modern history between President Trump and Joe Biden left many media pundits speechless.




USATODAY.com - Published





'You have no idea': Hillary Clinton admits she wanted to tell Trump to 'shut up,' too

Hillary Clinton confirmed that she wished she could have told President Donald Trump to "shut up" when the pair debated in 2016.




USATODAY.com - Published





Advisor who prepped Hillary Clinton in 2016 weighs in on first debate

In 2016, Philippe Reins played President Trump in mock debates when he helped prepare former Democratic nominee Hillary Clinton. The Former Deputy Assistant Secretary of State and longtime Clinton..




CBS News - Published





Donald Trump is a better debater than you remember

2020 Debates Donald Trump is a better debater than you remember Watching his 2015 and 2016 debate performances is a mind-boggling experience, knowing how it turned out in the end. In this Oct. 9, 2016,..




WorldNews - Published





The only debate moderator to return, Fox's Wallace preps

NEW YORK — Four years ago when he first moderated a general election presidential debate, Chris Wallace was firm and funny in trying to get Donald Trump and Hillary Clinton to stop talking..




WorldNews - Published





Op-Ed: Trump's flaws alone won't bring skeptical Black voters out to vote for Biden

We've all heard the analysis: If only Black voters had turned out in the same numbers to vote for Hillary Clinton that they did for Barack Obama, we wouldn't have Donald Trump today. The razor-thin..




WorldNews - Published





Jeff Daniels on new series "The Comey Rule" and playing former FBI director

Jeff Daniels joins "CBS This Morning" to discuss his role as former FBI Director James Comey. The Showtime two-part series "The Comey Rule" first follows the investigation into Hillary Clinton's emails..




CBS News - Published





Did Biden Just Win The Military Vote By Personalizing His Son's And Other Veterans' Deaths?

Article by WN.Com Correspondent Dallas Darling Shortly before the 2016 presidential election, a "Military Times" poll found Donald Trump leading Hillary Clinton by a two-to-one margin. Four year..




WorldNews - Published





Bill and Hillary Clinton bash McConnell for pushing forward with Ruth Bader Ginsburg replacement

Clinton said McConnell was "superficially hypocritical" to change his argument "when the shoe's on the other foot, and he wants the judge."




USATODAY.com - Published





Bill Clinton says Ginsburg wanted Hillary to win White House in 2016

Former President Bill Clinton reflects back on Ginsburg's support of his wife, former first lady and Secretary of State Hillary Clinton.




CBS News - Published





US election: Data guru Bela Stantic says Donald Trump on track to win again

A data scientist who correctly predicted Donald Trump's shock victory over Hillary Clinton in 2016 says the US President is currently on track to win again.Professor Bela Stantic is the founder and..




New Zealand Herald - Published





Is Trump's Hatred Toward Hillary Clinton Endangering Americans, Mainly 9/11 First Responders?

Article by WN.Com Correspondent Dallas Darling "Hatred is the coward's revenge for being intimidated." -George Bernard Shaw Donald Trump may be out of time and out of targets as his election..




WorldNews - Published





Hillary Clinton acknowledges Kamala Harris will face a sexist 'double standard' in her debate with Mike Pence.




NYTimes.com - Published





Russian, Chinese, and Iranian hackers are targeting the US election, says Microsoft

Illustration by Alex Castro / The Verge Hackers from Russia, China, and Iran are targeting individuals and organizations involved in both Donald Trump and Joe Biden's presidential campaigns,..




The Verge - Published





Michigan Democrat says Hillary Clinton "didn't do her job in Michigan"

This week on "The Takeout," Major Garrett interviews Michigan twins Jessica Ann Tyson, a Republican, and Monica Sparks, a Democrat. Both ran for office in 2018, but only one of them won.




CBS News - Published





Ex-F.B.I. Agent in Russia Inquiry Says Trump Is a National Security Threat

Peter Strzok, who was fired for sending anti-Trump texts, played a central role in both the Hillary Clinton email and Trump-Russia investigations.




NYTimes.com - Published





Bernie Sanders faces criticism from Hillary Clinton and Joe Biden

Senator Bernie Sanders is facing criticism from former opponent Hillary Clinton and current opponent Joe Biden ahead of the Iowa caucuses. CBS News political correspondent Ed O'Keefe joined "CBSN AM"..




CBS News - Published





Melania Trump used private email in White House, longtime friend says

Stephanie Winston Wolkoff says the first lady was doing what her husband has long accused Hillary Clinton of.




CBS News - Published





Chinese dissident brought to US by Obama administration attacks Democrats at RNC

Hong Kong (CNN)A Chinese human rights activist brought to the United States by the Obama administration appeared at the Republican National Convention Wednesday, where he praised President Donald Trump..




WorldNews - Published





DOJ Official: 2016 Russian election hack looked to hurt Clinton

U.S. Assistant Attorney General John Demers tells 60 Minutes the 2016 Russian election hack was "certainly looking to hurt Hillary Clinton."




CBS News - Published





60 Minutes Extra: Department of Justice senior official on 2016 Russian election hack effort

The United States Department of Justice tells 60 Minutes that 2016 Russian election hack was "certainly looking to hurt Hillary Clinton"




CBS News - Published





Leaked audio reveals Trump relished low Black turnout in 2016 election

Tootsie Warhol, a lawyer-turned-activist, provided POLITICO with the audio recording. On January 16, 2017, shortly before his inauguration, Donald Trump addressed a group of civil rights leaders behind..




WorldNews - Published





Trump, GOP attack Barack Obama, Kamala Harris and Hillary Clinton after night 3 of DNC

Republicans and Trump went after Sen. Kamala Harris, former President Barack Obama and ex-Secretary of State Hillary Clinton on Wednesday.




USATODAY.com - Published





What Kamala Harris Represents for Democratic Women

O ne by one , Democratic leaders who tried and failed to put a woman in the White House appeared on-screen at the Democratic National Convention last night to crown Kamala Harris as their successor...




WorldNews - Published





Takeaways from day 3 of the Democratic National Convention

Former Trump White House chief of staff Reince Priebus, CBS News contributor Maria Elena Salinas and Former Hillary Clinton campaign manager Robby Mook join "CBS This Morning" to discuss the historic..




CBS News - Published





Senator Kamala Harris becomes Democrats' 2020 vice presidential candidate

Senator Kamala Harris remembered her mother's sacrifices before becoming the first woman of color to accept the Democratic nomination for vice president. The third night at the DNC also featured a..




CBS News - Published





Nancy Pelosi, Hillary Clinton, Elizabeth Warren and Kamala Harris Speak of Women's Vote Centennial at Democratic Convention

With Kamala Harris accepting her nomination, Nancy Pelosi, Hillary Clinton and others lauded the advancement of women in the political process, but said there was still much ground to be covered.




NYTimes.com - Published





Trio of firsts to speak at third night of DNC

Wednesday night's lineup for the 2020 Democratic National Convention will feature the United States' first Black president, Barack Obama, the country's first female major-party presidential nominee,..




CBS News - Published





Hillary Clinton at DNC: "I wish Donald Trump had been a better president"

2016 Democratic nominee Hillary Clinton slammed President Trump in her speech on Wednesday at the Democratic National Convention, and said that "Joe Biden and Kamala Harris are going to give us so much..




CBS News - Published





Flashback/Flash-Forward

Hillary Clinton's D.N.C. appearance tonight is a reminder of how the party has changed since 2016.




NYTimes.com - Published





Watch: Donald Trump live

US President Donald Trump is holding his daily briefing. Later today, the Democratic National Convention will hold its third day. Speakers for today's event include Senator Elizabeth Warren, Speaker..




SBS - Published





Hillary Clinton to speak at Democratic National Convention tonight

Former Secretary of State Hillary Clinton is set to speak at the Democratic National Convention Wednesday night. CBS News chief congressional correspondent Nancy Cordes joins CBSN's Elaine Quijano for..




CBS News - Published