British Grand Prix
Auto race held in the United Kingdom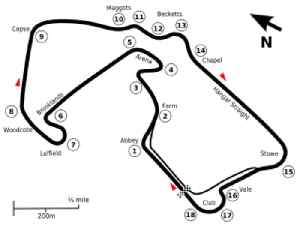 The British Grand Prix is a grand prix motor race organised in Great Britain by the Royal Automobile Club. First held in 1926, the British Grand Prix has been held annually since 1948 and has been a round of the FIA Formula One World Championship every year since 1950. In 1952, following the transfer of the lease of the Silverstone Circuit to the British Racing Drivers' Club, the RAC delegated the organisation of the race to the BRDC for the first time, and this arrangement has continued for all British Grands Prix held at Silverstone since then.


Driver Perez to miss British GP after positive COVID-19 test

Racing Point Formula One team driver Sergio Perez will miss this weekend's British Grand Prix after testing positive for COVID-19.
Credit: Reuters - Sports Duration: 01:27
Published
F1 preview: A lap of the British Grand Prix

Facts and figures ahead of the British Grand Prix as Lewis Hamilton looks towin xxxxxx The world champion has more race wins than anyone at Silverstone,and it would be difficult to see anyone stopping..
Credit: PA - Press Association STUDIO Duration: 02:08
Published
You Might Like



Hamilton survives scare for Silverstone win

SILVERSTONE, England (AP): Lewis Hamilton held on to win the British Grand Prix (GP) on Sunday despite a puncture on the last lap to clinch an 87th career win and move within four of Michael..




WorldNews - Published





Lewis Hamilton wins British GP after puncture on last lap

Lewis Hamilton wins seventh career British Grand Prix with shredded tyre after getting puncture on final lap.




BBC News - Published




Lewis Hamilton on pole position for British Grand Prix

Lewis Hamilton sets the fastest ever lap around Silverstone to beat Mercedes team-mate Valtteri Bottas to pole position at the British Grand Prix.




BBC News - Published




Practice makes perfect as Stroll lifts Racing Point mood after Perez virus blow

Lance Stroll topped the times for Racing Point in Friday afternoon's second free practice for the British Grand Prix.","content":"Lance Stroll topped the times for Racing Point in Friday afternoon's..




WorldNews - Published





Verstappen tops FP1 as Nico Hulkenberg returns in P9

After a weekend of rest, the Formula 1 circus resumed with the first of two weekends at Silverstone, starting with FP1 of the British Grand Prix. Nico Hülkenberg replaced Sergio Perez this weekend,..




WorldNews - Published





Albon crashes heavily as Stroll goes fastest in British Grand Prix practice

Alexander Albon suffers a heavy crash in his Red Bull as Lance Stroll's Racing Point set the pace in second practice at the British Grand Prix.




BBC News - Published





F1 Driver Sergio Perez Tests COVID-19 Positive, to Miss British GP

Racing Point driver Sergio Perez has tested positive for coronavirus and thus will not be able to race in this weekend's British Grand Prix at Silverstone. Perez was absent from the circuit on Thursday..




WorldNews - Published





Red Bull's Verstappen fastest in first practice at British GP

Red Bull's Max Verstappen heads Mercedes driver Lewis Hamilton in first practice at the British Grand Prix.




BBC News - Published





British Grand Prix: Lewis Hamilton intends to be in F1 for 'at least another three years'

Mercedes driver Lewis Hamilton says he intends to be in Formula 1 for "at least another three years".




BBC News - Published





Perez returns 'inconclusive' Covid test before British Grand Prix

Sergio Perez is in isolation after the Mexican driver returns an inconclusive Covid-19 test result before the British Grand Prix.




BBC News - Published





F1 to organise anti-racism protest for British GP after criticism

Formula 1 will organise an anti-racism protest before Sunday's British Grand Prix following criticisms of the sport's approach to the subject.




BBC News - Published





No British Grand Prix without quarantine exemptions

Formula 1 says it will be unable to hold a British Grand Prix if personnel are not given exemptions from plans to quarantine international travellers.




BBC News - Published




Formula 1: British Grand Prix double to go ahead but quarantine questions remain

Formula 1 and Silverstone have agreed a deal for two grands prix to be held at the track this season.




BBC News - Published





British GP under threat because of financial stand-off

The British Grand Prix is under threat this year because of a financial stand-off between Formula 1 and Silverstone.




BBC News - Published





F1 'not handing out candy' as it negotiates with circuits

London - Silverstone and Formula One's owner Liberty Media are in talks that will determine whether this year's British Grand Prix goes ahead, with Hockenheim in Germany lined up as a possible..




WorldNews - Published





Formula One season planning to start on July 5 but opening races will be staged without spectators

Formula One is planning to start its 2020 season on July 5 in Austria after the French Grand Prix became the 10th race this year to be postponed or cancelled because of the coronavirus pandemic...




WorldNews - Published





British Grand Prix: Silverstone and F1 will decide whether race can go ahead by the end of April

Silverstone and Formula 1 say they have until the end of April to decide whether the British Grand Prix can be held as planned on 17-19 July.




BBC News - Published





Lewis Hamilton finishes fast at British GP to flummox Mercedes

Lewis Hamilton said he produced "the best last that I've ever had" by capping his record British GP with an extra bonus point for the fastest lap. The world champion put his stamp on a sixth..




WorldNews - Published





British Grand Prix: Drones flown near Silverstone

Police say the devices were being flown illegally from campsites near the circuit.




BBC News - Published





Lewis Hamilton Shrugs Off Criticism After Missing Out on British Pole

Silverstone, July 3: Lewis Hamilton brushed off questions about his lifestyle and heaped praise on his Mercedes team-mate Valtteri Bottas after the Finn had beaten him Saturday to pole position for the..




WorldNews - Published





Bottas beats Hamilton to take British pole position

Valtteri Bottas beats Lewis Hamilton to pole position for Sunday's British Grand Prix -




BBC News - Published





Valtteri Bottas on British GP pole position

Valtteri Bottas beats Mercedes team-mate Lewis Hamilton to pole position by the tiniest of margins at the British Grand Prix.




BBC News - Published





Ferrari duo Leclerc, Vettel fastest in British GP practice

Ferrari set the pace in final practice for the British Grand Prix with Charles Leclerc fastest ahead of teammate Sebastian Vettel




USATODAY.com - Published





British Grand Prix: Gasly strikes late to head FP1, Bottas second

Pierre Gasly topped a disrupted first practice session for Formula 1's British Grand Prix that featured Romain Grosjean crashing in the pitlane and Kimi Raikkonen causing a red flag. Mercedes driver..




WorldNews - Published





Grosjean crashes in pit lane as Gasly is fastest in first practice at British GP

Red Bull's Pierre Gasly is the pace-setter in first practice at the British Grand Prix as Romain Grosjean crashes in the pit lane.




BBC News - Published





British Grand Prix: Hamilton unhappy with big events clash

Lewis Hamilton criticises the decision to hold the British Grand Prix on the same day as the Cricket World Cup and men's Wimbledon finals.




BBC News - Published





British Grand Prix: New Silverstone deal expected to be announced

Formula 1 is expected to announce a new British Grand Prix contract at a news conference on Wednesday.




BBC News - Published




British Grand Prix: Silverstone owners concerned over F1's London plan

Formula 1's desire to hold a race in London is causing Silverstone to reconsider plans to sign a new contract for the British Grand Prix.




BBC News - Published