Utrecht
City and municipality in the province of Utrecht, Netherlands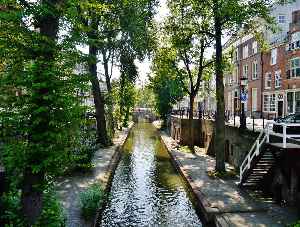 Utrecht is the fourth-largest city and a municipality of the Netherlands, capital and most populous city of the province of Utrecht. It is located in the eastern corner of the Randstad conurbation, in the very centre of mainland Netherlands; it had a population of 357,179 as of 2019.


You Might Like
Coronavirus conspiracies go viral on Whatsapp as crisis deepens
On Sunday morning, a viral outbreak in the Dutch city of Utrecht infected more than 60 people in less than hour. Unlike the coronavirus, however, the infection happened on WhatsApp.
Reuters - Published
More letter bombs found at Dutch offices
A letter bomb caught fire at a bank in Amsterdam on Thursday and another was disarmed at an office near Utrecht, the latest in a series of such attacks in the Netherlands this week.
Reuters - Published
Dutch police: letter bomb at Unisys office disarmed, nobody hurt
Police found and disarmed a letter bomb at an office of U.S. information technology firm Unisys near the Dutch city of Utrecht on Thursday, police said.
Reuters - Published
Dutch midfielder Sneijder retires from soccer
THE HAGUE - Dutch star midfielder Wesley Sneijder, 35, on Monday announced his retirement from soccer. During an interview with local broadcaster RTV Utrecht, Sneijder, born in Utrecht, said that he..
WorldNews - Published
Dutch tourist killed in Malaysia cave floods, guide missing
Local fire and rescue chief Law Poh Kiong identified the dead man as 66-year-old Peter Hans Hovenkamp from Utrecht in the central Netherlands.
DNA - Published
Netherlands probes 'terrorist motive' in Utrecht shooting
The suspect has confessed to opening fire and killing four people on a tram in the Dutch city. Prosecutors have revealed the contents of a letter written by the suspect in which he admits to "doing..
WorldNews - Published
Alleged shooter on Utrecht tram rejects Dutch law
An alleged shooter who killed four people on a tram in the Dutch city of Utrecht in March appeared at a pre-trial hearing on Monday and said he rejected Dutch law and did not recognize the court's..
Reuters - Published
'He p*ssed on it' - Former Ajax & Real Madrid star Sneijder accused of damaging car
Wesley Sneijder has been accused of urinating on a couple's car following reports the former Ajax and Real Madrid was arrested last week. The 35-year-old Dutchman, who currently plays in Qatar for..
WorldNews - Published