Warner Bros.
American entertainment company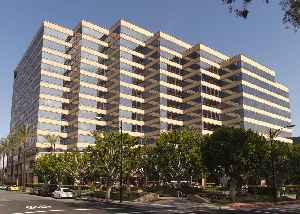 Warner Bros. Entertainment Inc. is an American diversified multinational mass media and entertainment conglomerate headquartered at the Warner Bros. Studios complex in Burbank, California, and a subsidiary of AT&T's WarnerMedia through its Studios and Networks Group division. Founded in 1923 by brothers Harry, Albert, Sam, and Jack Warner, the company established itself as a leader in the American film industry before diversifying into animation, television, and video games, and is one of the "Big Five" major American film studios, as well as a member of the Motion Picture Association (MPA).


Robert Pattinson COVID Recovery: Making Out With Suki Waterhouse

Looks like Robert Pattinson has recovered from coronavirus. The Batman actor was photographed making out with his girlfriend Suki Waterhouse in a London park on Wednesday. Perhaps fighting off a deadly..
Credit: Wochit News Duration: 00:32
Published
Wonder Woman 1984 Pushed Again

Wonder Woman 1984 won't be flying into theaters anytime soon. Warner Bros. has announced that the latest DC superhero flick has been delayed again, this time set to come out in late December. As..
Credit: Wochit News Duration: 00:32
Published
Ellen's Talk Show Sets Return Date

"The Ellen Show" will return to the airwaves on September 21st, 2020. Tiffany Haddish is set to help DeGeneres kick off the new season. The show will be filmed in-studio on the Warner Bros. lot in Los..
Credit: Wochit News Duration: 00:32
Published
Jason Momoa backs Ray Fisher amid Warner Bros. Justice League disagreement

Jason Momoa has weighed in on the side of fellow Justice League cast
Credit: Cover Video STUDIO Duration: 01:06
Published
Ray Fisher responds to Warner Bros. statement over Justice League investigation

Ray Fisher has pushed back at a statement made by Warner Bros. that he is being uncooperative amid an investigation into misconduct allegations he made against Justice League director Joss Whedon.
Credit: Cover Video STUDIO Duration: 01:01
Published
Robert Pattinson Tests Positive For COVID-19

Production on director Matt Reeves's The Batman has been temporarily paused again. Vanity Fair is reporting that actor Robert Pattinson has tested positive for COVID-19. The news comes just days into..
Credit: Wochit News Duration: 00:33
Published
'The Batman' Halts Production After Robert Pattinson Tests Positive for COVID-19 | THR News

'The Batman' has pressed pause on its London production after star Robert Pattinson tested positive for COVID-19, sources tell The Hollywood Reporter. Warner Bros. would not comment specifically on the..
Credit: The Hollywood Reporter Duration: 01:16
Published
'Tenet' tests U.S. appetite for movie-going

Christopher Nolan's thriller "Tenet" finally arrives in U.S. movie theaters this weekend, hoping to revive movie going after a pandemic-induced closure of indoor theaters and a dearth of new content...
Credit: Reuters - Politics Duration: 01:14
Published
You Might Like



AMC Theaters warns that it could run out of cash by the end of 2020

Alexi Rosenfeld / Getty Images AMC Theaters is warning investors that without a steady flow of movies to bring people into the remaining theaters it has open, the company could run out of cash by..




The Verge - Published





More layoffs coming at WarnerMedia as the company struggles under COVID-19

Substantial layoffs are coming to AT&T-owned entertainment giant WarnerMedia, as the company continues to restructure its business amid the COVID-19 pandemic and accelerating changes sweeping the..




WorldNews - Published





The Batman is delayed until 2022, but The Matrix 4 is now coming next year

Today's announcement of a Dune delay meant that Warner Bros. would have to shuffle its schedule, and now we have new...




WorldNews - Published

Also reported by •The Verge


HBO Max is getting a Suicide Squad spinoff starring John Cena

Image: Warner Media HBO Max is getting a new TV series called Peacemaker, a spinoff of the upcoming Suicide Squad sequel directed by James Gunn. The show will focus on the origins of its titular..




The Verge - Published





Warner Bros. reassures fans that J.K. Rowling isn't directly involved with new Harry Potter game

Photo by Lauren DeCicca/Getty Images Warner Bros., the studio that's behind the latest Harry Potter video game title — Hogwarts Legacy, which will debut on next-gen consoles and PCs — has just..




The Verge - Published





Wonder Woman 1984 delayed again, this time to Christmas

Warner Bros. has delayed Wonder Woman 1984 once again, moving Patty Jenkins' sequel to December 25th, according to Variety. "Patty is an exceptional filmmaker and with Wonder Woman 1984 she has..




The Verge - Published





Warner Bros. is now selling bottled Butterbeer. But Harry Potter fans in the US may be out of luck

Warner Bros. launched a new bottled Butterbeer that will be sold online and in select UK stores. But will it be available in the U.S.?




USATODAY.com - Published





"The Batman" star Robert Pattinson tests positive for COVID-19

Warner Bros. confirmed that filming has "temporarily paused" after someone on set tested positive for COVID-19.




CBS News - Published

Also reported by •WorldNews


Robert Pattinson reportedly has COVID-19, and The Batman has halted production

Warner Bros. Production of Warner Bros.' The Batman has been delayed yet again, this time because star Robert Pattison has tested positive for COVID-19, Vanity Fair reported. The..




The Verge - Published





DC's FanDome set the new gold standard for virtual events

Host Aisha Tyler inside the FanDome arena. | DC Comics In a time when we're oversaturated with virtual events, it's impossible not to notice that most of them don't exactly run smoothly. There..




The Verge - Published





4 things you missed at DC FanDome, including The Flash and Dwayne Johnson's Black Adam

DC FanDome teased the growing world of Warner Bros.' superhero films, from Zack Snyder's "Justice League" cut to Dwayne Johnson's "Black Adam."




USATODAY.com - Published





DC FanDome: the nine biggest announcements

DC Comics and Warner Bros. held their first ever FanDome event today, a virtual convention that brought with it new movie trailers, announcements, and exciting gameplay footage. From Warner Bros...




The Verge - Published





Watch the first trailer for Zack Snyder's Justice League cut

After years of campaigning from fans, Zack Snyder's Justice League will see the light of day — and a first look trailer for the director's version premiered today. Snyder brought the trailer..




The Verge - Published





James Gunn's Suicide Squad roster of villains unveiled in new teaser video

Director James Gunn took his time at DC Comics' FanDome to introduce the new Suicide Squad set to debut in Warner Bros.' The Suicide Squad. A "roll call" trailer for his Suicide Squad sequel..




The Verge - Published





New Wonder Woman 1984 trailer introduces Kristen Wiig's Cheetah

After questions about whether Wonder Woman 1984 would possibly skip theaters to premiere digitally, a new trailer for the film confirms it's getting the big-screen treatment. Director Patty..




The Verge - Published





How to watch DC's big FanDome event

Without San Diego Comic-Con, DC Comics and Warner Bros. launched a new virtual event to showcase new trailers for upcoming films, games, and TV shows. From Robert Pattinson's The Batman to Zack..




The Verge - Published





Can Harry Potter magic tourists back to Japan?

Film studio Warner Bros hopes its new tourist attraction based on the boy wizard will be ready for 2023.




BBC News - Published





WarnerMedia undergoes major reorganization as HBO Max gets higher priority

Getty Images for WarnerMedia Two of WarnerMedia's top executives, Bob Greenblatt and Kevin Reilly, are leaving the company as CEO Jason Kilar begins to plan the company's future with a tighter..




The Verge - Published





The Harry Potter films are headed to Peacock, in a perfect example of how confusing streaming is

Image: Harry Potter/Warner Brothers The tangled journey of the streaming rights for the Harry Potter films just got even more confusing, as Peacock has announced that it'll be offering the series..




The Verge - Published





Mulan is heading to Disney Plus on September 4th for $30

Image: Disney Disney's live-action adaptation of Mulan will be released on Disney Plus on September 4th for $29.99, the company announced today. Disney executives walked through the new plan..




The Verge - Published





Tashan Daniel: Aspiring athlete stabbed to death with knife 'from Fast & Furious film'

Murder accused tells court he took weapon used as film prop from Warner Bros studios




Independent - Published





Tashan Daniel: 'Tube murder weapon was from Fast & Furious film'

Alex Lanning says he took the knife which killed Tashan Daniel from Warner Bros studios' store area of the film F9.




BBC News - Published





James Gunn: Velma was meant to be gay in 'Scooby-Doo' live-action, but studio pushed back

Director and screenwriter James Gunn said he tried to make Velma gay in his 2002 live-action "Scooby-Doo" remake, but Warner Bros. pushed back.




USATODAY.com - Published





Batman, Mortal Kombat Going To Xbox?! WB Games Selling For $4 BILLION

A report from CNBC in June revealed that Warner Bros.' parent company AT&T were looking to sell WB Interactive Entertainment, aka WB Games. WB's video game division houses the likes of Rocksteady..




WorldNews - Published





AMC expects theaters to be 'fully open' by July

AMC is expecting to release Warner Bros' "Tenet" on July 17, followed by Disney's "Mulan" on July 24.




USATODAY.com - Published





Henry Cavill in talks to play Superman again: Reports

It appears Henry Cavill is not done being Superman. The British actor is reportedly in talks to don the role of the Last Son of Krypton for an upcoming DC movie, reports Variety. The reports come in..




WorldNews - Published





Sylvester Stallone working on Demolition Man 2

Hollywood heavyweight Sylvester Stallone has revealed that a sequel to his 1993 Demolition Man is on the way. The 73-year-old actor-filmmaker said that he is in talks with Warner Bros Studio for a..




WorldNews - Published





ShowBiz Minute: 'The Batman,' Obama, Royals

Warner Bros. is delaying a batch of theatrical releases including "The Batman"; Michelle Obama has launched a series of online video readings for kids; Queen Elizabeth II will celebrate her birthday in..




USATODAY.com - Published





MOVIE REVIEW: Birds of Prey

by Graham Pierrepoint - BIRDS OF PREY IMDb Dir: Cathy Yan Starring Margot Robbie, Mary Elizabeth Winstead, Jurnee Smollett-Bell, Rosie Perez, Chris Messina, Ella Jay Basco, Ali Wong, Ewan McGregor..




One News Page Staff - Published





Warner Bros studio worker stole £37,000 worth of Harry Potter merchandise to sell over eBay

Adam Hill even used company's own franking machine to post swiped goods out to fans




Independent - Published





Warner Bros Studio employee admits £36,935 theft of Harry Potter goods

A former Warner Bros Studio employee who stole £36,935 of Harry Potter items to order is sentenced.




BBC News - Published





MOVIE REVIEW: The Good Liar

by Graham Pierrepoint - THE GOOD LIAR IMDb Dir: Bill Condon Starring Ian McKellen, Helen Mirren, Russell Tovey, Jim Carter 2.5 STARS (out of 5) With a cast boasting two big stars like McKellen..




One News Page Staff - Published





HBO Max: Details on launch date, price and programs, including 23 seasons of 'South Park'

WarnerMedia executives unveiled major details of the HBO Max streaming service Tuesday during a presentation at the historic Warner Bros. studio lot.




USATODAY.com - Published





MOVIE REVIEW: Joker

by Graham Pierrepoint - JOKER IMDb Dir: Todd Phillips Starring Joaquin Phoenix, Robert De Niro, Zazie Beetz, Frances Conroy 4.5 STARS (out of 5) DISCLAIMER: While I am reviewing this movie for the..




One News Page Staff - Published





Tyler Perry tells Gayle King: "I'm ignored in Hollywood"

Tyler Perry made history this weekend with the grand opening of Tyler Perry Studios. Perry is the first black American to own a major film studio outright. The Atlanta film complex spans 330 acres..




CBS News - Published





'Joker' Movie Is a Risk, but a Calculated One, for Warner Bros.

The studio set out to make a boundary-pushing film. The early reaction has included critical praise and deep unease about the film's violence and message.




NYTimes.com - Published




Warning issued about potential shootings at "Joker" screenings

The FBI is looking into online posts by extremists about the new movie "Joker" amid warnings over potential shootings at film screenings. Warner Brothers says the movie, set for release next week,..




CBS News - Published





Aurora victim families want Warner Bros. to support gun control

An employee at Century Aurora and XD — site of 2012 shooting — said Tuesday that there were no immediate plans to show "Joker" there




CBS News - Published





Families of Aurora Shooting Victims Express Concern About 'Joker'

The hyper-realistic movie portrays the Batman villain as a mentally ill loner looking for societal revenge. Warner Bros. said the film was not an endorsement of real-world violence.




NYTimes.com - Published





Batman shooting victim's family 'horrified' by Joker film's violence

Families of those killed while watching a Batman film in 2012 write to film studio Warner Bros.




BBC News - Published





MOVIE REVIEW: IT Chapter Two

by Graham Pierrepoint - IT CHAPTER TWO IMDb Dir: Andy Muschietti Starring Jessica Chastain, James McAvoy, Bill Hader, Isaiah Mustafa, Jay Ryan, James Ransone, Andy Bean, Bill Skarsgard 4 STARS (out..




One News Page Staff - Published





Warner Bros: Man injured at Harry Potter studios

A man suffers serious injuries while filming at the studios where the Harry Potter films were shot.




BBC News - Published





'Thor 4' Officially in the Works, Director Taika Waititi Confirms

Just ahead of San Deigo Comic-Con, Taika Waititi, director of Thor: Ragnarok, has signed a deal to direct and write Thor 4. According to The Hollywood Reporter, the deal puts Waititi's other major..




WorldNews - Published





Firefighters tackle blaze at Warner Bros UK studio

Firefighters were tackling a blaze on Thursday at Warner Bros studios north of London, where the Harry Potter films were shot




Reuters - Published





Warner Bros Studios: Firefighters tackle blaze on stage

Blockbusters including James Bond and Mission Impossible are also shot at the studios.




BBC News - Published





Warner Bros. taps Ann Sarnoff as 1st-ever female chair and CEO

For the first time in the history of Warner Bros. a woman will be the head of the studio




CBS News - Published





Crew Member Stabbed on UK Set of Anne Hathaway's 'The Witches'

A man was arrested after stabbing a crew member on the set of the Anne Hathaway film "The Witches" at the Warner Bros. studio in Leavesden, England, on Wednesday afternoon, Hertfordshire police..




WorldNews - Published





Worker stabbed in neck on film set at Warner Bros studios in Watford

Incident thought to have taken place on the set of new film adaptation of Roald Dahl's The Witches




Independent - Published





MOVIE REVIEW: Pokemon Detective Pikachu

by Graham Pierrepoint - POKEMON DETECTIVE PIKACHU IMDb Dir: Rob Letterman Starring Ryan Reynolds, Justice Smith, Kathryn Newton, Suki Waterhouse, Omar Chaparro, Chris Geere, Ken Watanabe, Bill Nighy..




One News Page Staff - Published