Brasília
Capital of Brazil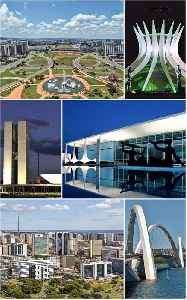 Brasília is the federal capital of Brazil and seat of government of the Federal District. The city is located atop the Brazilian highlands in the country's center-western region. It was founded on April 21, 1960, to serve as the new national capital. Brasília is estimated to be Brazil's third-most populous city. Among major Latin American cities, it has the highest GDP per capita.


Virus-hit Brazil split on Bolsonaro

A thousand crosses placed in front of Brazil's Congress to honour people who have died from COVID-19 and to denounce President Jair Bolsonaro's handling of the pandemic, set against Bolsonaro..
Credit: Reuters Studio Duration: 01:27
Published
Brazil protests show political split amid virus

People marched both for and against President Jair Bolsonaro on Sunday (June 14) as the number of COVID-19 cases increased 17,000 from a day before. Caroline Malone reports.
Credit: Reuters - Politics Duration: 01:38
Published
You Might Like



Brazil bans fires in Amazon rainforest to meet investor demands to slow deforestation

BRASILIA — Brazil's government announced on Thursday it planned to ban setting fires in the Amazon for 120 days, in a meeting with global investors to address their rising concerns over destruction..




WorldNews - Published





Brazil to overcome health, economic crises this year: economy minister

BRASILIA (Reuters) – Brazil's Economy Minister Paulo Guedes said on Tuesday he is confident...




WorldNews - Published





Governor shuts streets in Brasilia to stop protesters reaching Congress, Supreme Court

The governor of the federal district in which Brazil's capital Brasilia is located closed the area around the presidential palace, ministries, Supreme Court and Congress on Sunday to keep right-wing..




Reuters - Published





Coronavirus cases top 6m across planet

BRASLIA: The number of coronavirus cases worldwide has topped six million as the disease spread rapidly across Latin America and political leaders feuded over how to deal with the pandemic. Much of the..




WorldNews - Published





Brazil's Bolsonaro slams supreme court over 'fake news' probe

Brasília — President Jair Bolsonaro slammed Brazil's supreme court on Thursday for investigating an alleged disinformation and intimidation campaign involving his supporters, as a political crisis..




WorldNews - Published





Bolsonaro's health minister quits, deepening Brazil coronavirus crisis

BRASILIA — Brazilian Health Minister Nelson Teich resigned on Friday after just weeks on the job, adding to turmoil in President Jair Bolsonaro's handling of an accelerating coronavirus outbreak in..




WorldNews - Published





Deforestation in Brazil's Amazon surges, Bolsonaro readies troops

BRASILIA (Reuters) - Deforestation in Brazil's Amazon rainforest rose sharply in April, government data showed on Friday, as the coronavirus outbreak keeps many environmental enforcers out of the field..




WorldNews - Published





Brazil emerges as next big coronavirus hotspot

Brasilia: Brazil, one of the world's emerging coronavirus hot spots, registered a record number of cases and deaths on Wednesday, prompting the health minister to flag the possibility of strict..




WorldNews - Published





Brazil high court to probe demo attended by President Jair Bolsonaro

A Brazilian Supreme Court justice called Tuesday for an investigation into a demonstration outside army headquarters attended by President Jair Bolsonaro, where protesters called for military..




WorldNews - Published





Planned from scratch: Brasilia at 60 in pictures

The purpose-built Brazilian city celebrates 60 years since it became the country's capital.




BBC News - Published





Brazil health minister says Bolsonaro likely to fire him: sources

BRASILIA (Reuters) - A senior Brazilian health official resigned on Wednesday as...




WorldNews - Published





Brazil's Bolsonaro hits the streets in latest social distancing snub

Brazilian President Jair Bolsonaro took to the streets of Brasilia on Friday, drawing crowds and greeting followers in his latest public attack on social isolation measures to fight the coronavirus..




Reuters - Published





Coronavirus: Bolsonaro calls for day of fasting and prayer to 'free Brazil from evil' epidemic

Brazilian president Jair Bolsonaro has said he will declare this Sunday to be a day of prayer and fasting in response to the coronavirus outbreak, encouraging citizens to call on God to "free Brazil..




WorldNews - Published





Brazil Expects Almost 0 Percent Growth in 2020 Due to Virus

Brasilia: Brazil's government on Friday drastically downgraded its growth projections for 2020 by 2.1 percent to practically zero (0.02 percent) due to the coronavirus pandemic. The Economy Ministry..




WorldNews - Published





Brazilian Congress approves state of emergency to contain spread of COVID-19

BRASILIA, March 20 (Xinhua) -- The Brazilian Senate on Friday approved a request made by Brazilian President Jair Bolsonaro to declare a state of emergency. The decree authorizes the executive branch..




WorldNews - Published





Loud protests ring out in Brazil over Bolsonaro's coronavirus response

Loud protests rang out across Brazilian cities on Wednesday over the far-right president's handling of the mounting coronavirus crisis, with cries of "Get out Bolsonaro" heard in Sao Paulo, Rio de..




Reuters - Published





Double take as Brazil's Bolsonaro hams it up with impersonator

Brazil's Jair Bolsonaro sent out a trumpet-playing, banana-throwing impersonator to work a crowd in Brasilia on Wednesday, before joining him for a standup routine in one of the most surreal moments of..




Reuters - Published





'The whole of France is in shock!' Judo legend Teddy Riner loses for first time ...

After 154 matches spanning 10 years and two Olympic gold medals, French judoka Teddy Riner finally tasted defeat on Sunday as he lost out to Japanese rival Kageura Kokoro at the Paris Grand Slam in a..




WorldNews - Published





Brazil's Bolsonaro visits hospital for hernia complication: source

Brazilian President Jair Bolsonaro visited a hospital in Brasilia on Thursday night, leaving without speaking to reporters, with a source familiar with the matter saying the president had felt..




Reuters - Published





Iran summons Brazil's charge d'affaires in Tehran after Soleimani comments

Iran has summoned Brazil's Chargé d'Affaires in Tehran after the government in Brasilia expressed support for the United States in the "fight against the scourge of terrorism" following the death of..




Reuters - Published




Bolsonaro pokes at Macron, Thunberg over Aus bushfires

Brasilia, Jan 3 (IANS) Brazilian President Jair Bolsonaro has poked at his French counterpart Emmanuel Macron and Swedish environment activist Greta Thunberg over the destructive bushfires raging in..




WorldNews - Published





Facebook fined $1.65 million by Brazil

BRASILIA --- Brazil on Monday fined Facebook $1.65 million for improperly sharing users' data in a case...




WorldNews - Published





Brazil's Bolsonaro says he had partial memory loss after a fall this week

Brazilian President Jair Bolsonaro said on Tuesday night that he briefly lost his memory after falling at his presidential residence in Brasilia, the capital, earlier this week.




Reuters - Published





Brazil's Bolsonaro released from hospital after spending the night

Brazil's right-wing President Jair Bolsonaro was discharged from hospital on Tuesday, having spent the night under observation after falling at his official residence in the capital Brasilia, his..




WorldNews - Published

Also reported by •Reuters


Brazil's Bolsonaro goes to hospital after fall, no injuries detected

Brazil President Jair Bolsonaro fell at his presidential residence in the capital Brasilia on Monday and was taken to a hospital for a scan, according to a statement.




Reuters - Published





Brazil in touch with U.S. officials on surprise steel, aluminum tariffs: source

The Brazilian government is in touch with the U.S. Trade Representative's office and other agencies about U.S. President Donald Trump's surprise decision to restore tariffs on Brazilian steel and..




Reuters - Published





PM Modi Meets Chinese President Xi Jinping in Brazil, Hails 'New Direction and New Energy' ...

Brasilia: In fresh talks, Prime Minister Narendra Modi and Chinese President...




WorldNews - Published





Venezuelan opposition group ends occupation of embassy in Brazil

Backers of Venezuela's opposition leader Juan Guaido left the country's embassy in Brasilia on Wednesday, after a tense 11-hour standoff that created a diplomatic embarrassment for Brazil's right-wing..




Reuters - Published




Brazil's Bolsonaro vows order after Guaido backers enter Venezuelan embassy

Brazilian President Jair Bolsonaro said his government was working to avoid violence after supporters of Venezuelan opposition leader Juan Guaido gained access to the country's embassy in Brasilia on..




Reuters - Published





Bolsonaro and Xi cheer strong and growing Brazil-China relations

Brazilian President Jair Bolsonaro and Chinese President Xi Jinping on Wednesday praised strong bilateral relations between their countries and signaled a desire to expand two-way trade in a brief..




Reuters - Published




Guaido backers enter Venezuela embassy in Brasilia, sparking standoff

Supporters of Venezuelan opposition leader Juan Guaido gained access to the country's embassy in Brasilia on Wednesday morning, leading to a standoff with backers of leftist President Nicolas Maduro,..




Reuters - Published





Huge fire advances across Brazil's wetlands

Brasilia: A 50 km-long wildfire is advancing across Brazil's Pantanal wetlands. The governor's office in the state of Mato Grosso do Sul said the fire was "bigger than anything seen before" in..




WorldNews - Published





Brazil President Jair Bolsonaro says Washington has approved son's ambassador nomination

Brazil President Jair Bolsonaro said Friday the United States has approved the nomination of his son Eduardo as ambassador to Washington. "I'm delighted and I'm sure the friendly and commercial..




WorldNews - Published





Neymar almost fully recovers from ankle injury

PRAIA GRANDE, Brazil, July 13 (Xinhua) -- Paris Saint-Germain forward Neymar said Saturday that he has almost fully recovered from an ankle ligament injury that ruled him out of Brazil's home Copa..




WorldNews - Published





Brazil president picks son as US ambassador

Brasilia — Brazilian President Jair Bolsonaro said on Thursday he had invited his son Eduardo to become ambassador to the US, underscoring his family's influential role in the country's diplomacy..




WorldNews - Published





Neymar gives statement to police in Brazil amid rape allegation

Neymar attended the station on crutches after having sustained an injury to his right ankle during Brazil's game with Qatar in Brasilia on Wednesday. His lawyer, Maira Fernandes, told Reuters news..




WorldNews - Published





Soccer-Brazil's Neymar limps off injured in friendly win over Qatar

June 6 (Reuters) - Brazil lost Neymar to an early ankle injury but were still too strong for Asian champions Qatar on Wednesday in a comfortable 2-0 friendly win in Brasilia. Striker Neymar limped off..




WorldNews - Published





Brazil's Bolsonaro defends soccer star Neymar against rape accusation

BRASILIA (Reuters) - Brazil's President Jair Bolsonaro on Wednesday came out in support of Neymar, the national soccer star who has been accused of raping a woman last month in Paris, an allegation he..




WorldNews - Published