Hezbollah
Shi'a Islamist militant group and political party based in Lebanon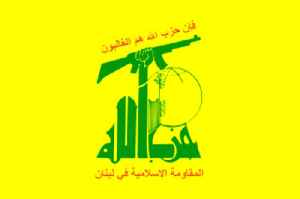 Hezbollah —also transliterated Hizbullah, Hizballah, etc.—is a Shi'a Islamist political party and militant group based in Lebanon. Hezbollah's paramilitary wing is the Jihad Council, and its political wing is Loyalty to the Resistance Bloc party in the Lebanese parliament. Since the death of Abbas al-Musawi in 1992, the group has been headed by Hassan Nasrallah, its Secretary-General. The group, along with its military wing is considered a terrorist organization by the United States, Israel, Canada, the Arab League, the Gulf Cooperation Council,, the United Kingdom, Australia and the European Union.


Report: Lebanese FM Meets With Senior Israeli Officials In Moscow
The Jerusalem Post, quoting a report in the Saudi Arabian newspaper Elaph, reports Lebanon's Foreign Minister Gebran Bassil reportedly met with senior Israeli officials in Moscow and "discussed..
WorldNews - Published
Search this site and the web:
You Might Like