Lindsey Graham
United States Senator from South Carolina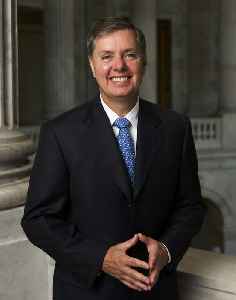 Lindsey Olin Graham is an American politician serving as the senior United States Senator from South Carolina, a seat he has held since 2003. From 2019 he is the Chair of the Senate Committee on the Judiciary. He is a Republican.


U.S. Senator Graham: attacks on ships in Middle East coordinated by Iran
Republican U.S. Senator Lindsey Graham said on Tuesday that top administration officials told senators in a briefing the recent attacks on shipping and a pipeline in the Middle East was directed by the..
Reuters - Published
GOP Sen. Lindsey Graham warns of 'overwhelming military response' against Iran
"If the Iranian threats against American personnel and interests are activated we must deliver an overwhelming military response," Graham tweeted.
USATODAY.com - Published
Most Americans Think Robert Mueller Should Testify Before Congress
According to Business Insider, polling suggests Americans want Robert Mueller to testify before congress. A recent survey from Morning Consult and Politico found that 56% of voters want to hear from..
Credit: Wochit News Duration: 00:34Published
White House To Reveal Immigration Plan To Select Senators
Select republican senators will hear details at a White House meeting Tuesday about the Trump administration's soon-to-be-released immigration plan. Politico reports that Sen. Lindsey Graham who is..
Credit: Wochit News Duration: 00:35Published
Possible FBI, Trump campaign "spying" under review: Barr
U.S. Attorney General William Barr said on Wednesday that DOJ staff is 'helping' him review activities during the summer of 2016 after Republican Sen. Chuck Grassley asked if the DOJ was looking into..
Credit: Reuters Studio Duration: 00:43Published
Graham Frets Trump's Mixed Signals On Libya
Republican Sen. Lindsey Graham, Donald Trump's voluble Capitol Hill defender, is worried that the president's chatter is undermining efforts to stop Libya from falling into an all-out civil war. Trump..
Credit: Wochit News Duration: 00:35Published
GOP Amps Up Attacks on Abortion Access
It's one of several bills that Republican lawmakers want another vote on.
Credit: Newsy Studio Duration: 01:57Published
U.S. Republicans Step Up Counter-Attack Following Mueller Probe
According to a report by Reuters, on Wednesday, a second US Senate committee sought to examine the motives of federal agents and investigators who launched the Russia investigation as a Republican..
Credit: Wochit News Duration: 00:41Published
Senate Debates Removing Guns From Risky People
The Senate Judiciary Committee is examining extreme risk protection orders, which let officials temporarily take guns from people deemed dangerous.
Credit: Newsy Studio Duration: 03:41Published
Bipartisan Bill Could Give Dreamers A Path To Citizenship
If the legislations passes, it would give Dreamers a path to permanent residency.
Credit: Newsy Studio Duration: 01:26Published
Senator warns of 'overwhelming' Iran strike if US threatened
Senator Lindsey Graham has warned of an "overwhelming" military response to any Iranian actions against US interests A US senator close to President Donald Trump said Monday that Iran was behind recent..
WorldNews - Published
Search this site and the web:
You Might Like