Louvre Pyramid
Glass and metal pyramid in the main courtyard of the Louvre Palace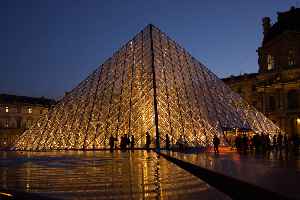 The Louvre Pyramid is a large glass and metal pyramid designed by Chinese-American architect I. M. Pei, surrounded by three smaller pyramids, in the main courtyard of the Louvre Palace in Paris. The large pyramid serves as the main entrance to the Louvre Museum. Completed in 1989, it has become a landmark of the city of Paris.


IM Pei, architect who designed Louvre Pyramid, dies at 102
NEW YORK: IM Pei (PAY), the versatile, globe-trotting architect who revived the Louvre with a giant glass pyramid and captured the spirit of rebellion at the multi-shaped Rock and Roll Hall of Fame,..
WorldNews - Published
6 of I.M. Pei's Most Important Works
The architect's legacy includes some of the world's most recognizable buildings, including the Louvre Pyramid.
NYTimes.com - Published
Louvre pyramid architect I.M. Pei dead at 102: New York Times
One of the 20th century's best-known architects, I.M. Pei, has died according to the New York Times. Pei was born in China but made his mark around the world with his distinctive modern aesthetic. His..
Credit: Reuters Studio Duration: 01:49Published
Louvre pyramid architect I M Pei dies aged 102
Tributes are paid to the man who designed iconic buildings including the pyramid outside the Louvre.
BBC News - Published
Search this site and the web:
You Might Like