UEFA
International sport governing body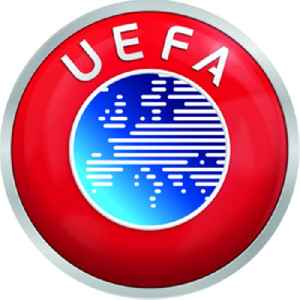 The Union of European Football Associations is the administrative body for association football, futsal and beach soccer in Europe, although several member states are primarily or entirely located in Asia. It is one of six continental confederations of world football's governing body FIFA. UEFA consists of 55 national association members.


UEFA head Ceferin says all ideas open for Champions League
UEFA has hosted its 55 member federations to discuss ideas and proposal as part of a one-year consultation to change the Champions League
USATODAY.com - Published
UEFA launch women's soccer strategy plan ahead of World Cup
UEFA launches five-year development plan for women's soccer ahead of the World Cup in France
USATODAY.com - Published
Pep Guardiola: We are innocent until proven guilty over UEFA allegations
Manchester City manager Pep Guardiola insists his club are innocent of breaching Financial Fair Play rules.
Credit: PA - Press Association STUDIO Duration: 00:56Published
Manchester City face potential European ban
Manchester City face a potential European ban after UEFA sends their case to a financial fair play panel. The Premier League champions say they are "disappointed but not surprised" by the decision..
Credit: PA - Press Association STUDIO Duration: 00:59Published
"I am ashamed", says Ceferin over extremism in soccer
UEFA president Aleksander Ceferin says that he is "ashamed" to see extremist views being expressed at soccer stadiums and that "certain leaders" play down these incidents
Credit: Reuters - Sports Duration: 01:10Published
Klopp, Guardiola would back players leaving pitch over racist abuse
Juergen Klopp and Pep Guardiola say they would call their players off the pitch in the face of racism from crowds.
Credit: Reuters - Sports Duration: 01:27Published
UEFA to investigate Montenegro following fans' racist chants against England players
The Football Association of Montenegro will face a UEFA disciplinary hearing on May 16 after the team's fans were heard chanting racist taunts at England's black players
Credit: euronews (in English) Duration: 01:35Published
Netflix star Millie Bobby Brown backs UEFA's girls soccer campaign
The "Stranger Things" actress surprises young female athletes in London as she seeks to inspire more girls to take up football. Rough Cut (no reporter narration).
Credit: Reuters Studio Duration: 00:59Published
European clubs reiterate refusal to play in 2021 Club World Cup
Agnelli says European clubs will not play in 2021 Club World Cup
Credit: Reuters - Sports Duration: 00:59Published
England's Hudson-Odoi wants UEFA action on racism
England attacker Callum Hudson-Odoi called on UEFA to take action after he and other black players were subjected to racist chanting during a match against Montenegro on Monday.
Credit: Reuters - Sports Duration: 01:27Published
Racist abuse tarnishes England win in Montenegro
UEFA urged to take strong action over racist incidents in England match
Credit: Reuters - Sports Duration: 00:59Published
Gareth Southgate 'saddened' by racist abuse aimed at England players
England manager Gareth Southgate was saddened and dismayed by "unacceptable" racist abuse endured by his players in Montenegro and vowed to report it to UEFA.
Credit: PA - Press Association STUDIO Duration: 01:14Published
Manchester City referred to UEFA judicial chamber over alleged FFP breaches
Manchester City have been referred to an independent judicial chamber following an investigation into alleged breaches of Financial Fair Play (FFP) regulations, European soccer's governing body UEFA..
WorldNews - Published
Ceferin to AP: UEFA will explore CL revamp despite attacks
UEFA President Aleksander Ceferin countered "negative energy" from critics of a radical Champions League overhaul that could lock in places by defending the need to be "constantly thinking about..
USATODAY.com - Published
Search this site and the web:
You Might Like