Al Sharpton
American Baptist minister, civil rights activist and talk show host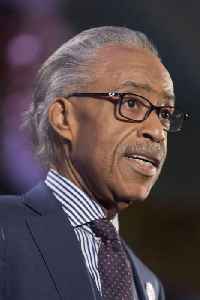 Alfred Charles Sharpton Jr. is an American civil rights activist, Baptist minister, talk show host and politician. Sharpton is the founder of the National Action Network. In 2004, he was a candidate for the Democratic nomination for the U.S. presidential election. He hosts his own radio talk show, Keepin' It Real, and he makes regular guest appearances on cable news television. In 2011, he was named the host of MSNBC's PoliticsNation, a nightly talk show. In 2015, the program was shifted to Sunday mornings.


Thousands march for racial equality in Washington

Thousands of people took part in a march in Washington on Friday to denounce racism, on the anniversary of the march in 1963 where civil rights leader Martin Luther King Jr made his historic "I Have a..
Credit: Reuters - Politics Duration: 02:27
Published
You Might Like



Al Sharpton Fears Voter Intimidation After Trump's 'Proud Boys' Message

President Trump refusing to condemn white supremacists and continuing to undermine confidence in the election has Rev. Al Sharpton concerned about division and voter intimidation. Sharpton was on "TMZ..




TMZ.com - Published





Al Sharpton Urges Voting Over Violence in Wake of Breonna Taylor Case

Rev. Al Sharpton is disgusted like many over the grand jury indictment in Breonna Taylor's case ... but he wants people to take their rage out by voting instead of turning violent. We got Sharpton..




TMZ.com - Published





57 years after Martin Luther King Jr.'s "I Have A Dream" speech, thousands converge in D.C. for another March on Washington

The families of George Floyd, Breonna Taylor, Eric Garner and Jacob Blake joined Reverend Al Sharpton and Martin Luther King III at the Lincoln Memorial on Friday.




CBS News - Published





Al Sharpton speaks at the 2020 March on Washington

Rev. Al Sharpton called on Congress to pass new voting rights protections as he addressed the crowd at the 2020 March on Washington. "We did not just come today to have a show. Demonstration without..




CBS News - Published





Sharpton leads March on Washington, demands change

Commemorating the 1963 March on Washington for Jobs and Freedom, civil rights leader Rev. Al Sharpton, delivered a keynote address calling for policing reforms. "Demonstration without legislation will..




USATODAY.com - Published





Al Sharpton at the center of a new wave of activism

The Rev. Al Sharpton who helped popularize the 1980s cry, "No justice, no peace," is putting himself at the center of a new wave of activism in a new millennium. (Aug. 26)  




USATODAY.com - Published





Funeral for toddler fatally shot in Brooklyn

The funeral of 1-year-old shooting victim Davell Gardner, Jr., was held in New York on Monday. Rev. Al Sharpton said the senseless killing of Gardner should remind everyone of the flood of guns on the..




USATODAY.com - Published





US civil rights leader on state of race relations

Leading US civil rights activist, the Rev. Al Sharpton, has lamented the state of race relations in America as the nation marks independence day amid a surging pandemic. (July 4)  




USATODAY.com - Published





Houston Bids Goodbye to George Floyd, Whose Killing Galvanized a Movement

The funeral served as both a national reckoning and a moment of personal mourning. The Rev. Al Sharpton demanded more action against police brutality.




NYTimes.com - Published





Two weeks after his death, George Floyd's life celebrated at Houston funeral

Civil rights leader Rev. Al Sharpton and other dignitaries joined friends and family of George Floyd at a Houston church on Tuesday to mourn the African American whose death in police custody inspired..




Reuters - Published

Also reported by •Reuters India


'Get your knee off our necks,' activist Sharpton says at Floyd memorial

U.S. civil rights activist the Rev. Al Sharpton told mourners that George Floyd's death in police custody and the nationwide protests it ignited marked a reckoning for America over race and justice,..




Reuters - Published

Also reported by •Reuters India


Floyd mourned, celebrated as death used as call to action

Minneapolis: A mural honouring George Floyd was projected above his golden coffin, where mourners knelt and cried, paused and prayed Thursday at his memorial service. Its simple message: I can breathe..




WorldNews - Published





George Floyd's memorial on Thursday was more powerful TV than Trump's photo op. Here's why

With the Rev. Al Sharpton in fine rabble-rousing form, George Floyd's memorial on Thursday was more powerful TV than Trump's photo op on Monday.




USATODAY.com - Published





George Floyd: 'Pandemic of racism' led to his death, memorial told

A memorial service in Minneapolis also saw Rev Al Sharpton vow to "change the whole system of justice".




BBC News - Published





Al Sharpton announces march in Washington on anniversary of historic demonstration

Sharpton announced a march on Washington on August 28, the anniversary of the March on Washington where MLK made his famous "I Have a Dream" speech.




USATODAY.com - Published





Watch live: George Floyd's memorial service in Minneapolis

The Rev. Al Sharpton will be among those eulogizing George Floyd at the invitation-only service on the campus of North Central University.




USATODAY.com - Published





Hundreds Gather at a Memorial for George Floyd in Minneapolis

The Rev. Al Sharpton was to deliver the eulogy in a memorial that was to be followed in coming days by events in Mr. Floyd's memory in North Carolina and Texas.




NYTimes.com - Published





What Time Is the George Floyd Memorial?

At a time when funeral gatherings are rare because of the coronavirus, a memorial service will honor the man who died in police custody. The Rev. Al Sharpton will give the eulogy.




NYTimes.com - Published





Buttigieg, Klobuchar meet with Sharpton's NAN

Several of the Democratic hopefuls for president joined Rev. Al Sharpton for a breakfast Thursday, hosted by Sharpton's own National Action Network. (Nov. 21)  




USATODAY.com - Published





Al Sharpton on Donald Trump: 'He's a white nationalist'

Among the many framed mementoes that clutter the white vinyl walls of the Rev Al Sharpton's midtown Manhattan office, there is one he treasures just a little more than the others. It's an official..




WorldNews - Published





Trump presses race as 2020 tactic, draws rebuke from Republican governor

President Donald Trump, again stoking racial divisions, on Monday renewed his attacks on a black U.S. congressman from Baltimore and slammed black civil rights activist Reverend Al Sharpton, drawing a..




Reuters - Published




Trump called Al Sharpton a 'con man'. Sharpton said he makes 'trouble for bigots'. A look at their Twitter feud

"He 'loved Trump!' He would ask me for favors often," Trump tweeted of his long relationship with Sharpton, whom he also called a "con man."




USATODAY.com - Published





Al Sharpton Says If He Were Truly a 'Con Man,' Trump Would Be 'Nominating Me for His Cabinet'

Responding to recent criticism levied by President Donald Trump, Reverend Al Sharpton said on Monday that if he were truly a "con man," as Trump recently accused him of being, then the president would..




WorldNews - Published





Trump presses race as 2020 tactic, slams Cummings and Sharpton

President Donald Trump on Monday renewed his attacks on a prominent black U.S. lawmaker from Baltimore and slammed black civil rights activist Reverend Al Sharpton, further fueling racial tensions as..




Reuters - Published





Trump Lashes Out at Al Sharpton, Saying He 'Hates Whites'

President Trump extended his attacks on critics of color with an early-morning Twitter blast calling Mr. Sharpton "a con man" and "a troublemaker."




NYTimes.com - Published





Biden, in Interview With Sharpton, Tries to Defuse Criticism of Remarks on Segregationists

Mr. Biden said his words about Southern segregationists who served with him in the Senate were misunderstood and stopped just short of an apology.




NYTimes.com - Published